The 26th edition of the documentary festival Hot Docs, running in Toronto from 25 April – 6 May, brings together stories regarding the immigration crises in both Europe and in America.
"Refugees are seen for their status, not as human beings," said internationally acclaimed Chinese artist Ai Weiwei, who came to present his documentary The Rest, which is about the refugee crisis in Europe.
According to the Global Trends Report from the United High Commissioner for Refugees (UNHCR), the average number of people displaced per day around the world is 44,400; in 2017, 16.2 million people were displaced, raising to the cumulative total to 68.5 million by the end of that year.
The Rest shows how thousands of asylum seekers in Europe have fled war, poverty, and persecution, only to endure an overburdened aid system and intensifying nationalism.
"Our sea is contaminated because of the bodies in the depths of the ocean," says an Italian woman in the documentary about the diseases that immigrants supposedly bring, embodying European nationalism and xenophobia.
"Some people want to stop the natural human flow, but the big corporations never face borders, never are stopped at the border even though they have caused much danger," stated Weiwei, adding that having 68.5 million displaced persons means that "the system is collapsing."
"I can´t be an optimist (about the refugee crisis), but I believe in humanity," added the artist, whose criticism of the Chinese regime led to three months in jail and forced him to relocate to Germany.
Weiwei´s documentary shows not only how many asylum seekers are facing discrimination, but also how they are being helped by members of local migrant organizations that take them to ports of entry to apply for asylum. Between 2015 and 2017, 19 immigrant defenders in France and Italy have been detained by authorities.
"This is another kind of war. It is too early to call the crisis of refugees a genocide, but we are seeing less migration because they are dying," said one of the defenders, who provides temporary asylum to refugees on his farm.
Weiwei, who is exhibiting Unbroken at the Gardiner Museum in Toronto, put emphasis on the fact that refugees are obligated to leave their lands. One of the characters in The Rest says from her new country (Netherlands) that her "last trip" would be to "go back to my country in the future."
In the Americas, while more than 40,000 Syrian refugees are learning how to adapt to living in Canada, thousands of Central American migrants are crossing Mexico and asking for asylum in the United States. In this "caravana" (caravan) are pregnant women, fathers with little children, teenagers without any accompanying family members: all of them are running away from gangster violence. Two Central American children have died at hands of US authorities.
Mexican director Marcela Arteaga came to Toronto to present her world-premiering The Guardian of Memory: a 93-minute set of stories about self-exile. The setting, which is the small-town of Guadalupe in Northern Mexico, looks bleak, with abandoned houses, toys cast aside on the street, and walls with bullets marks. At Hot Docs, this film was presented as a testimony to Mexicans fleeing state-sponsored violence toward an unwelcoming US border.
In one scene in the film, at the Mexico-US border, a Mexican who is waiting for his asylum process approaches the metal mesh and looks at his town. "The maximum punishment for an exile is to see his house from exile," he says.
"Violence in Mexico is a complicated problem and involves organized crime, corruption of the police force, impunity and the trafficking of arms and drugs to the United States. This would not happen if the USA did not benefit from the violence with the sale of arms," says Arteaga in an interview with New Canadian Media.
This film includes the words of a mother whose two sons were taken by the municipal police and never were seen again. She also received death threats.
"Despite the violence and disappearances, people have hope that this situation can change, and use their memories to honour their family members who disappeared," added the filmmaker.
At the end of her film, she states that half of her interviewees were deported to Guadalupe.
Another Mexican filmmaker Everardo González presented his short documentary A 3 Minute Hug, a Netflix production that records the event Hugs, Not Walls that in 2018 allowed the border (Mexico-USA) reunion of 235 families that had not seen or touched each other for years.
The Colombia-Belgium film Bliss, shows the lives of one of the only 15 Syrians living in Colombia: Rifat Algafari.
"From pork to lap dances, he adopts a new set of beliefs and begins a journey of self-actualization that involves living without regret, as far as possible from where and who he once was," said the Hot Docs programmer Angie Driscoll.
From Asia to Europe and America, hundreds of thousands of migrant people are fleeing violence, famine, war and other threats. Their only hope is to find a place to live with dignity that can provide a better life for their children. Unfortunately, hundreds of them will perish on the way unless there is a change in the immigration policies that play a huge role in this global crisis of refugees. Hot Docs is doing its part presenting these stories that motivate reflection.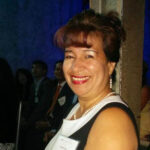 Isabel Inclan has worked as a journalist for more than 20 years, in both Mexico and Canada. She began working as a foreign correspondent in Canada in 1999 for Mexican media. She has been a New Canadian Media contributor since 2018. Her main areas of interest are politics, migration, women, community, and cultural issues. In 2015, Isabel was honoured as one of the "10 most influential Hispanic Canadians." She is a graduate of Masters in Communication and Culture at TMU-York University. She is a member of CAJ and a member of the BEMC´s Advisory Committee.