When Asma Shahsamand arrived in Canada as a refugee along with her family 28 years ago as they escaped war in Afghanistan, she quickly realized that language and employment — or the lack thereof — were intrinsically connected.
While she and her siblings managed to learn the language quickly enough to graduate school and begin looking for work, integration into an entirely new society and cultural norms remained a struggle.
When she finally landed a job at Accenture Canada — a global technology consultant — about four years ago, she realized the potentially key role private employers could play in helping newcomers integrate. 
The company, says Shahsamand, who is now head of Canada ventures, has for many years partnered with leading local and global organizations and governments to help people "establish their new lives and fundamentally gain meaningful employment."
Part of that has included a policy of tolerance and inclusion of people who "identify with a variety of religions, cultures, ethnicities or backgrounds," she says. From prayer rooms to prayer mats and meditation rooms for recent mothers, Shahsamand says it has all helped smooth out the integration process for the newcomers it hires.
"Working in an organization that has enabled these kinds of accessibilities for us has alleviated those challenges," she told New Canadian Media.
Now, as Canada continues welcoming Afghans escaping Taliban rule, as well as Ukrainians fleeing Russia's invasion, Accenture has partnered with the Tent Coalition for Refugees in Canada to work alongside some of the country's biggest employers to help these newcomers integrate.
As of the time of writing, 22 companies — including the Bank of Montreal, Pfizer, Shopify, Inc., and TD Bank Group — have become part of the coalition that will help integrate refugees "into the economy, especially through hiring and training," explains Gideon Maltz, executive director of the Tent Partnership for Refugees, a business-oriented nonprofit organization. 
The Partnership is spearheaded by the Tent Partnership for Refugees (Tent), a global business network of over 250 companies committed to supporting refugees. 
"This is a set of both Canadian-headquartered companies and global companies with significant operations in Canada — some of which have already made really significant advancements in bringing refugees into the workforce," he told NCM. 
The coalition's work is focused mainly on bringing as many companies as possible onboard to help with specialized training and hiring. They will then be connected to local NGOs working with refugee populations. 
It's important to note that while Ukrainians are technically not refugees under the government program that is bringing them in, they and any other forcibly displaced persons, regardless of legal status, are eligible to receive the training and be hired under the initiative.
While many companies will be looking to hire these refugees once their training is done, others will be helping connect them with job opportunities elsewhere, Maltz explained.
"All of (these companies) have agreed to work together to scale up their efforts and to bring in more major businesses in Canada to advance this goal of integrating refugees into the economy," he says.
Mutual benefit
The self-funded initiative, which is ongoing, is all about harnessing the power and capacity of Big Business to "reduce barriers…that refugees face in getting jobs," says Maltz.
That's why while the government and the nonprofit sector play a critical role in service delivery to refugees, this initiative is appealing to the business community's know-how in terms of training, asking employers to share best integration practices and to employ their resources to this end.
For Shahsamand, the opportunities that Accenture created were integral in her ability — not only as a woman but as a Muslim one — to climb to where she is today. That's why she believes in the power of the private industry to help create those opportunities and why this initiative will facilitate that.
"I want to empower that message for other young women who are new to the country — that the possibility is there," she says. "And that there are incredible companies that (can) make the integration process very easy."
Of course, it's a two-way street, adds Maltz, as companies will be able to benefit from the resiliency, hard work and motivation that many refugees bring to the table. 
"I think so many companies that have gone through this experience have seen incredible business benefits to it," he says, adding that in a recent study conducted by Tent, refugees had a much better retention rate in certain industries.
"There's so much evidence that just having more diversity in the workforce creates and allows for a greater range of views and opinions and it leads to better decision making," he says. 
More concretely, adds Shahsamand, it will help address Canada's labour shortage and "talent gap…by providing upskilling and training" to refugees "who are desperately in need of resettlement….in a way that also helps our economy grow."
Innovative approach
To get over some of the initial challenges that will inevitably come with the initiative — namely refugees' lack of English and lack of knowledge of the business culture — Maltz says some of the companies are taking "really innovative approaches."
At McCain Foods, for instance, refugees with no English or French background are being paired with colleagues from the same background. The idea is that refugees don't need to wait to learn the language to work, but can actually learn it faster while working.
"The quickest way people learn language is actually being on the job and it's often far more effective than taking separate language classes," Maltz says.
The next steps in the initiative will be to recruit more companies to increase the number of participants and the scope of what they can do in terms of training and hiring.
"I mean, as long as there are refugees who are coming to Canada, we think there will be a need for the work of this coalition. It's ongoing," he said.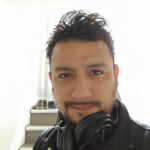 Fernando Arce is a Toronto-based independent journalist originally from Ecuador. He is a co-founder and editor of The Grind, a free local news and arts print publication, as well as an NCM-CAJ member and mentor. He writes in English and Spanish, and has reported from various locations across Canada, Ecuador and Venezuela. While his work in journalism is dedicated to democratizing information and making it accessible across the board, he spends most of his free time hiking with his three huskies: Aquiles, Picasso and Iris. He has a BA in Political Science from York University and an MA in Journalism from Western University.