A graphic novel that creates awareness about sexual abuse among immigrant and refugee women has upped its print order barely a month after its launch in Ontario. The overwhelming demand has come from far beyond just refugee and immigrant-settlement groups.
"We have requests from outside of the province, from other parts of the country as well as internationally," says Krittika Ghosh, senior coordinator of women sexual violence at Ontario Council of Agencies Serving Immigrants (OCASI).
This demand is a clear indication that there is a dire need to help such women who are new to the country due to the scarcity of their resources. Smaller friend circles coupled with language barriers and limited education result in suffering in seclusion.
Statistics tell that one in three women in Canada encounters sexual abuse or violence in one way or another.
"They range from people asking for one copy for a library, to some agencies asking for 500 copies in each language. So it's really unique."
Breaking down barriers
Titled "Telling Our Stories: Immigrant Women's Resilience", the unique novel that is written by and for immigrant and refugee women looks to break down barriers that hinder the reporting of abuse.
The project is a joint venture between the Ontario Council of Agencies Serving Immigrants (OCASI) and Le Mouvement Ontarien des Femmes Immigrantes Francophones (MOFIF).
The novel, launched on March 2, illustrates four stories of newcomer women – victims of domestic abuse, workplace abuse, and date rape. The book helps create a narrative around this deeply sensitive topic and enables victims to empower themselves to shine a light on this often unreported crime.
Unlike other story formats, the graphic novel was written with input gathered through workshops conducted with 40 immigrant or refugee women, who shared their stories and worked with illustrator Coco Guzman.
First-person accounts
"Each story is the outcome of a four-day workshop of newcomer or refugee women and many cases were survivors of sexual and intimate kind of violence," says Ghosh.
It helps people realize that there is no need to suffer in silence as help is available.
It also challenges stereotypes of survivors and to show that they are resilient and capable of organizing to end violence themselves.
Explaining the choice of format, Ghosh says, "We wanted it to be in a format that would be more available and accessible and something that people would want to read."
Growing demand
Professionals and groups beyond social workers, teachers, public libraries, immigrant and refugee welcome groups and the police are reaching out for the book.
The book is available free of cost and is not meant for sale.
The novel is available in 11 languages, including French and English.
OCASI and MOFIF had 7,000 copies in English, 3,000 in French and 1,000 in nine other languages including Arabic, Tamil, Chinese, Punjabi and Somali, in the first print run. The plan is to also have the stories available online.
OCASI website has an online form, where the book can be ordered. So far, it has received around 80 orders from different individuals and settlement agencies.
"They range from people asking for one copy for a library, to some agencies asking for 500 copies in each language. So it's really unique," according to Ghosh.
Fear of blame
The novel highlights that fear of blame, along with possibilities of racial, ethnic and religious discrimination never stopped these real-life characters from acting with courage and resilience.
Intervention brings positive twists to these live stories.
Kose's story revolves around deceit and marital rape accompanied by threats of deportation. Magali's story is based on workplace sexual abuse, whereas, Amal's story portrays student-teacher sexual harassment and Manuela's story is an illustration of date rape.
In all of the stories there is a caring individual, whether it be a friend or relative, who intervenes with educational information. This portrays how people can counter violence against women by beginning conversations and taking action within their communities.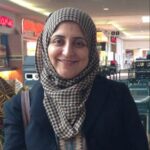 Tazeen is based in Mississauga and is a reporter with the New Canadian Media. Back in Pakistan where she comes from, she was a senior producer and editorial head in reputable news channels. She holds a master's degree in Media and Communication and a certificate in TV program production from Radio Netherlands Training Center. She is also the recipient of NCM's Top Story of 2022 award for her story a "A victim of torture, blogger continues fight for human rights in Pakistan"