Family reunification is at the core of the Liberal government's immigration policy. After our two-part in-depth piece on the pros and cons of the family class immigration stream, this new series takes a closer look at the process from the perspectives of major immigrant groups in Canada. What are the opinions and experiences of individuals and families who took this route or are in the process of doing so? We find out what works and what needs improvement. The following report is the first in our series and looks at what can happen when family reunification rules bring together and split apart a family at the same time. 
Canada's family reunification program brought Simei Wu's parents to Canada, while simultaneously separating her from her husband, who chose to return to Mainland China to be with his parents.
Wu and her husband Feng Xie immigrated to Canada in 2008. Two years later, after they settled down in Toronto working full-time in the service sector, Wu applied to have her parents come to Canada under the Family Reunification (FR) class.
"I'm the only child to my parents," she says. "They [wanted] to live with me and help me take care of my child."
 
As a popular tradition in the Chinese community, elderly parents often help their children by looking after their newborn grandchildren and assisting with housework.
Wu had her first child in early 2010. At that time, both she and her husband earned just enough to pay the bills. There wasn't too much leftover to hire a nanny or for Wu to be a stay-at-home mom.
"I sent applications to sponsor my parents to immigrate in May 2010," she recalls. "I learned from CIC's (Citizenship and Immigration Canada's) website that the average waiting time was five to eight years."
 
She initiated the same application process for her husband's parents later that year.
The impact of changing policies
When Wu submitted her applications there was no yearly intake cap for the parent and grandparent sponsorship program.
This soon changed, under the Conservative government, due to the large backlog of applications.
On Nov. 5, 2011, CIC imposed a two-year moratorium on new applications and announced that when they were accepted again, only 5,000 a year would be permitted. As such, the government also created the super visa allowing elderly parents to visit Canada for two year periods. The visa is good for 10 years.
"My parents were anxious when they learned the halt on new applications."
Wu's parents were consequently on the super visa, remaining with their daughter while waiting for their FR application to progress.
"My parents were anxious when they learned [about] the halt on new applications. They didn't know when they will receive immigrant status and worried [that] they might not be able to afford going to the hospital if sick," Wu shares.
In addition, when Wu initially applied, the minimum required income for a family of her size (four grandparents, two parents, one child) was $59,907. This was determined based on the Low Income Cut-Off (LICO) established by Statistics Canada annually.
The Conservatives then introduced a 30 per cent increase, meaning Wu's family would need earn $77, 879 annually in order to sponsor all four grandparents. This posed a challenge since the family had been earning a humble $60,000 a year.
Last summer, after Wu's second child started to walk, she found out through CIC's website that her parents' applications had been approved and their next step was to undergo a medical check.
"Everything goes back to zero for my in-laws."
Her husband's parents' applications, however, had been forwarded to a Hong Kong office for further review, meaning possibly another five to eight years of waiting.
"Everything goes back to zero for my in-laws," Wu explains.  
 
She says the prolonged process has already consumed her relationship with her husband Feng. The different outcome of each other's parents' applications has caused tension between Feng and his in-laws. He now works in China to look after his ailing parents, and only returns to Canada during holidays.
Getting through the red-tape
As a result of her own experience, Wu has become more involved in talking with her immigrant friends and helping their elderly parents to apply for family reunification.
She and her friends formed an unofficial parents' immigration club at the Peanut Plaza in Toronto's Don Valley West community.  
Group members exchange information with each other on the bench outside of the Feng Tai (Foody Mart) Supermarket. They pick up free Chinese weekly newspapers and magazines, searching for knowledge-based articles or immigration consultant advertisements.
"I'm concerned that doubling the application numbers will also double the process time, making the waiting time as long as eight to 10 years."
Each November, Wu and her friends begin preparing application documents. They secure Purolator couriers and meet them right at 9 a.m. on the first work day of each new year for CIC, to hand in their application packages, which are now only accepted by mail or couriers.
 
"People pay couriers an extra $200 or more for this job," explains Wu. "They have to line up at CIC's office to ensure the application is sent … it's a battle to get your hope started."

Skeptical of changes ahead
Yang Haifeng, the president of New Canadian Community Centre, is doubtful about the Liberal government's campaign promise to double the number of applications allowed for parents and grandparents to 10,000 a year.
"We're not sure if it is really 10,000 applications yet because the additional 5,000 applications are not a small amount. It takes four to five years for applicants to get their FR status approved," Yang says.
"I'm concerned that doubling the application numbers will also double the process time, making the waiting time as long as eight to 10 years. How could our seniors afford to wait for such a long time?"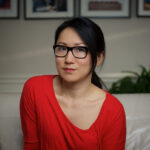 Shan is a photojournalist and event photographer based in Toronto with more than a decade of experience. From Beijing Olympic Games to The Dalai Lama in Exile, she has covered a wide range of editorial assignments.