The Mexican farmworker Luis Gabriel Flores Flores, 36, is a COVID-19 survivor. He shared the bunkhouse with Juan López Chaparro, one of the three farm workers who died last month from the coronavirus. After being quarantined twice, losing his co-worker and being fired by Scotlynn Farms for speaking to the media, Flores decided to speak up and sue the owner.
"(During the pandemic) the employer never gave us protective gear, no gloves, no masks, no antibacterial gel. (We) alerted the foremen that there were sick people and asked for them to get medical attention. They ignored us. Juan's death and this illness could have been prevented if they had paid attention to us when we were asking for help," said Flores at a press conference organized by the Migrant Workers Alliance for Change (MWAC) in Toronto.
At the end of May, 199 workers at Scotlynn Farms, located in Norfolk, Ontario, were COVID-19 positive, including Flores. Five workers from this asparagus farm ended up in the hospital and one of them died.
Luis G. Flores has been working in Canada for six years under the Mexico-Canada Seasonal Agricultural Workers Program (SAWP), which has operated since 1974. The father of two daughters came from Mexico City and also supports his mother with disabilities who just had a major operation.
Speaking out
Standing in front of Immigrant Minister Marco Mendicino's office in Toronto and supported by a translator, Flores talked about the poor housing condition at the farm that includes communal bathrooms shared by many workers.
"At work, they pressured us a lot. They never let us rest and they were always on us. They watched us as if we were slaves," he added in Spanish, wearing a face mask while accompanied by his lawyer.
The farm worker explained that on June 21 he was accused by Scotlynn Farms´ owner, Robert Biddle Jr., of participating in the MWAC launch of the report COVID-19 and migrant workers in Canada. Despite denying the accusation, he was told that he will be returned to Mexico the next day.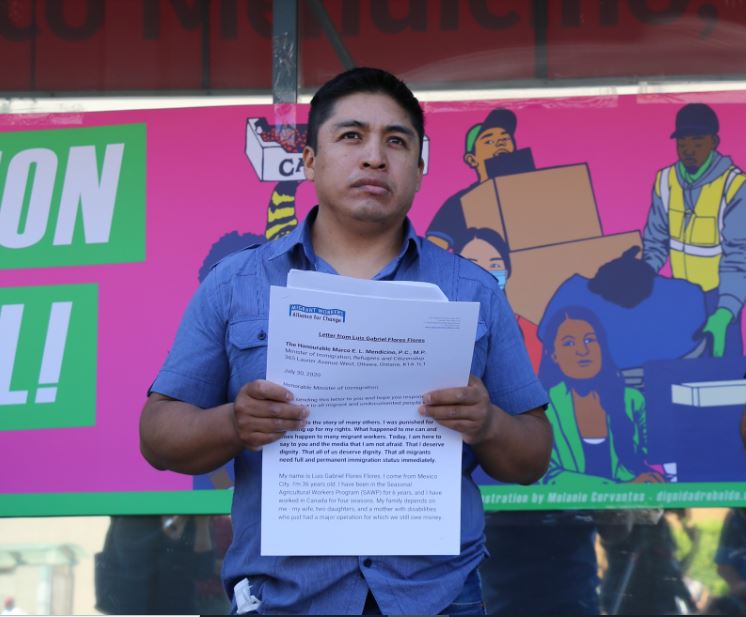 "I did not want to be deported. I have a responsibility to my family and we have unpaid debts from my mother's surgery. I decided to ask for support from people outside the farm," said Flores, who left the farm and has been housed by a supporter in coordination with the Migrant Workers Alliance for Change.
On July 30, Flores filed an anti-reprisals claim to the Ontario Ministry of Labour for $40,401.35 and delivered a letter to Minister Mendicino's office to call for full and permanent immigration status for him and his temporary co-workers.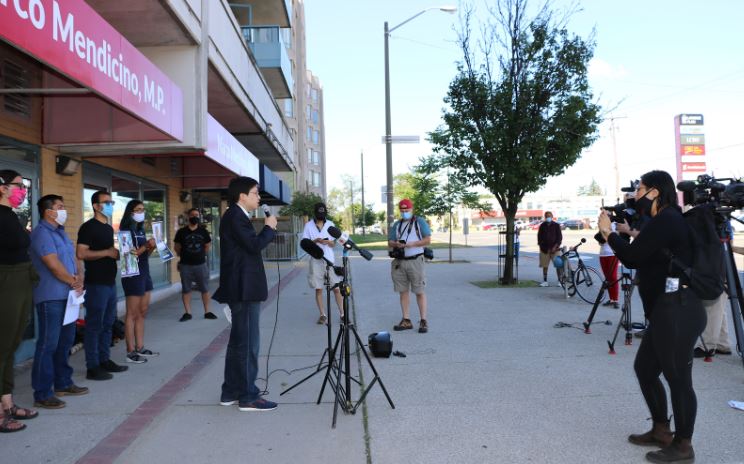 His lawyer John No, explained to NCM that the legal action is for financial compensation for the loss of wages. "We are also seeking pain and suffering damages for the impact of being fired," said No. He added that his client is looking to get an open work permit as he doesn't want to return to the farm that does not care for its workers.
New Canadian Media asked Scotlynn Farms to comment on the legal action presented to the Ontario Labour Relations Board. No answer was received at press time.
Luis G. Flores said his symptoms have been mild. "I just felt sore throat and difficult to breathe sometimes but it wasn't complicated." He pointed out that he has not received any help or call from the Mexican authorities in Ontario. "They have my phone number, but they have not called me to find out how or where I am."
Rights for migrant farm workers
The Consulate General of Mexico in Toronto told NCM that it knows Flores' case and assured that it will provide the corresponding support to the worker so that his rights as a member of the SAWP are fulfilled.
"It would be necessary to see the details of the case, how the events occurred to see if any of their rights were violated and proceed accordingly," stated the consulate. They added that farm workers have the right to request a transfer to another farm if it is in their interest.
Syed Hussan, Executive Director of Migrant Workers Alliance for Change, highlighted that over 1,100 migrant farm workers in Ontario have been infected with COVID-19 because of housing and working conditions.
He added that all migrants must have the power to protect themselves, speak up, leave abusive and dangerous situations, stating "that means full immigration status for all is essential."
Facing the increase in COVID-19 cases on the hardest-hit farms (Windsor-Essex), Ontario Premier Doug Ford said on July 24 that he is considering a province mandate coronavirus testing for migrant farm workers, which was considered a "racialized measure" by groups supporting temporary migrant workers.
"Unless testing is mandatory for all residents, including farm employers, this measure if implemented clearly targets low-waged, racialized people and is racist and discriminatory. The responsibility for COVID outbreaks on farms lies with working and living conditions, not with workers," said Syed Hussan.
Every year, more than 50,000 temporary farm workers come mostly from Mexico but also from Guatemala and Jamaica. Until now, three of them have died of COVID-19, while hundreds are sick, especially on Southwestern Ontario farms.
Photos by: Isabel Inclan.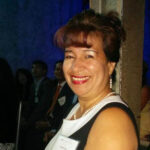 Isabel Inclan has worked as a journalist for more than 20 years, in both Mexico and Canada. She began working as a foreign correspondent in Canada in 1999 for Mexican media. She has been a New Canadian Media contributor since 2018. Her main areas of interest are politics, migration, women, community, and cultural issues. In 2015, Isabel was honoured as one of the "10 most influential Hispanic Canadians." She is a graduate of Masters in Communication and Culture at TMU-York University. She is a member of CAJ and a member of the BEMC´s Advisory Committee.