When you think of integrating refugees into a society, providing them with access to higher education is often considered less of a priority than food, shelter and medical care.
Some experts believe, though, that it's especially important both for the economy of the host country and for the long-term recovery of war-torn communities and states.
Over the past many years, the conflicts in the Middle East and North Africa have displaced a large number of refugees aged 18 to 25 years old. These conflicts have resulted in crackdowns on universities in Egypt, closures of campuses in Yemen and Libya and bombings in Syria and Gaza, all of which have aggravated the plight of the educated youth.  
According to Hans de Wit, professor and director of the Center for International Higher Education at Boston College, higher education for these refugees should not be considered a challenge, but an opportunity.
De Wit explains, "Higher education in particular plays an important role in stimulating the possibilities for alternative pathways [for] refugees rather than putting them into camps, where they cannot learn, work or do anything." 
He continues, "The alternative is to use their pre-educational skills and educate them further."

"[With] education, you give them perspective. The trauma is worst when you don't give them any hope," he adds. "Many of them have lived in camps for years and the end result is that they cannot go back."
Refugees as an investment
De Wit's report, "The Syrian Refugee Crisis and Higher Education," suggests that politically-displaced victims, unlike economically-displaced refugees, are better educated and potentially easier to integrate in the labour market in receiving countries.
This label applies to the current refugees escaping Syria, Iraq and Kurdistan, many of whom have been forced out of their countries due to violent conflict.
The report, coauthored by research professor and founding director of the Center, Philip Altbach, further suggests that while these refugees are often seen as victims and an economic burden, they offer new talent to the host country in the long run.
"Many media reports feature articulate, English-speaking young professionals from the Middle East expressing their hopes to continue their education or obtain skilled jobs and contribute to European economies," it states. 
"Higher education in particular plays an important role in stimulating the possibilities for alternative pathways [for] refugees."
The researchers argue that this is not merely advantageous for the refugees, but for the profile of the university they attend as well. It is a way to internationalize the campus, making it more competitive as a higher education institution.
Nadia Abu-Zahra from the University of Ottawa, says that be they students, researchers or professors, Syrian refugees are often top quality academics, and calls them an "intellectual wealth." 
"Refugees either landing in Norway, Denmark or Canada — whoever gets the highest number of these academics will have an incredible increase in their intellectual wealth" she says.
She insists, "If you are wise you will incur them. Those [academics] fled their home countries, will stay connected to international trends and will not only give back to the host country, but to the world." 
Importance of the "lost generation"
In another report on Syrian students and scholars living in Lebanon, Keith David Watenpaugh describes them as the "lost generation" of college-age students.  
"The War Follows Them" states that there are up to 70,000 displaced university-age Syrian students in Lebanon. It estimates that only 10,000 of them are enrolled in Lebanese universities. Another 60,000 college-age Syrian refugees are living in Jordan and 70,000 are in Turkey.
Watenpaugh describes them as the  "lost generation" of college-age students.
Watenpaugh highlights the need for international policy changes regarding higher education and its role in the rebuilding of war-zones.
He states that "the war will end, but the young people who would be integral in rebuilding the country are being left behind."
Watenpaugh stresses the need for increased research and aid for these populations to help post-conflict countries rebuild successfully.
"The focus on elementary education is important, but we must ask who the Syrian teachers in the future will be if we neglect the university students now," says a UNESCO education specialist in the report.
Rebuilding for the future
In their report, "The Importance of Higher Education for Syrian Refugees," Sansom Milton and Sultan Barakat speak about the challenges of restoration and the importance of higher education for refugees: "The severe toll that regional conflicts have taken on higher education is further compounded by a failure to appreciate the strategic role of the sector in stabilizing and promoting the recovery of war-torn communities and states."
Their paper further emphasizes the abilities of the younger generation and says, "Higher education, properly supported, is able to act as a catalyst for the recovery of war-torn countries in the Arab world, not only by supplying the skills and knowledge needed to reconstruct shattered economic and physical infrastructure, but also by supporting the restoration of collapsed governance systems and fostering social cohesion."
Milton and Barakat are advocating for international policy changes regarding higher education.
These changes would involve greater protection of academic institutions in times of war, augmented university networks to promote academic solidarity and more funding to rebuild higher education in the aftermath of conflict. 
This question will be debated by education leaders at the British Council's Going Global 2016 conference in Cape Town in May.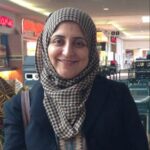 Tazeen is based in Mississauga and is a reporter with the New Canadian Media. Back in Pakistan where she comes from, she was a senior producer and editorial head in reputable news channels. She holds a master's degree in Media and Communication and a certificate in TV program production from Radio Netherlands Training Center. She is also the recipient of NCM's Top Story of 2022 award for her story a "A victim of torture, blogger continues fight for human rights in Pakistan"