There is a growing perception among citizenship applicants and immigration experts that Immigration, Refugees and Citizenship Canada (IRCC) has not been efficient in processing citizenship applications during the COVID-19 pandemic. Since March 14, IRCC has cancelled all citizenship ceremonies, tests, and retests, resulting in an astounding 87,000 permanent residents waiting to take the citizenship test.
In this digital era, when banking, shopping, and mortgages are all being done online, halting citizenship ceremonies and tests is incomprehensible. Compared with the U.S., which has a larger immigrant population: the process to becoming a citizen is complete in three to five months. With the impact of COVID, it has become eight months.
Syed Wasif, a controller at a leading Canadian manufacturing company who applied for his and his family's citizenship in September 2019, trusts that the IRCC may have competent staff but fails to accept the idea of applications piling up.
"I think the government is really slow in processing its immigration services. I am surprised that in this digital era why there is so much backlog that it takes almost a year to get citizenship processed and PR [permanent residency] renewal takes over 90 days to process," he says.
A month ago, Wasif spoke to an IRCC representative on the phone and was informed that the IRCC is operating with reduced staff and is likely to resume services in full capacity after returning from the holidays in January 2021.
"In my opinion, they [the IRCC], unlike commercial organizations, failed to take action and devise strategies to respond to COVID-19, " he said.
Why not online?
Veena Gupta, an immigration lawyer at Nanda & Associate Lawyers, an immigration law firm in Mississauga, says that as a result of the pandemic, Canadian immigration has experienced significant delays in every type of application (refugee claimants, asylum seekers, even PR renewals), including citizenship applications, making the backlog "quite significant."
Stein Monteiro, a research fellow at CERC in Migration and Integration at Ryerson University, believes that the government did not give priority to citizenship test–takers.
"I think the government didn't give those ready to take the citizenship test priority, as it believed that these people are already living in the country with PR status, and there are other applications that needed priority," he says.
Also, Monteiro believes the tests can reasonably be done online—"There is really no excuse"— because other sectors are running smoothly.
Wasif, the resident who applied for his family's citizenship in September 2019, added: "As far as I know, I don't think COVID hit that badly in Nova Scotia, where [immigration] cases are processed, and my concern is that when non-governmental organizations could resume work from home and started delivering, why didn't the IRCC resume operations?"
Waiving the fee
Faisal Qureshi, a manager with Textile Promotional printing, submitted his family's citizenship application in August 2019. Since COVID-19 hit, he tried several times to speak to an IRCC representative but couldn't until November.
"I called them, but the offices were closed. In November, they told me that my application had been approved for citizenship, but during COVID nobody was working, so I have to wait till they resume," he says.
"It's quite frustrating, but I don't have any choice," he concluded.
Qureshi and his family's permanent residency status are expiring in March 2021. If he doesn't get a response from the IRCC with regards to his citizenship test, he has no official document to return to Canada in the unlikely event that he or another family member has to travel in case of an emergency.
Permanent residency renewal takes 90 days and costs $50 for each renewal. For a family of five like Qureshi's, the total cost will be $250.
Monteiro says that if a Canadian resident leaves the country for emergency travel with an expired PR card, the resident's entry back into Canada is at the discretion of the Canada Border Services agent.
"It is terribly planned, and, in my opinion, the government should at least waive the $50 PR renewal fee and try to give some sort of extension to permanent residents even after their card has expired," says Monteiro.
While Qureshi thinks the idea of waiving the fee is a good one, Wasif doesn't mind paying the fee as long as the government expedites the process.
"The $50 is not a big deal, but they should expedite the process," he said.
Digital barriers
Responding to an email request by New Canadian Media, IRCC said that it launched an online platform on Nov. 26 for taking citizenship tests. It confirmed in an exclusive comment to New Canadian Media that there are about 87,000 clients waiting to take the test.
"During this period, a limited number of clients are being invited to take the test, and system performance will be monitored closely. IRCC is contacting clients on a first-come, first-served basis," said IRCC Communications Advisor Shannon Ker in the email.
While the platform ensures that safeguards are in place to identify the online test-taker, experts believe that the digital literacy of clients, access to computers and internet reliability may cause hurdles in the process.
"From my experiences at the post- graduate level, it's not easy to police the test-taker, though the citizenship test is not that elaborate and not many people are taking it at the same time. But in my opinion, a stable internet connection and digital literacy might be an issue," says Monteiro.
In response to such concerns of digital access and literacy, IRCC said an applicant will have 30 minutes to complete the online test, which they can take at their convenience. It further stated that if an applicant is unable to complete the test due to technical difficulties or an emergency, they must contact the IRCC with an explanation, and they will be told what steps they must take. Furthermore, IT equipment can be loaned to clients in need, the IRCC representative said.
Lastly, as part of its Service Delivery Improvements initiative, the IRCC is testing and building evidence on approaches to improving the digital literacy of newcomers.
In the long run, Gupta sees online test-taking as a positive step, as this transition will benefit new immigrants through a faster process and tests that can be done from the comfort of their homes.
The IRCC has invited a small group of 5,000 to take the test, including those who had dates scheduled before the pandemic that were later cancelled, and other priority cases. The IRCC will be testing the platform over the next few months and more people will be invited to take the test after the reliability of the platform is assured, starting most likely in the new year.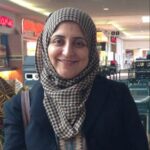 Tazeen is based in Mississauga and is a reporter with the New Canadian Media. Back in Pakistan where she comes from, she was a senior producer and editorial head in reputable news channels. She holds a master's degree in Media and Communication and a certificate in TV program production from Radio Netherlands Training Center. She is also the recipient of NCM's Top Story of 2022 award for her story a "A victim of torture, blogger continues fight for human rights in Pakistan"