Labour and health advocates are worried governments are ignoring the evidence linking immigration and labour policies together as determinants of health for newcomers. These worries come on the back of a study that shows that immigrants have died in greater numbers than the rest of the population in the first wave.
The Statistics Canada study showed that from early March to July 4, 2020, 8,323 deaths were directly attributable to COVID-19. Out of those, 25 per cent were immigrants who landed in Canada between 1952 and 2018, even though they made up 22 per cent of the total Canadian population. This was particularly the case for those younger than 65: a group that makes up 20 per cent of the total population but which accounted for 30 per cent of all deaths during those months.
"The disproportionate death burden among immigrants was also high among males, as well as in Ontario, Quebec and, particularly, British Columbia, where immigrants comprise 28 per cent of the population but represented 41 per cent of the COVID-19 deaths," reads a summary of the report released on June 9.
Deena Ladd, the executive director for the Workers Action Centre, says those stats are "probably underreported."
"Those stats completely reflect what we've been seeing in terms of who did not have a choice to protect themselves, who did not have a choice to say no to exploitative working conditions and just had to do it regardless because they have to put a roof over their heads," she said in a phone interview.
The study notes that new immigrants tend to "have low income…thereby increasing the risk of infection." It adds to a laundry list of documentation showing that racialized individuals and the communities in which they live have been at a disadvantage at every step of the pandemic. Whether it's increased police harassment, a higher likelihood of contracting the virus, less likelihood of receiving the vaccine, or more likely to die, it's racialized immigrants and communities who've suffered disproportionately.
The common denominator, says Ladd, is the precarious working conditions most of these people are funneled into by Canada's immigration policies, which in turn are informed by institutionalized racism.
"The interconnections between immigration, racism and the lines of precarious employment are intrinsically linked in terms of understanding who is going to be in what job and what access they're going to have (to healthcare)," she said.
"The colour of your skin and how you came into Canada predicts the kind of job that you're going to be in."
Institutionalized Barriers
Racialized immigrants are often forced into precarious, low-income work with very few protections and rights. Undocumented people and those with precarious immigration status are usually low-hanging fruit for exploitative employers and temporary work agencies in particular. This means many are forced to make social and health compromises – like having to go to work despite being sick or being provided with no protective equipment – thereby exposing themselves and their families.
This has been perhaps best exemplified in Brampton, the second fastest-growing city in Canada and ninth-largest, where half of the more than 600,000-population are born outside Canada and a third are non-white. It has also been described as the "logistics capital of Canada" since over 80 per cent of all companies in the Greater Toronto Area and their essential workers are housed there. It's not a coincidence Brampton has been the epicentre of COVID cases.
Dr. Amanpreet Brar is a general surgery resident physician and resident of Brampton, which she describes as "devastated" by all three waves of the pandemic. As an immigrant who worked in factories before becoming a doctor, she knows too well the "desperate" choices racialized workers often have to make.
"Particularly when you talk about communities like Brampton…where there are a lot of immigrants from low- and middle-income countries – these are new immigrants working in warehouses or factories where there are lots of structural barriers" including language complications and lack of health literacy, she says. In Peel, 25 per cent of workers reported going to work despite feeling sick as they had no job or income protection.
"They're afraid to say no," she said.
Temporary work agencies, in particular, Ladd added, have been known to "prey" on international students and those with precarious immigration status to put them in some of "the most dangerous work" including hospitals, nursing homes and long-term care homes where social distancing is "nearly impossible."
Ladd said she knows of one laundry facility that focuses on hospitals where only 40 per cent of workers are hired directly for less than minimum wage. The rest, she said, are all international students "supplied through temporary work agencies."
"Our employment standards become a real barrier for workers to have access to justice in the workplace," she said, "and it leaves them more vulnerable to being infected, to being on the frontlines…and not being able to have a choice, because there isn't the protection that's needed."
Workers also "entered the pandemic in a much weaker state," Ladd noted, as the conservative government of Doug Ford stripped away many hard-won employment standard protections and rights: support workers and security guards had their right to unionize stripped away; control over scheduling was reduced; and equal-pay-for-equal-work, a $15/hr minimum wage, paid sick days and the ability to challenge being "misclassified as an independent contractor" were all rescinded.
The StatsCan study also stated that the findings were not uniform across the world. While France and the United States showed similar trends as Canada, racialized migrants in Italy "showed no increased risk of poor outcomes compared with their Italian-born counterparts."
Ladd said the finding is unsurprising given that France and the U.S., like Canada, share similarities when it comes to who it deems a citizen and who is therefore protected. Racism plays a key role in all three, she said, pointing to the "systemic exclusion" of the African communities that have lived in France for generations, which has "relegated them to bad jobs and vulnerability because they don't have citizenship."
Socio-Economic Phenomenon
Dr. Brar says it's imperative for policy makers to realize these connections precisely to prevent disease and outbreaks in the future – especially in a country like Canada, so "heavily reliant on new immigrants" to "run the economy."
"Labour is a key determinant of health (but) often unrecognized" as such, she says, "even in our medical schools."
Addressing the StatsCan study's finding that new immigrants "are more likely to live in overcrowded dwellings or multigenerational households" – which has contributed to the spread of the pandemic – Dr. Brar pointed to three institutionalized barriers that are largely responsible for this rather than cultural norms. Lack of affordable childcare, lack of affordable housing and a broken long-term care system "not set up for immigrant seniors" who often have language barriers, are some of the main reasons many new immigrants cram into unsafe living spaces together, she says.
"I know families where they would love to not live in a crowded multigenerational home, but there's really no other option for them," she says, adding that the term "multigenerational home" itself is a "subjective term that it's thrown around a lot."
"But I don't think people understand how multifaceted it is," she explained. "When you talk about a multigenerational home, you just make it sound like it's a purely cultural phenomenon, whereas I think it's more (of a) socio-economic phenomenon."
Equitable Health
"I think it's a privilege (that) some people can speak up and advocate for themselves, whereas these workers'…lives were literally being put second to the economy," the Brampton physician says.
Dr. Brar's "advocacy" has therefore focused on making these links visible to policy makers long before the pandemic by pushing for the collection of race-based health data, something she says would help prevent diseases like cancer and diabetes, rather than merely react to them – which can't be done "if we don't measure it."
"It's not like disease ends with the pandemic," she says. "These were problems that were there before. These are problems that are going to stay there…So, it's really important that we keep bringing up these issues and keep collecting (race-based) data to achieve equitable health outcomes."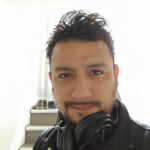 Fernando Arce is a Toronto-based independent journalist originally from Ecuador. He is a co-founder and editor of The Grind, a free local news and arts print publication, as well as an NCM-CAJ member and mentor. He writes in English and Spanish, and has reported from various locations across Canada, Ecuador and Venezuela. While his work in journalism is dedicated to democratizing information and making it accessible across the board, he spends most of his free time hiking with his three huskies: Aquiles, Picasso and Iris. He has a BA in Political Science from York University and an MA in Journalism from Western University.