International migration has slowed down because of the global pandemic, causing Canada's rate of population growth to plummet to record lows, reports Statistics Canada.
"The restrictions placed on international borders and the subsequent drop in international migration levels had the largest impact on population growth in 2019/2020," the federal number-crunching agency said in its latest Canadian population estimates.
Statistics Canada measured the nation's population growth from July 1, 2019, to June 30, 2020. They estimated that on July 1, 2020, the nation's population was at 38,005,238, up by 411,854 (+1.1 per cent) from July 1, 2019. This is after two years of population growth exceeding 500,000. These new numbers reflect lows last seen in the 2015/2016 period. 
Population numbers down
Canada admitted 284,387 immigrants in 2019-2020, down from the 2017-2019 period when over 300,000 were admitted annually. The vast majority of these immigrants arrived before the pandemic, with 34,271 arriving in the second quarter of 2020.
The decrease in international migration occurred throughout most of the country, driven by the three largest provinces of Ontario, Quebec and British Columbia, Statistics Canada said. Population growth in Ontario slowed from 1.6 per cent a year earlier to 1.3 per cent in 2019/2020 or 46,725 fewer people. Population growth also slowed in Quebec (an increase of 27,097 fewer people) and British Columbia (an increase of 23,722 fewer people).
The largest percentage point drop in the growth rate occurred in Prince Edward Island (from +2.5 per cent to +1.5 per cent).
The number of non-permanent residents rose by 77,172 in 2019-2020, less than half as many as in 2018-2019 (+168,662), due to fewer international students and asylum claimants in the second quarter of 2020.
Here are some of the other key findings from the report:
The aging of Canada's population continues and the average age was 41.4 years on July 1, up slightly from a year earlier (41.3 years). This average has risen every year since comparable record-keeping began in 1971. The share of seniors aged 65 years and older continued to grow, reaching 18.0 per cent on July 1.

There were 11,517 centenarians in Canada on July 1, up by 10.4 per cent year-on-year, nearly ten times the population growth rate of the overall population. This was the highest growth for the centenarian group since this age group was first estimated in 2001, and their growth has exceeded that of the overall population during this period (2001 to 2020). Since women have a higher life expectancy than men, the vast majority of centenarians are women (81.3 per cent).

While population aging is occurring in every region of the country, some provinces are aging more rapidly than others. Newfoundland and Labrador had the highest share of people aged 65 and older (22.3 per cent) and the lowest share of children aged 0 to 14 (13.4 per cent) among the provinces. Saskatchewan had the highest proportion of children aged 0 to 14 (19.6 per cent), while Alberta (13.8 per cent) had the lowest proportion of seniors aged 65 and older. 

In the territories, higher fertility and mortality rates explain why there are more children than seniors. Nunavut had both the highest proportion of children aged 0 to 14 (31.7 per cent) and the lowest share of seniors aged 65 and older (4.0 per cent) in the country.
Statistics Canada said it expects the gap between the number of seniors and the number of children to widen.
According to its medium growth scenario, seniors could account for over one-fifth of the population by 2025 and could reach one-quarter by 2059. In contrast, the share of children aged 0 to 14 is expected to remain around 15 per cent to 16 per cent over the same period.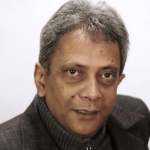 A multiple-award winning journalist, Fabian Dawson is an internationally acclaimed author, filmmaker and media expert. His work over the last four decades spans the globe and he also serves as a consultant/strategic advisor to a variety of international companies. As deputy editor-in-chief of The Province, part of the Postmedia chain, Dawson led initiatives within a special publications group to provide directed content for a variety of organisations. He was named the 2019 recipient of the Bruce Hutchison Lifetime Achievement Award at Jack Webster Awards. Dawson has been invited by the governments of India, Malaysia, Taiwan, China, Hong Kong and the United States to act as a media observer/advisor on a variety of Asian-Canada issues. Dawson, now operates FD Media, which specializes in harnessing editorial assets to revenue generating opportunities.