For the second consecutive federal election, Justin Trudeau's Liberals won every riding in the Greater Toronto Area en route to victory. New Canadian Media reached out to members of various communities across the GTA to find out why the Liberals won their vote. This article is the last in a four part series exploring the question: why the GTA went red? Read part I here.
In this last instalment, our NCM series focuses on people in the Chinese Canadian community:
Event producer and father of two, Blur Wu, has lived in Canada for 17 years. His event production team has covered many signature events in the Chinese community. The events are usually related to business between China and Canada or entertainment gigs. 
Blur Wu
"Personally, I agree with Liberal values. It remains an important cornerstone for Chinese immigrants to live and grow equally in Canada. It's very crucial that the Liberal government continues to expand immigration and continues to protect Canadian's equality.
"On the other hand, I am very concerned that if the Conservatives are elected, the relations between Canada and China will deteriorate further. A reminiscence of protectionism and conservatism in the era of Trump, which doesn't go well with current global development.
"All the friends I know of who voted for the Liberals wish Canada-China relations not go sour, and the trade between the two countries does not go down.
"Another main reason why I didn't vote Conservative is because I'm disappointed with Andrew Scheer. His policy is swinging, full of opportunism during the campaign."
Maggie Zhang
Millennial Maggie Zhang works in a non-for-profit organization. "I came from China as an international student 11 years ago and became a Canadian Citizen this year. This federal election, I had the privilege to vote for the first time as a new Canadian." 
"I voted [for] the Liberal candidate in my riding, Willowdale, simply because it was a strategic vote. As a typical left-leaning millennial, my values are more aligned with the New Democratic Party, especially on immigration. However, my riding has been historically red or blue dominated. Thus, strategic vote made the most sense to me in my riding for this election, considering that Willowdale went from red to blue in the 2018 provincial election.
"Furthermore, the Liberal candidate in my riding demonstrated a lot more competencies and understanding in policy and governance during an all candidate town hall meeting I attended. Meanwhile, the NDP candidate didn't put much effort during the campaign to let the community know her and show her commitment to our constituents."
Jacky Lee
Seneca College student, Jacky Lee, voted Liberal as well. "I'm upset with Doug Ford. I'm upset with Ontario Conservatives. They cancelled my free-tuition program earlier this year. I come from a single-parent family. My mom works very hard to support me and my sister. We low-income students deserve to have a relief on post-secondary education. Now [it's] all gone."
Asked why he voted for the Liberals and what about their platform he likes, the 20-year old replied: "I don't know much. I just know that I don't want the Conservatives to get elected, it doesn't matter which Conservatives. They all work for rich people." 
Ironically enough, Lee's Markham-Unionville riding re-elected the incumbent Conservative, Bob Saroya. Saroya won 5,800 more votes than the Liberal's Alan Ho. Markham-Unionville is one of the three ridings among 31 in GTA that voted for the Conservatives. That upsets Lee even more. 
Steven Li
Steven Li is 40-years-old and has lived in Canada for 20 years. He says he has split between Liberals and Conservatives. "I know the Conservative candidate. I'm confident of his capability and willingness to voice on behalf of our local community.
"I voted for the Conservative candidate at the end because of that. But I hope the Liberals can form the next government for a number of reasons. Economic achievement in the last four years (is significant) because Canada has increased GDP and kept lowest unemployment rate in almost four decades. The Liberal government has welcoming policies for immigrants and refugees. They recognize the economic contribution of immigrants and refugees."
He added that enhanced childcare benefits the Liberals are implementing will have positive economic benefits to the country. Li also shrugs off criticisms of Liberals for its budget deficits. He thinks that the investment into public projects will boost our economy in the future. 
Li believes the Liberals won partially due to Ontario voters' disappointment with Doug Ford. There was a lot of misinformation about the Liberals from many WeChat groups, the most popular Chinese social media. "There are some Chinese people I know who were supporters of the Conservatives are disappointed to the overwhelming misinformation Tories spread. As a result, some of the supporters switched to the Liberals. I am one of them. Only, I voted for the Conservative candidate I know personally at the end," 
Yida Zhang
Markham Stouffville resident, Yida Zhang voted Conservative but didn't get irked by the result. "Actually, I think the current result is the best for Canada at this time. The Liberal minority government will face more pressure when it tries to carry out its own policies. More cooperation with other parties will make the government's decisions more [considerate]. 
I asked Zhang for his thoughts on why the Liberals won this election. He thinks it has a lot to do with Doug Ford and Ontarians frustrations over his government's policies. 
"Justin Trudeau is still a charming leader despite the scandals he was involved in. His policy of welcoming refugees has made people think that he values more about humanity. His recent announcement on $250 million for assault rifle buyout makes people think that he's working on stopping gun violence in Canada."
---
This is final chapter of a IV-part series on why the GTA voted Liberal. In our first chapter we heard from voters why GTA locals chose the familiarity of the Liberals. Read it here.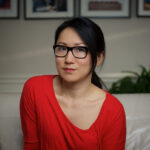 Shan is a photojournalist and event photographer based in Toronto with more than a decade of experience. From Beijing Olympic Games to The Dalai Lama in Exile, she has covered a wide range of editorial assignments.