As Toronto evolves into the world's most multicultural city, so does its colourful communities, rising as a collective force to overcome challenges. This time, it's the women who are initiating change. Meet a few dynamic South Asian immigrants who have stepped forward to pull up others in the community in various ways.
If Women Move Forward, the Whole Community Moves Forward
Shiuli Akhtar* (*name changed) stands as a symbol of pride for Sultana Jahangir, Executive Director at South Asian Women's Rights Org. (SAWRO). She defines what Toronto's grassroots member-led non-profit organization stands for: helping South Asian women, Bangladeshis in her case, come into their own in Canada.
Shiuli migrated to Toronto from Chittagong, Bangladesh in 2013, two small kids in tow. She had a degree in Chemistry but no work experience to talk of and little English skills. When she approached SAWRO for help, she was first enrolled in an English learning class, followed by a computer course. When her skills grew, so did her confidence. She got a break in a cosmetics firm in December 2014, only to be laid off 8 months later.
Not one to leave anyone stranded in the middle of the road, SAWRO pulled her into COSTI to switch lanes as a medical lab technician. Shiuli rose to the challenge, volunteered in a clinic for 3 months before she was absorbed into a full-time role. 4 years later, she lives her dreams in the same clinic with pride.
Sultana Jahangir, originally from Bangladesh, moved to Toronto from the USA in 2005, where she lived for about 7 years. Having faced injustices as a new immigrant under the Bush Administration, she understood the plight of her people in Canada.
"(Low-Income) women in the Bangladeshi community are very isolated. They are not familiar with writing resumes or Ontario's employment process. It is hard for them to sustain precarious jobs as they are not protected by working rights. We have policies from the 1930s which do not apply in today's environment."
The work environment in Canada is going through drastic change. Full-time employment supported by good wages is giving way to temporary contracts that pay pittance. Women at the lower end of the job spectrum are hit hardest with little benefits and lesser job security. SAWRO helps them by working with labour rights and employment organizations for "systematic change". Once these women sustain themselves, there is a profound difference. "They first get their voice and recognition in their own families," says Sultana.
Today, after 5 years of service, SAWRO supports over 2000 Bangladeshi, Pakistani, Afghani and Indian women. About 346 were assisted with jobs. Plans are on to reach other marginalized groups now. "Every ethnic group has their own characteristics," Sultana says. There is no one solution for all.
Driving Change by Giving Back
When Harpreet Sodhi migrated to Canada from India in 2001 to seek better opportunities for her family, little did she know that she would end up offering greater opportunities to others in the process. A computer teacher for seniors back in India, Harpreet was used to training the mentally and physically challenged. Since she was "lucky to be gainfully employed", she set about helping others through "Women That Give" – a non-profit group founded in 2016 by Fawzia Khan jointly with like-minded South Asian volunteers. The mission was to offer weekly workshops to help financially distressed and mentally disturbed women stand on their feet.
One of their greatest victories was Carol Mckeon, a mentally disabled woman under their care, who rose to take part in the 2017 International Paralympics Softball team, held in Toronto.
"Social isolation is a big factor that leads the disabled, abandoned and physically abused to depression and financial distress", says Fawzia. "WTG uplifts these women by building their capacity and helping with job placements."
"This land gave us the opportunity to grow so it's important for us to give back," says Harpreet. "We wanted to combine efforts to make a stronger impact as a unified force", adds Fawzia.
For Bhuvneet Thakur, life changed with WINGS (Women's Initiatives to Nurture, Grow and Support), a Mississauga-based non-profit organization. A student who arrived in 2016 to study at Humber College for a Business Accounting Diploma, Bhuvneet faced a roadblock once she finished her term. It was hard to find entry level jobs in her specialization.
"I realized the importance of connecting with professionals and carrying credible references," she says. But for newcomers like her, networking is a challenge. "It's hard to know who to talk with and how to start." That is where WINGS steps in.
Started by Sanjukta Das, a Humber College Business Placement Advisor and Social Activist, who came to Canada less than a decade back from India, WINGS took flight with an enterprising board of women directors in 2014, to provide networking opportunities to empower women.
Bhuvneet secured a co-op placement with WINGS, and connected with other professionals, "magnifying her self confidence." Shortly after, she got the much-needed break at Humber College itself. "I will continue volunteering at WINGS to help others reach their goals," she states.
WINGS now plans its first Trade Expo on March 18th, 2018 as a tribute to International Women's Day. It aims to bring together the rising number of South Asian women entrepreneurs and professionals at the Grand Convention Centre in Brampton. Funds from the proceeds will go towards a homeless youth shelter.
"Volunteering gives the chance to not just change one's own life but also someone else's", says Bhuvneet. Good to see the baton pass on to younger hands.
---
This piece is part of the "Ethnic Women as Active Participants in Ontario" series. Writers interested in participating are encouraged to join the NCM Collective for an opportunity.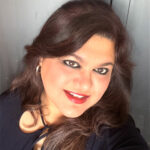 Collective Convenor & Communications Planner - Joyeeta Ray is a multimedia journalist, internationally awarded digital content specialist, and children's books author, based in Toronto. Born in India, she brings over two decades of advertising and journalism experience across seven countries to Canada. Joyeeta started her journalistic career in Jakarta, led an editorial team in Bangkok, and is a student of Multimedia Journalism from The University of Toronto. She is an enthusiastic NCM-CAJ member, actively involved in amplifying new Canadian voices as NCM's Convenor, Communications Planner, Mentor, and Reporter.