Canada is leading the global "green" market, developing cannabis into a billion-dollar industry eight months after enacting the Cannabis Act. Despite the success of the industry, the government is facing criticism for neglecting Indigenous people and visible minorities in negotiations.
"If you aren't at the negotiation table, you are on the menu," says Lorraine White, former General Counsel of the Saint Regis Mohawk Tribe. White is also one of the founders of Seven Leaf Medical Cannabis, based on Akwesasne Mohawk Territory in western Ontario. White accused the provincial and federal governments of excluding indigenous peoples from regulation around marijuana.
The all-Mohawk executive team of Seven Leaf are the first and only First Nations group licensed to produce cannabis. "Unfortunately, the Cannabis Act doesn't address the First Nations. It has excluded any reference to the First Nation community, the jurisdiction and the sovereign status," White stated.
Miguel Avila is the co-founder of Toronto CopWatch, an organization which documents police misconduct. Avila says that until now the marijuana market has been "white." "The authorities are not giving the opportunity to visible minorities. White people have control. We do not see indigenous or Afro communities participating in the legal market," he said. "Politicians talk about inclusion and a free market, but they should listen to the communities that want to be part of this legal industry," he added.
New Canadian Media contacted the Jamaican Canadian Association, Latin American and Caribbean Solidarity Network and Urban Alliance for comment but they couldn't be reached.
Canadians and the Cannabis Act
According to Statistics Canada, the national cannabis market reaches 5.4 million consumers. It's expected that legal cannabis sales will generate $1.2 billion for the economy and $400 million in total tax revenue for the government. Any additional money will is shared among the provinces.
"There was no consultation nor participation [with] indigenous or visible minorities and that is reflected in the act itself. The communities were not seen as potential owners or participants on the business side of the industry," White said. She was also critical of the federal government for exercising regulatory authority and legislating cannabis activity over First Nations territories. "We believe any discussion, dialogue and negotiation should be between the government and First Nations directly. Government to government," she said.
Akwasi Owusu-Bempah, assistant sociology professor at the University of Toronto, argues that before legislation, racialized people in Canada were arrested for marijuana possession at least three times more than white Canadians. "It depends on the jurisdiction, but could reach the level of nine times," he clarified.
"the potential for more racial detentions or criminalization [is] still in place."
Owusu-Bempah believes that even with cannabis legalization, racialization around cannabis will prevail. Data from jurisdictions in America show that because of longstanding racism and injustice "the potential for more racial detentions or criminalization [is] still in place." Black people, indigenous people and other marginalized communities are most affected, resulting in difficulties finding jobs and housing.
Avila pointed out that pardons and expunging criminal records for marijuana possession by the federal government are still pending. "If a person has a criminal record for marijuana possession, how can he/she qualify for a licence" he remarked.
Conversation and participation
The Cannabis Act doesn't consider the ethnographic composition of Canada's population, Owusu-Bempah says. "We need more data collection in terms of use of cannabis beyond age, gender. We would like to study how the post-legalization of cannabis has impacted the variety of multicultural groups in Canada."
White and Owusu-Bempah were interviewed earlier this month during the Cannabis Summit in Toronto. They addressed legislation, the growing market in the United States and potential suppliers from Colombia and Mexico. Statistics Canada representatives at the summit said they've been studying marijuana's impact on age and gender, but not yet considering the ethnocultural mosaic in Canada.
White highlighted indigenous communities desire to be part of these new cannabis ventures. "This new and exciting industry potentially can bring tremendous benefits for First Nations peoples," she said. Involvement in the cannabis industry would present health, education and entrepreneurship opportunities for these communities.
"We want more First Nations communities to participate in this industry as an economic engine that can lead the way toward having better health care, better education and better jobs in order to have economic and social justice," White commented.
White is expecting a government-to-government dialogue about the "lack of participation and potential remedies." "If there is a will to fix the right for First Nations to regulate cannabis activities in their own communities, including the taxation," she added.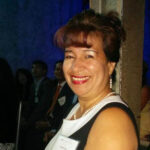 Isabel Inclan has worked as a journalist for more than 20 years, in both Mexico and Canada. She began working as a foreign correspondent in Canada in 1999 for Mexican media. She has been a New Canadian Media contributor since 2018. Her main areas of interest are politics, migration, women, community, and cultural issues. In 2015, Isabel was honoured as one of the "10 most influential Hispanic Canadians." She is a graduate of Masters in Communication and Culture at TMU-York University. She is a member of CAJ and a member of the BEMC´s Advisory Committee.