Fadi Salback and his family immigrated to Ontario, Canada from Haifa, Israel when he was a young boy. He played soccer as a child, dreaming of one day becoming a professional player. 
So when he began his first year of software engineering at Ontario Tech University, he naturally made the team for the Ontario Tech Ridgebacks. It was here that he caught the eye of FC Vorkuta, a Canadian soccer club that is a member of the Canadian Soccer League. 
Playing in Ukraine
It wasn't long before he became the first player from Vorkuta (Toronto) to sign a professional contract in soccer-crazed Ukraine. Though his playing on the field helped him secure a spot, it was through Vorkuta, which is mostly Ukrainian players, that helped make the connection with FC Podillya Khmelnytskyi.
Moving to Ukraine for soccer was not easy, says the 23-year-old star player who has scored five goals in his first eight games in the European professional league even while continuing his studies long-distance at Ontario Tech.
Communication has been difficult as his Ukrainian is still minimal but his English-speaking teammates help translate for him, says Salback from his apartment in Khmelnytskyi, Ukraine. 
Now when he walks through Khmelnytskyi, Ukraine, fans often recognize the young soccer player. Salback said he appreciates his fans and also relates to their love for soccer players, looking back to his youth when he would admire other soccer players. But, the attention isn't always so easy. 
"Fans, they see only what goes on in the game. They're not really at the practices, they're not there day-to-day. They don't see how much hard work is put in. How mentally taxing it can be sometimes." 
Getting your head in the game
"Every game is different. Maybe things go very well for you, in other games you have to really dig deep to [win]. I work as hard as I can and take it day by day, trying to improve on any mistakes I feel I've made. I always give my best."
On game days, everyone feels the nervous jitters in the locker room. The players are quiet, more focused. Some play their own music while others listen to the music coming from the speakers. The coach comes in to give instructions for the game, pumping the team up to be emotionally focused and tune in on the game.
"We get together and it's more like a quiet emotion for [us] with each other. We're aggressive and we're hungry to play and to win the game. They're all good feelings. I'm nervous and excited but not afraid."
There's not a single day that he wakes up and doesn't want to play, Salback told NCM over a Zoom interview. 
Win or lose, you stay a team 
When Salback scores a goal, it's a feeling of exhilaration he cannot contain. He runs up to his teammates and hugs them many times after scoring.
"I can't really explain what happens when I score. It's an amazing feeling. I can't really explain. I feel like the most important person in the world for around one minute. Nothing else makes me feel like that."
When the team wins, there's only time for celebrations. The players go out and have a celebratory dinner together and often tease one another about the game. 
"We're all sometimes making fun of each other. If someone messed up, we tell them. We have a laugh at him with a couple of jokes. We're all in good spirits."
When they lose, it's much harder. 
"No one wants to speak with each other. We're just kind of down. We're all reflecting. We're all thinking like, 'What the heck happened? Why? How?' It's tough. It feels like you didn't do your job. So especially the whole week, before the next game, maybe a little down on ourselves, waiting for the next game."
The first night after losing is the hardest and Salback often has trouble sleeping after.  
"But in the morning, you wake up and you know it's a part of the sport of soccer. So you just got to go to training and you gotta keep your head up."
Recently, Salback had his number changed from 19 to nine which was his number back at Vorkuta. He said it's his preferred number. 
FC Vorkuta was founded by Igor Demitchev, a Toronto-based lawyer who grew up in Vorkuta, Russia. The city is known for its association with the Gulag, a network of Soviet forced labour camps under Joseph Stalin. Demitchev honours the victims who suffered in the labour camps by featuring barbed wire on the team's jerseys. 
"We are beyond thrilled with the fact that our player, whom we trained in Ontario, was picked by a European club. It is a perfect example of how Vorkuta FC helps to develop soccer in Canada. We hope that soon Canadian soccer players will become as famous as its hockey stars," said Demitchev about the success of Salback, currently the only Canadian player in the Ukrainian Football League.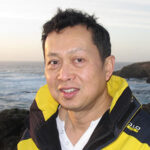 Joseph Lopez is a radio talk show host for The Filipino Edition on RED FM 93.1 & FM 89.1 in Metro Vancouver leading conversations on important issues, providing information on the many facets of life.