The Canadian Commission on Democratic Expression, a body tasked with developing policy options that address the harmful impacts of digital technologies on Canada's democratic institutions and public life, is working towards making a formal recommendation to the Government of Canada in the spring of 2021. 
Canadian Commission on Democratic Expression is the initiative of an independent non-profit think-tank, the Public Policy Forum, which was launched in May this year. Each year for three years, the project will bring together a group of eminent Canadians to tackle political disinformation, hate speech and targeted discrimination and misinformation. The project is funded by Heritage Canada.
The 2020-21 commission, which will conclude its work in March 2021, is composed of academics and legal experts, including a former Chief Justice of Canada. 
Striking a balance
One of the Commissioners, journalist, NCM Collective member and human rights advocate Amira Elghawaby, says that in a broader process, Canadians are being engaged through citizen engagement. 
"There are meetings being held with Canadians across Canada to talk online due to pandemic, but these things are happening in order to hear from communities and understand further what is the impact of proliferation of hate," she says.
Elghawaby believes that social media platforms should be brought under significant regulation and could be held accountable for whatever hate is shared and consumed on their platforms, but the Commission is still exploring the issues and has not made any conclusions. 
"From my perspective, these social media companies should be accountable," she says. "We need standards around how quickly these platforms remove hateful content."
Ever since a hate speech provision was removed from the Canadian Human Rights Act (section 13) by the Conservative government in 2013 on the grounds that it was too restrictive, there has been a need for a replacement clause, and that need is becoming ever more urgent with growth in online communication via social media. 
Elghawaby says that the concerns around free speech are legitimate, so the key will be to balance this consideration with the real harm that hate on social media can cause.
"Like any publication that can be held accountable, like any communication by the television standards or communication standards, newspapers, are held accountable. So, in the same way social media platforms should be held accountable," she adds. 
Incalculable harm
Bernie M. Farber, Chair of the Canadian Anti-Hate Network, expects social media companies to act like good corporate citizens and not permit their platforms to be used by haters for recruitment, radicalization, and the spreading of hate. 
Sadly, this has not happened, he says, so it's up to the Government to enact regulations that will have severe penalties attached to them. 
"If they are unable to self-regulate, fines must be in the millions of dollars when it comes to large ISPs [internet service providers] and social media platforms like Facebook and Twitter if there is any hope to curtail the spread of this poison," Farber suggests. 
The Canadian Anti-Hate Network is a non-profit organization with a mandate to monitor, research, and counter hate-promoting groups and individuals. It is comprised of Canada's leading experts and researchers on hate groups and hate crimes, and its Advisory Committee includes journalists, academics, court-recognized experts, lawyers, people who stood up to the neo-Nazi Heritage Front in the 1990s, and leaders in communities that are being targeted by hate.
Farber, who has experienced threats and faced cyberhate, believes that it's a new and potentially more dangerous form of the same hate many have faced for years. 
"Today, the spread of cyber hate and threats is more vast, with targets more plentiful using social media, the tool of choice for hatemongers. With the click of a key, they can potentially reach hundreds of thousands of individuals and the number of young people logging on to hate is incalculable," he adds.
Triggers of hate
Samya Hassan, Executive Director at the Council of Agencies Serving South Asians (CASSA), thinks that the capacity to counter cyberhate either at the organizational or individual level is missing and "everybody is resource strapped."
"Especially our member agencies that are serving immigrants and refugees, if they are posting about the initiative or success of programs online or about different types of population they are serving, they receive hate," Hassan says.
Triggered by New Zealand's Christchurch mosque shootings in 2019, CASSA and community leaders from diverse racialized and minority groups who have an interest in combating hate created a group and received federal funding under the Anti-Racism Action Program up to March 2022.
The project called "Combating Online Hate" brings together 52 members from across the country. Plans include creating a capacity building tool kit for agencies that serve immigrants and refugees.
"If their staff is facing it [hate] or the agency is directly facing it, then we would have a step-by-step process on how they can address it. We will create content using infographics and animations," Hassan says.
With creativity in content and less focus on heavily written material, the project also includes a six-month national social media campaign to target the negative narratives on racialized communities that are spread online.
"It's going to target hateful messages and content, target myths and fake news. We are going to put positive messages on racialized communities and actually build the capacity on utilizing that tool kit," Hassan adds. 
YWCA Canada, led by CEO Maya Roy, has also recently launched its own anti-hate initiative. Block Hate: Building Resilience against Online Hate Speech received $759,762 in funding from the Public Safety Canada's Community Resilience Fund, which targets youth aged 14 to 30, specifically those who experience marginalization in a Canadian context. 
The four-year project will work in partnership with tech experts, regulators and civil society to improve multi-sectoral collaboration to make meaningful change for Canadians in terms of community resilience against hate-speech.
"It will build digital tools for youth to respond to hate speech and raise awareness through social media campaigns," Roy says.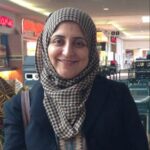 Tazeen is based in Mississauga and is a reporter with the New Canadian Media. Back in Pakistan where she comes from, she was a senior producer and editorial head in reputable news channels. She holds a master's degree in Media and Communication and a certificate in TV program production from Radio Netherlands Training Center. She is also the recipient of NCM's Top Story of 2022 award for her story a "A victim of torture, blogger continues fight for human rights in Pakistan"