Tin Maung Htoo, Toe Kyi, Wahnay and others in Myanmar's diaspora community in Canada have been watching events unfold in their home nation with a growing sense of alarm.
Myanmar's hard-won democracy is in peril, and the country is on the brink of a long drawn out and bloody civil war, warn Myanmarese-Canadian activists. They are urgently appealing to the Canadian government and the international community to take meaningful and immediate action to avert such a catastrophe that would destabilize the entire southeast Asian region.
"A failed state is looming on the horizon," says Tin, one of the leaders of the Burmese Canadian Action Network, from his home in London, Ontario. 
The military junta in Myanmar
He is referring to the mass protests that erupted in his birth country where a military junta led by General Aung Hlaing seized power on February 1, overthrowing the democratically elected National League for Democracy (NLD) party.
"Over 550 people, including children, have been killed and the number of fatalities is increasing each day," continues Tin, who is keeping in close touch with friends and relatives in Myanmar despite attempts by the military to block the internet. "But the protestors are not giving up and will continue to fight for freedom and democracy. And the military will not retreat either. We will see a full-scale civil war in the coming weeks."
Tin has a sense of déjà vu as he wakes up in the early hours of the morning to communicate by satellite phone— often the only means available with contacts in Myanmar. His friends keep him apprised of what he refers to as the "civil disobedience movement," and the military junta's attempts to crush the uprising with ruthless force. 
He and colleagues who were active in the student protest movement against a similar military crackdown fled to Canada in 1996. 
Responding to National League for Democracy leader Aung San Suu Kyi's appeal, they are proactively using the freedom they enjoy in Canada to support Myanmar's struggle for civil and political rights of which the February coup was the latest episode. 
On February 1, the military, which had controlled Myanmar off and on for years, again seized power in the country after an election in which the NLD, led by Ms. Suu Kyi, had won a landslide victory.
Following the coup, military commander-in-chief Min Aung Hlaing declared a year-long state of emergency. Ms. Suu Kyi has been arrested and held at an unknown location where she is facing various charges.
No response from Canadian Government
Tin said that on March 1, about 350 Myanmarese Canadians from across the country had sent a letter to Prime Minister Trudeau and Marc Garneau, the foreign affairs minister, appealing for tangible support from the Canadian government.
"We want Canada to recognize the CRPH," Tin said, explaining that the initials stand for Committee Representing Pyidaungsu Hluttaw (CRPH) and that it is a parliamentary committee formed by approximately 400 elected MPs who have gone into hiding since the coup.
"We also asked for material support for displaced people and for civil servants in Yangon and Mandalay because the transportation lines are in shambles and the food supply is in total disarray," he continued. "They need medicine and hygiene items."
Tin added that they were still waiting for an answer from the Canadian government.
COVID-19 during civil disorder
Asked if COVID-19 was exacerbating the suffering of the people, Tin responded, "People are so overwhelmed by the violence following the coup, that they seem almost unaware of the pandemic." In the meantime, the Centres for Disease Control and Prevention has reported a "very high level" of COVID-19 in Myanmar.
Toe Kyi, another leader of the Burmese Canadian Action Network, said it is imperative that the international community support Aung San Suu Kyi, despite the furor caused by her perceived role in the Rohingya crisis. Suu Kyi, once the face of Myanmar's democracy movement and a Nobel Peace Prize winner in 1991, abruptly fell from grace when the world accused her of being complicit in the genocide of the Muslim minority in the country.
"She had to work with the army who were the real power in northern Rakhine State, the Rohingya homeland," Toe Kyi explained.
Suu Kyi, however, has emerged once again as Myanmar's democracy icon, and almost all the country's ethnic minorities are united behind her, he said.
"More than 12,000 Karen (another ethnic minority) people fled their homes when the Burmese military regime carried out airstrikes on villages in Karen state's Papun District and Bago region's Nyaunglebin District between March 27 and 31," said Wahnay, an Ottawa-based member of the Karen community. He described how many Karen villagers had fled to Thailand which does not recognize them as refugees and does not grant them any rights.
Minister of Foreign Affairs Marc Garneau said in a statement released on March 27, "Canada and its international partners are watching, and those responsible will be held to account. We call on the international community, including the United Nations and our friends in the Association of Southeast Asian Nations, to immediately intervene to help stop this senseless violence and prevent more civilian deaths, hold perpetrators accountable and help re-establish democracy as demanded by the people of Myanmar. Canada stands in unity with the people of Myanmar."
However, words are not enough. "Canada has been issuing statement after statement on the crisis in Myanmar, but we are still waiting for tangible, concrete and meaningful action," emphasized both Toe Kyi and Tin Maung Htoo.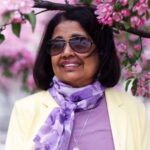 Ottawa-based writer/journalist, editor, blogger, communications professional seeking freelance opportunities in political and travel writing.