On April 21, Sarah Ng, a Hong Kong immigrant who currently resides in York Region, north of Toronto, received an email with the subject line "Fire Dr. Theresa Tam" in her inbox.
The email came from a sender named 'Derek Sloan for CPC Leader'. Sloan is a rookie Member of Parliament, who is currently running to replace Andrew Scheer as leader of the Conservative Party of Canada.
The message Sloan delivered in that email alleged that Tam, Canada's chief public health officer, should be fired because she is working under the influence of the Chinese government.
"Dr. Tam must go! Canada must remain sovereign over decisions," Sloan's note said. "The [United Nations], the [World Health Organization], and Chinese Communist propaganda must ever again have a say over Canada's public health."
Dr. Theresa Tam, Canada's Chief Public Health Officer, has failed Canadians.

Dr. Tam must go! Canada must remain sovereign over decisions. The UN, the WHO, and Chinese Communist propaganda must never again have a say over Canada's public health!#cdnpolihttps://t.co/2u1JxCAdIV

— Derek Sloan (@TrueDerekSloan) April 21, 2020
Ng, who witnessed first-hand how the outbreak of SARS hurt Hong Kong in 2003, said she is very upset about some of the advice that Tam has offered to Canadians since the beginning of the COVID-19 pandemic.
For example, she said Tam erred by not providing advice with regards to international travel restrictions during the early stages of the coronavirus outbreak. As well, Ng said Tam's recommendation to only wear face masks if one is sick has had a negative impact on Asian Canadians, who have chosen to voluntarily wear masks.
"[Tam's] repeatedly misleading guidance on not wearing masks has exactly given the wrong impression to mostly Asian-looking-mask-wearing people. She makes other people think that we are sick, and that's why we wear masks."
Criticism based on race unjustified
But while Ng takes issue with some of Tam's recommendations, her criticisms are levied because of Tam's expertise, not because of her racial background.
"Tam didn't do the right thing to protect Canada," said Ng. "Instead, she remains politically correct, opening our border to people who brought virus in the early stage of the spread, misleading our community not to wear masks and worsening the spread."
"But I criticize her because she is our chief medial officer, not because she is an Asian Canadian like me."
At the same time, however, Ng said many of Sloan's accusations sound like conspiracy theories.
"I don't agree with what Sloan accuses Tam of," said Ng. "But I support to fire Tam for her poor leadership."
Comments were 'vicious'
Lihu Yao, who runs the Canadian College of Food and Health, in Toronto, has denounced Sloan's attempt to spread false information and discredit Tam.
"Canadians [need] to stay away from negativity and misinformation spread by people like him," says Yao, who holds a doctorate in food science and specialized in immunology.
"What he said is baseless and vicious."
Yao, who immigrated to Canada from China, also defended Tam's handling of Canada's response to the COVID-19 pandemic. He explains that Tam has been an unflappable leader that has proposed strong, rational measures.
Yao did admit, however, that the majority of Chinese Canadians actually object to Tam's recommendations because they don't follow actions taken in China.
"That's because many of the critics don't know enough about science and facts," said Yao.
For its part, the Chinese Canadian National Council for Social Justice (CCNC) called Sloan's comments "racism".
Amy Go, who acts as the council's president, said it was "disgusting and frightening for a
politician to criticize a public servant like Tam, who happens to be a Chinese-Canadian
immigrant, by questioning their loyalty to Canada versus China."
Bradley Lee, who worked closely with CCNC's national campaign on the redress and
compensation to the Chinese head-tax payers in 2006, stands by CCNC's assertion.
"It's the first time I've felt self-conscious about being of Chinese ancestry while living in Toronto, even though my family has been in Canada for five generations. Just by appearing Chinese, we've been singled out for both casual and outright racism amid COVID-19," Bradley Lee says.
"I'm disappointed that Canadian values amid COVID-19 only appear to go as far as rhetoric
around multiculturalism and diversity, even from the Prime Minister, and that nothing is backed
up by action," Lee adds.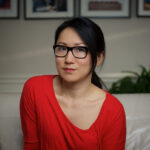 Shan is a photojournalist and event photographer based in Toronto with more than a decade of experience. From Beijing Olympic Games to The Dalai Lama in Exile, she has covered a wide range of editorial assignments.