The opposition movement in Belarus needs the continued support of the international community and of the diaspora in fighting for democratic transition, opposition leader Sviatlana Tsikhanouskaya and her advisor Franak Viacorka said Friday after a meeting with Canada's Foreign Minister François-Philippe Champagne in Lithuania. Of the estimated 3.5 million Belarusian emigrants, over 20,000 live in Canada.
Canada and countries in Europe "understand why Belarusian people are fighting, what they are fighting for," Sviatlana Tsikhanouskaya said on October 16 during a livestreamed event organized by the Munk School of Global Affairs and Public Policy and moderated by Prof. Lucan Way of The Centre for European, Russian, and Eurasian Studies (CERES) at Munk.
"We are fighting for a new, democratic country, where every person is important, where everybody's voice is heard," she said. "We are united as never before and we try to build a new Belarus together, but our ex-president, Mr. Lukashenko, is clinging to power."
Alexander Lukashenko, in power since 1994, declared himself the winner of the August 9 presidential election, claiming over 80 per cent of the vote. The result was disputed by Tsikhanouskaya, who ran against the long-time president in place of her imprisoned husband, Siarhei Tsikhanouski. She was then forced to flee to Lithuania, but tens of thousands of Belarusians have continued to protest daily, calling for Lukashenko's ouster.
The authorities have responded with mass detentions, beatings and torture. Over 100 people are reported to have been detained on Sunday, the 71st day of the protests.
According to UN Special Rapporteur on the situation of human rights in Belarus, Anais Marin, by mid-August there may have been at least five casualties in the protests. Dozens of people are missing.
"We just have a three-point strategy: pressure, negotiations and new elections," Tsikhanouskaya said. "It's a pity, but after two months we are still on the first point."
Earlier last week, Tsikhanouskaya set an October 25 deadline for Lukashenko to step down, stop the use of violence and free political prisoners, or face nationwide strikes. This ultimatum came after the Interior Ministry threatened to use lethal weapons against the protesters. So far, they have been reported to use water cannon, tear gas and flare guns.
"We are looking for different ways out of this situation because we are calling for dialogue and our authorities don't answer," Tsikhanouskaya said.  "We are continuing to ask for advice from leaders of other countries, how they can help, how they see our situation."
Minister Champagne, who met with Tsikhanouskaya for the first time face-to-face on Friday, assured her of Canada's continued support and offered technical assistance in the reform program down the road, as he reported in opening remarks at the Munk School event and during a conference call concluding his five-day European tour.
"I think she holds Canada and our intervention very high in her heart because we were there since day one and we have been consistently engaging with the movement, supporting them at every step of the way," Champagne told journalists.
During my meeting with Belarus opposition leader @Tsihanouskaya, I reiterated 🇨🇦's support for the people of #Belarus.

Canada is committed to working with international partners to hold accountable those responsible for violence and for undermining democracy in Belarus. pic.twitter.com/k06BPf8cpT

— François-Philippe Champagne (FPC) 🇨🇦 (@FP_Champagne) October 16, 2020
He stressed that Canada was one of the first countries to impose sanctions on members of the Belarusian regime, on September 23. Sanctions were then extended to 31 additional officials on October 15 "in response to gross and systematic human rights violations that have been committed in Belarus," as stated in the official press release.
Ottawa intends to increase its involvement in the region and will be holding an annual summit with the Baltic countries, Champagne announced. 
Diaspora's efforts crucial in pressuring the regime
The diaspora has played a vital role in exerting pressure on the Belarusian regime, Tsikhanouskaya's advisor Franak Viacorka stressed.
"Through the rallies, through the protests, through the letters, through the advocacy and lobbying on the international level, the Belarus issue was raised, sanctions were adopted, politicians made decisions," he said. "Actually, minister Champagne mentioned several times during the meeting with Sviatlana that thanks to the diaspora, Canada's stance is so tough, so firm."
The Belarusian-Canadian Alliance organized a petition to the Canadian government to demand Alexander Lukashenko's immediate resignation; the release of political prisoners; investigation into the atrocities committed in the streets and in Belarusian detention centres (violent beatings, torture, rape, denial of medical care); and adoption of the Magnitsky Act for Belarus, among others.
But there is yet more that can be done.
"I think the diaspora can work with local governments, parliaments, raise awareness, but also, regarding this isolation strategy, it's very important to block the companies that work with the regime," Viacorka added, referring to state-controlled companies that operate internationally. "I think this is the moment when the diaspora can be not just vocal, but also can do something specific."
According to Viacorka, it is possible to identify and boycott organizations in the West that have ties or partnerships with the regime-controlled companies. "I think there are civic groups working on this," but more efforts are needed.
"What we need to invest in is investigative journalism because, I think, what is much more important and what is very urgent is to investigate about the assets, about the connections, and about the ties, not just in Belarus but also outside of Belarus," he said.
There is "huge homework" to be done in identifying what was going on in Belarus during the 26 years of Lukashenko's rule, Viacorka stressed.
The Belarusian diaspora in Canada totals 20,710 people (based on the 2016 census). Data at the global level are not available, but according to the World Association of Belarusians, there are around 3.5 million Belarusians living in 73 different countries, which is about a third of the country's population of 9.5 million.
COVID-19 becomes trigger
According to Sviatlana Tsikhanouskaya, Lukashenko has long lost touch with the Belarusian society. "He doesn't know his people, he lost connection with us," she said. But while opposition against the president has long been covert, his response to COVID-19 tipped the scales and gave people the push to take to the streets.
"COVID influenced much, because at the time of COVID we understood that our government doesn't care about Belarusian people at all," Tsikhanouskaya believes. "Our doctors didn't even have masks. He was so disrespectful to his people during COVID; he blamed people themselves for getting ill. People started to collect money to buy masks for doctors … so we felt that we can do everything ourselves, we don't need a dictator to build this wonderful country."
"We believed in ourselves."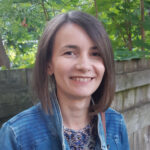 Alicja Minda is an NCM journalist, editor and researcher with extensive experience covering business and economy as well as global affairs. She has worked as Canada correspondent for the Polish Press Agency. In her free time, she is volunteering with Editors Canada as editor-in-chief of the Editors Toronto official blog, BoldFace.