Last week, Canada's innovation minister Navdeep Bains all but conceded that the Liberals needed to craft a positive message about boosting the number of immigrants into Canada. In other words those in favour of a massive increase need to put a spin on it. There is resistance to that idea from sections within the Liberal party as well as from Canadians worried about the effect more immigrants will have on their job prospects, let alone their children's job prospects.
Following public consultations with Canadians coast to coast, Immigration minister John McCallum not so long ago insisted that wherever he went, Canadians were telling him they wanted more immigrants. Some might have literally been begging, especially in immigrant-rich places like Brampton.
It is the position of many Liberals, the business community and the elite at large who are for a massive intake of new immigrants, refugees, foreign students who they insist are needed to fill labour shortages. Any day now a new three-year immigration plan is expected to be unveiled, and it looks increasingly likely that the annual number of immigrants for 2017 will be a lot higher than in previous years. By the end of 2016, Canada will have welcomed well over 300,000 immigrants.
A minority favour higher immigration levels
In a Nanos Research poll conducted in August 39 per cent of Canadians felt Ottawa should accept fewer immigrants in 2017 than in 2016, 37 per cent were satisfied with the current levels and just 16 per cent thought we should accept more immigrants.
But then again, a Canadian, both old and new is for or against higher or lower immigration levels depending on their current financial situation, their social status and place on the food chain.
If the Canadian is a new immigrant trapped in a precarious work cycle or at the mercy of temp agencies, talk about Canada's desperate shortage of workers and the need to import more immigrants would seem like a cruel and ongoing joke, after thousands of immigrants made that fateful decision to immigrate based on such 'reports' only to find themselves unemployed or underemployed.
Immigration is favoured by the elite
If you are a corporate CEO or business owner who stands to gain richly by bringing in skilled workers rather than invest and train young Canadians, increasing immigrant levels is in your interest.
The Liberal elites who often happen to be civil servants with job security and generous pension plans , university professors, media professionals and the affluent who aren't threatened by waves of immigrants love the idea of a human flood. It makes for a feel good story about great success of Canada's stunning diversity, generosity and multiculturalism. It contributes to a sense of national identity.
Neither are their jobs threatened by immigrants who won't 'qualify' as they lack 'Canadian experience' and the demographic composition of their neighborhoods won't be affected by immigrants seeking jobs and homes.
Currently there are many media commentators who are encouraging the government to heed experts and business leaders who support higher immigration levels. In other words, they infer that the tremendous pushback against the idea comes from less educated and racist Canadians. Some media commentators might almost want to call them 'deplorables' for their anti-immigrant mentality. After all how can Joe Sixpack know what's good for the country?
In earlier times it was easier to defer to elites and experts on complex issues like the economy, there were few questions raised by the 50 per cent or so of the population who either had an average IQ, lower education and fewer skills. The reason was many of them had decent to well-paying jobs in manufacturing and the trades that didn't require a college degree. But in 2016 this is not the case.
Technology is eliminating job categories
More jobs than ever before require complex skills and higher education. Even a car mechanic needs to be computer savvy and it may not hurt to have programming skills in the future.
But even if free training is available, can a person without the aptitude and mental agility master complex change? This new technological age is especially cruel to those in the arts as well as those not cut out for higher education.
There are millions of Canadians and Americans, mostly men who are currently unemployed, stagnating at dead-end jobs or have simply stopped looking for work. These are victims of technology changes and outsourcing. While the new report released recently by the Conference Board of Canada discusses the affect of an aging population on the economy and the need for higher immigration levels may have some merit, it simply baffles those at the lower end of the food chain. And no one pushing for more immigration seems to have taken into account the fact that technology is set to get rid of entire job categories . Between outsourcing and redundancy hundreds of thousands of jobs could disappear just as immigrants appear over the horizon.
Prepare for short-term employment
Our Finance Minister Bill Morneau recently told Canadians to prepare for an era of short-term employment he also noted that some people will see their jobs disappear in the years to come — truck drivers and receptionists, for instance.
So on one hand Canadians who want to work will find themselves working even less if at all and on the other hand we are reminded or a looming labor crisis.
As I write this column, there are thousands of Canadians trapped doing jobs they hate simply because there are few options out there. There are any number of university-educated millennials struggling to find jobs or hold down jobs that barely utilize their skills. Barristers are baristas at coffee shops in Toronto. Walk into temp agencies and you will find an endless stream of educated and mostly new immigrants hoping to luck out with a dead end job.
Big corporations may talk about the need for more highly-skilled immigrants, but they won't promise not to ship jobs off to India and China when its convenient or more economical.
Most immigrants compete in crowded job categories
And one problem with skilled workers is that while they come into Canada as the principle applicant, they bring along spouses who may in all probability have skills that aren't in high demand, in which case he or she will end up competing for scarce jobs with other Canadians. So technically for every one immigrant with skills, comes another who will join the crowded general job category. This could end up depressing wages at the lower end of the job market, naturally or add to the unemployment numbers.
Why would a small businessman want to give his employees a livable wage that is well above minimum wage when there are any number of new immigrants and foreign students willing to work for less? Late last month a report from new survey from Aon Hewitt, a Human Resource firm, said Canadians could forget about getting a raise in 2017. They of course refer to those in the private sector. Civil servants and others can expect good raises, not surprisingly, these are the ones most in favor of bringing in more immigrants.
Even brown Canadians are wary of increasing the number of immigrants, unless of course they have family who've applied for immigration or student visas. There was a time small businessmen loved new immigrants who were willing to work for minimum wage and absolutely no medical benefits, now many of them are keen on a steady supply of foreign students. Why? Who else will work for $6 an hour?
Republished with permission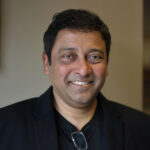 Pradip Rodrigues began his career as a journalist at The Times of India, Mumbai. Since moving to Canada in 2000, he has written for several media outlets both here and in India on a variety of issues. Prior to joining NCM, he was at CanIndia newspaper for eight years.