On a recent episode of his popular Netflix show Patriot Act, cultural conscience-keeper Hasan Minhaj made an interesting observation: that many brown, and other light-skinned immigrants, have been conspicuously absent from the anti-Black racism protests taking place in cities and towns around the globe.
Minhaj went so far as to call out Bollywood stars, like ShahRukh Khan and Priyanka Chopra, who have voiced support for anti-Black racism on social media but, at the same time, have endorsed skin-lightening creams.
Newsflash: social problems cannot be dealt with by using a dermatologically-approved whitener cream.
Confronting different cultural realities
It's a cultural reality that South Asians are conditioned to equate fairness with wealth, looks and cut above the rest. Higher the caste, the lighter the skin.
We have no qualms putting out matrimonial ads that mention our preference for fair-skinned partners. Dark-skinned girls have a tough time finding a matrimonial match. Dark-skinned people in India are used to being called Kalia and other such derogatory terms as children. In adulthood, they face other problems that can well be traced back to the colour of their skin. More often than not in the workplace, a lighter-skinned applicants with the same qualifications gets a job over darker-skinned people.
And if we treat darker-skinned people in our own community poorly, we downright fear and loathe Black people, period.
This week, former West Indies captain Daren Sammy, who happened to have also watched that episode of Patriot Act, spoke up about how South Asians treat Black people. He gave some examples of slurs. He focused on one word in particular: Kalu.
During his time playing for the Sunrisers Hyderabad in 2013, he was routinely referred to as Kalu by his teammates. Poor chap said he thought the word meant something affectionate like 'gentle giant'. He said he even thought it was funny.
Sammy recalls the slur also being directed towards Sri Lanka allrounder Thisara Perera, who was also on the team. and happens to be a bit darker-skinned. In retrospect, Sammy is offended.
Racism happens everywhere
In India, hundreds of African students and other Black tourists will attest to facing racism of some kind or the other. African students have been beaten up and accused of being drug dealers, cannibals and carriers of disease. They've been barred from entering many establishments. Most Indians avoid talking to them leave alone get into any relationships with them.
I have met many Indian refugees who fled to Canada in 1972 after being forced out by Uganda by Idi Amin. One such refugee now in his 80s acknowledged that when they were being hounded out by Amin, the local Ugandans had little sympathy for the Indian expatriates. Despite living in that country for generations, the Indian diaspora, in all parts of African, refused to interact with local Africans whom they regarded as inferior. This is why many of these original refugees on coming to Canada abandoned their insular ways and instead made efforts to integrate into the country.
This could help explain why South Asians are reluctant to join the anti-Black racism protests going on around the world. If George Floyd had been of South Asian Muslim, or Hindu, or Sri Lankan, hundreds of thousands of people like me would be out in traditional attire demanding justice and an end to Islamophobia. Politicians would be harangued and self-proclaimed community leaders would go on national television lamenting the fate of immigrants and people of colour.
I believe many South Asians thinking about the murder of George Floyd would be more inclined to talk about the evil white man and the historical sins committed by settlers against the Indigenous people than their own short-comings. They will remind themselves of colonialism and blame what is happening today as a continuation of all that happened in the past.
I don't think any South Asian would ever consider themselves racist. Somehow, we believe that a brown person cannot be called a racist, as being brown is an insurance policy against that charge.
Maybe we don't actively discriminate against Black people because we are too busy discriminating against our own. We discriminate our own based not just on colour, but caste as well. This time is a reminder that we cannot forget to look carefully at ourselves and give our collective heads a good shake.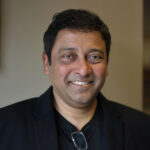 Pradip Rodrigues began his career as a journalist at The Times of India, Mumbai. Since moving to Canada in 2000, he has written for several media outlets both here and in India on a variety of issues. Prior to joining NCM, he was at CanIndia newspaper for eight years.