Last night, Kamala Harris made history as the first Black woman to ever officially accept the nomination to be the Democratic Party's vice-presidential candidate. Born in the United States to a Jamaican father and an Indian mother, Harris's recent rise up America's political ladder has exposed a tidal wave of pride across her ancestral homelands.
Jodi-Ann Quarrie, a Caribbean attorney who specializes in environmental and human rights, and a member of the Barbados and Jamaica Bar, made an oblique reference to the Harris enthusiasm on Twitter: "Jamaicans will now be insufferable," she tweeted. "As far as Jamaicans are concerned, WE will be vice-president."
Jamaican pride is 'irrepressible'
Jamaican pride in its 'daughter' is irrepressible. P.J. Patterson, Jamaica's former prime minister, was a classmate of Harris's father Donald Harris at the West Indies University. In 1999, Patterson got Harris appointed to develop a national industrial plan for the country.
"We have watched her grow," he said. "She has been incisive; she goes to the heart of the issue that has to be resolved …it is good to have someone on the ticket who has ethnic origins."
The islanders of the Caribbean nation, with a population less than three million are going full throttle on Harris's selection and its David-like influence on the American Goliath. They think the selection is the latest example of the island's growing influence on the wider world. 
Richard Bernal, a former Jamaican ambassador to the United States, and another friend of Harris's father, likened her selection to that of former U.S. secretary of state Colin Powell's, whose parents also emigrated from Jamaica.
But the groundswell of support for Harris's bid to become vice president isn't isolated only to Jamaica. Her support is equally strong in her mother's ancestral homeland of India. 
A 'transformational moment' for women of colour
Popular Indian actor Priyanka Chopra tweeted: "Transformational and a proud moment! All women of colour, all Black women, and all South Asian women look how far we have come.  Representation matters."
In Chennai, the capital city of Tamil Nadu state (province), Kanimozhi Karunanidhi, a Member of the Indian Parliament, said: "I wish Kamala Harris the best in the U.S. elections. Good to see the inclusiveness." 
Harris's mother, Shyamala Gopalan, was of Tamil origin. Her father, P.V. Gopalan, was close to Kanimozhi's father, DMK patriarch, the late M. Karunanidhi, in the same village. 
Posters of Harris in Tamil have popped up in Chennai and other towns and villages. People in Tamil Nadu and the world over will watch with keen interest her ancestral and social connections in the South Indian state (province), says Ashok Kumar, a business consultant and a keen observer of world affairs with a particular interest in the U.S, and its impact on India.
Kumar quoted The Hindu newspaper, saying that many villagers in Painganadu, near Mannargudi, a remote village in Thiruvarur District. Residents were waiting for the day when a third-generation woman from their soil would be elected a big leader in America. 
The villagers, according to The Hindu, recalled that during Gopalan's occasional visits to the village, the family donated funds for the consecration of the Dharmasthala temple in the village in 2014. Harris's name, just like her maternal grandfather P.V. Gopalan's name is etched on this village wall.
How India shaped Kamala Harris's values
For Harris, her Indian mother, grandfather, uncles, and aunts have been an important presence in her life, judging from the reactions and comments, mainly from Tamil Nadu. For example, it is reported that when Harris was fighting the role of Attorney General of California, she called up her aunt Sarala Gopalan in Chennai and asked her to break coconuts for good luck at a Hindu temple overlooking the beach at Besant Nagar where she used to walk with her grandfather. This was reported by the The New York Times in an article titled 'How Kamala Harris's Family in India Helped Shape Her Values'. 
"I remember the stories that they would tell and the passion with which they spoke about the importance of democracy," Harris remarked in a 2018 speech. 
"As I reflect on those moments in my life that have had the most impact on who I am today ‒ I wasn't conscious of it at the time ‒ but it was those walks on the beach with my grandfather in Besant Nagar that had a profound impact on who I am today," she said. 
The links between Harris and her ancestral homelands exist also within her campaign team. Sabrina Singh has been hired as her press secretary. Singh is a veteran of these kinds of campaigns, having previously served two Democratic vice-presidential candidates. 
"I'm so excited to join the #BidenHarris ticket as Press Secretary for @KamalaHarris! Can't wait to get to work and win in November!" tweeted Singh.
Harris has previously made controversial comments, including the need to intervene in Kashmir if the need arises. She made these remarks while she was still running as a presidential candidate. Her comments have been criticized by Aachaarya Shri Gaur (Sanaatanakad) on his Facebook account. 
In India, the name 'Kamala' means lotus. Incidentally, the lotus is the symbol of the ruling Bharatiya Janata Party (BJP) and a central icon of Prime Minister Narendra Modi's global image.
In describing her name, Harris said: "A lotus grows underwater; its flower rising above the surface while the roots are planted firmly in the river bottom."
Correction: An earlier version of this story incorrectly stated that the lotus flower is "the logo on the Indian flag". Sorry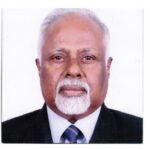 Abraham Tharakan P N is a veteran English language journalist with rich experience in wire service news reporting and editing. He also owned and edited India's first community newspaper 15 years from 1977 in Bangalore. As a Permanent Resident in Ottawa from 2017, Abraham was associated with the Canada India Centre for Excellence (CICE) of the Carleton University. Currently, he is engaged in  Public Relations and Consulting on media projects besides mentoring career aspirants and supporting start-ups as part of entrepreneurship development.