"It is a struggle to be alone. I needed a friend … I came to Canada to learn the beauty of the human heart."
This is just one of several quotes from real-life stories of genuine friendship that Ottawa's immigrants celebrate, presented as part of a special photo exhibit currently on at City Hall. The launch of Welcoming Ottawa Week (WOW 2014) by Mayor Jim Watson today created a certain buzz among leading civic and business leaders, representatives from multicultural organizations and citizens interested in an inclusive city.
The week-long activities are being hosted by various immigrant settlement organizations, government agencies, higher secondary institutions, and by individuals under the banner WOW 2014, promises to showcase the capital city's immigrant-friendly face.
Ottawa currently welcomes roughly 12, 000 immigrants every year (based on 2012 numbers), and these include permanent migrants and temporary residents, among them a large number of students to the city's post-secondary institutions. These numbers are not very high in comparison to the quarter-million immigrants who arrive in Canada every year. Ottawa has to vie with other immigrant-magnet cities like Toronto, Montreal, Vancouver and Calgary. It is, therefore, not surprising that City Hall wants to showcase Ottawa as a welcoming city.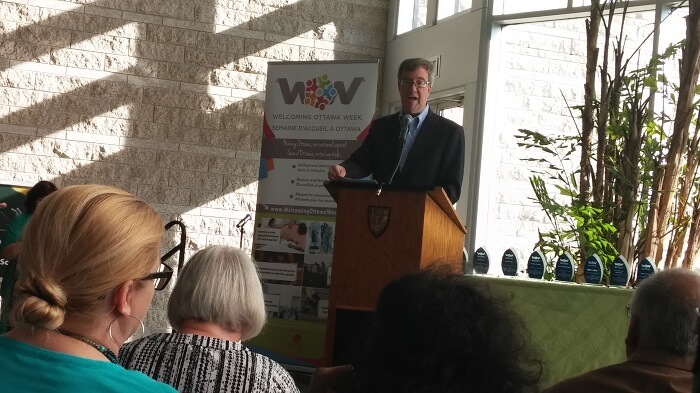 Watson (picture alongside), in his opening speech, highlighted the need to make Ottawa even more welcoming so that more talented people immigrate to Ottawa. "Welcoming Ottawa Week will underscore our genuine respect and hospitality to newcomers, while at the same time creating opportunities for dialogue and interactions between newcomers and established residents."
He outlined a variety of measures taken by his administration, including a Municipal Immigration Strategy, offering professional internships for newcomers, instituting Immigrant Entrepreneur Awards and the launch of an immigration portal at the City of Ottawa.
WOW Ambassadors
The highlight of the launch, however, was a photo exhibit of WOW Ambassadors.  This award, introduced for the first time, asked immigrants in Ottawa to nominate someone who had given them a helping hand in their immigrant journey. Numerous nominations poured in from grateful immigrants, and from those nominations, 11 Ambassadors were hand-picked.
"Feeling welcome matters, because when we feel that we belong, we work to make that place better."
Nominees were recognized with plaques. WOW 2014 Co-chairs Sarah Onyango and Louisa Taylor outlined five qualities that they were looking in a WOW Ambassador: respect, intercultural bridging, hospitality, opening doors to the community, friendship and generosity of spirit.
Deliberate branding
Welcoming Ottawa Week was launched in 2013 as part of Ottawa's Immigration Strategy, which aims to create connections between new and old-time residents of Ottawa – culturally, intellectually and socially. WOW is also an attempt to draw attention to the diversity of Ottawa's population, with the hope of attracting more immigrants to consider settling here.
"When I hear people being afraid of immigrants, I want to say: Be real, make new Canadians a part of your life."
By trying to brand itself as a welcoming city, Ottawa is joining other North American cities which are trying hard to attract human capital. The "Welcoming Cities and Counties" initiative has several U.S. cities like Chicago (Illinois), Austin (Texas), Philadelphia (Pennsylvania) and St. Louis (Missouri), positioning themselves to attract new blood.
WOW promises to be an annual marker on Ottawa's busy social calendar.Today's launch marks the beginning of diverse public events happening throughout Ottawa, ranging from cultural shows, documentary screenings, book launches, guided walking tours, town hall discussions and sports tournaments.
"Having moved around a lot, I understand what it means to connect with people locally and how alienating it can be to not know anyone."
Several local organizations have come on board with the Ottawa Local Immigration Partnership (OLIP), the hosts of Welcoming Ottawa Week. "It takes a city to welcome immigrants," remarked Hindia Mohamoud, Director of OLIP, on the breadth of partnerships formed to celebrate WOW 2014.