A people's commission debuted in Ottawa last week, investigating the mental and physical harassment experienced by residents living in and around the "red zone" occupied by the trucker convoy earlier this year.  
The Ottawa People's Commission (OPC) plans to hear from people the federal and municipal governments will likely miss in their own inquiries, particularly seniors, unhoused youth, newcomers, refugees, and disabled community members. 
"The people's commission is meant to release people from the trauma, to respect and to communicate," said Ken Rubin, one of OPC's founders, and a community advocate and investigative researcher with decades of experience.
In partnership with the Centretown Community Health Centre (CCHC) the commission will host hearings over the next three months to investigate the impact of the trucker convoy on community members living in the three-kilometre area from Bronson Avenue to the Rideau Canal, and Highway 417 to Parliament Hill, regardless of their political affiliation or viewpoint. 
Michelle Hurtubise, CCHC executive director, says the need for a public forum formed the majority of feedback she received from clients in the last seven months.
Under the guidance of Brenda Knight, the Centretown Community Association's board director and co-chair of the CCA's Anti-Racism Working Group, the commission's founders – Hill Times columnist Rubin and consultant Robert Fox – appointed long-term rights advocates in the city to oversee inquiries and host the hearings. 
"We wanted to make sure our commissioners would listen to the community," Knight said, noting the issue of representation has been critical in the preparation of the hearings. 
Commissioners include human rights lawyers Leilani Farha and Alex Neve, social justice advocate Debbie Owusu-Akyeeah (who was unable to attend the first round of hearings Sept. 21 – 22), and human rights activist and author Monia Mazigh. 
"Politicians love when we forget," said Owusu-Akyeeah, executive director of The Canadian Centre for Gender & Sexual Diversity. "We want to keep the collective memory alive so this doesn't happen again."
During its first hearings, Sept. 21-22, residents such as 30-year downtown resident Stephanie Strudwick described living under the threat of violence. "Never did I witness anything so white, so extreme and so threateningly dangerous," she said.
Strudwick also saw gendered and racialized harassment, anti-Asian racism, and had to warn a neighbour to self-preserve so as not to be targeted by violence.
Almost everyone NCM spoke to, from the commissioners to residents who had a positive experience with the convoy, remembers seeing flags with swastikas, confederate symbols and emblems from other extremist, right-wing groups from the U.S. and Australia.
On Wednesday, a 72-year-old, lifelong Ottawa resident shared her research on flags previously unknown to her before the convoy, including the Gadsden, Australian eureka, and patriotic flags from Quebec. She shared her history of growing up following protests in the city from the 1960s, and said the convoy was the first time she had ever been "ashamed of Canadians."
Another resident, known only by "Matt," was emboldened to make a sign during the first few days of the trucker convoy's landing at the base of Parliament Hill. For three days and a total of 10 hours, Matt held up a sign that said "we will not be held hostage in our own city." 
Matt provided videos and photos of being swarmed, berated and cornered by convoy participants – many of whom appear to be young adults – while police stood idly by.
"There were police around, very casually onlooking, leaning against walls, doing walk-arounds, in no way exhibiting presence," Matt said, answering questions from the commissioners. "They were onlookers at all times when I was there." 
Implications for policing
The commission will release a list of recommendations to politicians and emergency service providers on how to improve community safety and response.
One recommendation will be to ensure police liaise with the community on the mobility and access of emergency and other necessary vehicles in the area, Knight said. 
This recommendation includes creating processes, like Knight's CCA anti-racism working group, that will help the community engage with politicians and system response units "in a plan that's for the community, not just what the police decide to do," Hurtubise said. 
For seniors in the red zone, the issue of access to food and mobility was critical under the convoy, Knight said. "In sessions with the Ottawa Police Services, this was something they didn't think of," she added. 
Housing rights lawyer Leilani Farha explained that the safety and security of people, and access to food and medicine are tied to the rights of housing.
"Many people experienced things that are violative to the human rights to housing," Farha said. This includes people living in the red zone who were too afraid to leave their home, or denied emergency and disability transit due to the convoy's presence.
Other recommendations will be made for community restoration, dealing with damage to property, and providing resources for the physical and mental stress experienced by anyone not involved in the protest. 
"This is a very difficult issue in terms of the impact that it had on the community," Hurtubise said, adding that the commission is dedicated to listening to all experiences, including from convoy participants, politicians and police. 
The commission's investigation will also discuss policy structures on the double standard in policing convoy occupants, in comparison to how Black, Indigenous and migrant protesters are treated. 
"The way in which Canada views what is a threat absolutely determines the response from our police authorities," Owusu-Akyeeah said.
"We've constructed the idea that whiteness is not a threat, therefore we don't need to respond in the same way we respond to other forms of dissent," Owusu-Akyeea said. 
The commission's recommendations are scheduled to be released in the New Year; its hearings schedule will be updated on their website. 
Overall, the commission agrees its findings will contrast the federal and municipal governments' inquiries.
"It's not a coincidence that this is named the people's commission," Mazigh said, whose writing focuses on empowering Muslim women.
Mazigh believes their presence will help provide context and security to encourage marginalized community members to come forward.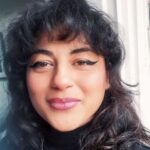 Keitlyn (they/them) is a multi-media journalist residing in Scarborough, Ont. They are interested in long-form journalism that highlights the visibility of BIPOC expression. True to millennial form, they are a small business owner, carpenter and freelance photographer. They were interested in NCM as it understands the "big picture." Journalists are dedicated to truth and democracy. Our communities have not always had access to these privileges. NCM is filling in a large gap that North American media has long neglected.