For 21-year-old Mahnoor Baig, who grew up in Mississauga, the guest list for her wedding came as a shock. It included many people she had never met before, and numbered in the hundreds. But her parents insisted they wanted to invite people from every corner of the world to their only daughter's celebration.
Though younger Pakistanis tend to be more modest in their approach, older generations see weddings as an once-in-a-lifetime affair, to be celebrated extravagantly. Industry insiders say that community members compete to outdo each other in a bid to wow attendees, designing events to be remembered and discussed long after the couple has returned from their honeymoon.
What followed were intense negotiations between parents and daughter. "The final list had only 5 per cent [of guests] that I had not met before," Baig says. Her husband, Farhan Khan, a physician, is also not very fond of crowded weddings, but understood why so many were invited. "It's a social gathering that reunites people who've been separated for a long time. It was a new experience for me, and in the end, I didn't mind it as I met lot of people from both sides." 
They wound up hosting 350 guests at their reception at the Burlington Convention Centre, with some coming in from other parts of Canada, Pakistan, the U.S., and the U.K.
Compared to the average cost of a Canadian wedding — $30,717, including honeymoon — Pakistani celebrations can run between $50,000 and $200,000, according to Roxy Zapala, founder and creative director of Art of Celebrations, who has been planning weddings for 15 years.
For Baig's parents and others like them, a month-long celebration is a small investment to mark the beginning of a lifelong commitment, much like making a down payment on a house. Days are spent shopping, finalizing vendors, and dropping off invitations, while on the weekends close family and friends are invited for tea or dinner. They play the dholki — a large-skinned drum that is struck with a metal spoon — sing traditional songs extolling the bride and groom, apply henna, exchange gifts, and plan for the big day. 
Shahnaz Shah, an obstetrician and gynecologist who immigrated to Canada from the U.K. in 2000, blew her son Rehan away with a grand reception held at Toronto's Casa Loma.  "I knew that my mother [was] going to do something extra for me," Rehan says, "but I never expected it to be this grand."
"We had bhangra [music], belly dancers, a dance floor, and piano playing too. It was a combination with exquisite decor, to keep my guests occupied with fun-filled activities," Shah recalls. "People are still talking about how well it was organized."
Other than lavish food and entertainment, the bridal dress (typically red) and jewellry consume a lot of the budget. Yellow or white gold is embedded with diamonds, pearls, or precious stones, and usually customized to match the wedding outfit. Special dresses for the immediate family, outfits for the groom, and an exchange of presents between the families add to the costs.
Competition to provide these services is intense. "There were only a few shops in the Toronto area when I started business 20 years ago," says Erum Ahmed, owner of Erum's Creations, and a dress designer who caters primarily to the Pakistani immigrant community. "Now there are more than 50 good designer outlets selling traditional, customized bridal dresses."
Makeup and hairstyling add to the budget as well. Makeup artists such as Aneela Gardezi, who has many years of experience working with Pakistani-Canadian families, says completing a bride's look in the traditional style can cost anywhere between $1,000 and $1,500. "Pakistani makeup is famous for its heaviness," she explains, "so those who opt for total transformation of complexion and features need extra material."
Baig went for a natural look that suited her pastel outfit. But she had to pay extra for her hijab and dupatta (veil). "Everyone is not an expert on setting bridal hijab," she says. "I called someone at the makeup studio to do the job for me, and obviously I had to pay her extra." 
All this preparation needs to be documented too. This can include drone cinematography to provide a 360-degree aerial view of the wedding, which can run between $1,500 and $4,500 per shoot, according to Zapala.
Khawaja tried it out at her choreographed Burlington Convention Centre event. "It's like creating virtual reality for us and for those who missed parts of the wedding. The drone costs us a bit more, but it lent a new perspective and thrilled my guests."
It's just the latest trend as a community attempts to meld tradition with modernity in a new land.
---
This story is the product of a partnership between TVO.org and New Canadian Media.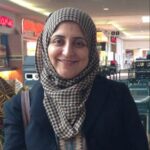 Tazeen is based in Mississauga and is a reporter with the New Canadian Media. Back in Pakistan where she comes from, she was a senior producer and editorial head in reputable news channels. She holds a master's degree in Media and Communication and a certificate in TV program production from Radio Netherlands Training Center. She is also the recipient of NCM's Top Story of 2022 award for her story a "A victim of torture, blogger continues fight for human rights in Pakistan"