Richmond's Indian community is coming together to practice a traditional dance during a night of celebration and food. Garba, which originates from the state of Gujarat along the nation's west coast, involves dancing to fast-paced music and is traditionally practiced during Navratri, an annual Hindu festival.
Although event organizers Sweta Choudhary and Aditya Chourasiya are not from the region where garba comes from, that has not stopped them from using the dance as an opportunity to bring Indian Richmondites together on Oct. 15 from 3 p.m. to 7 p.m. at the Vedic Cultural Centre on No. 5 Road.
Choudhary said over the past decade she has been in Canada, she has noticed Indians who immigrate here often socialize within their own circles.
"We want the Indian community (to) come close…We want this kind of event to happen so all the community (can) come together, and we should have our own culture," Choudhary said.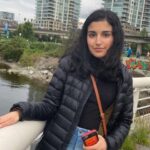 Suneet Gill is a student journalist at Kwantlen Polytechnic University. She is the community reporter for The Runner, KPU's student-run newspaper. Her areas of interest include culture and arts, social issues, the BIPOC community and anything hyper-local. She lives in Vancouver.