A digital billboard in Seattle promoting Richmond has stirred up quite a debate on social media.
The new advertising campaign from Tourism Richmond was spotted in the Washington State city on the weekend and has sparked long conversations on Reddit.
The billboard in question reads "Pacific people. Authentic Welcome." and shows a woman holding a plate of food and the inside of a restaurant with people cooking.
It is a part of the non-profit's recent campaign to target new markets from across the border.
And while some Richmondites are questioning the campaign and appear to be confused by the messaging, Tourism Richmond has explained the thinking is to make the city distinct from the likes of neighbouring Vancouver.
"People in Seattle, based on the research that we've done, really enjoy the food scene in Richmond," said Nancy Small, CEO of Tourism Richmond.
"Most people in Seattle either have been (to) or would know Vancouver, so we're really trying to put in a brand out there…"
Small added that the plan is to reinforce "the great food perceptions they have about our city and the fact that there's a lot to see in the region, not just (in) Vancouver but also Richmond as well."
Although there were some local detractors online, a few Reddit users thought the billboard was a smart move in appealing to Seattle residents.
"I know that Chinese people who live in…Seattle come up here for food. It's better quality and less expensive," wrote user o33o.
"They also stock up on pastries and snacks from T&T. The selection is really limited and often double the price in Seattle."
Of those still confused on social media, Reddit user lestuckingemcity said they were confused, noting "are we welcoming Pacific-Asians or Pacific northwesters or just Pacific adjacents more generally?"
Small said the message on the billboard ties into Tourism Richmond's "brand approach," with the organization's slogan being "Pacific. Authentic. Richmond BC."
She added that it's referring to the city being on the Pacific and has nothing to do with a particular ethnic group.
Small also noted that Vancouver and Richmond are very different cities and that Richmond can be a part of visitors' "diverse itinerary" while checking out the region.
"Everything we do is about setting ourselves apart, differentiating ourselves," Small said.
"That's what marketing is, and you try to do that on a consistent, regular basis with the imagery that you show and the words that you talk about and the different places that you advertise in. We don't see ourselves as taking away traffic necessarily from Vancouver. We see ourselves as this great adjacent part of the trip."
Small said Tourism Richmond has done digital advertising in Seattle in the past and that the city has historically been a good market for driving tourism to Richmond.
______________________________________________
Suneet Gill is a Vancouver-based New Canadian Media correspondent currently on a work experience placement with Glacier Media. This article was originally published on the Richmond News.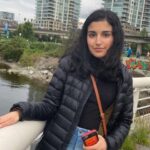 Suneet Gill is a student journalist at Kwantlen Polytechnic University. She is the community reporter for The Runner, KPU's student-run newspaper. Her areas of interest include culture and arts, social issues, the BIPOC community and anything hyper-local. She lives in Vancouver.