Unemployment remains high for select visible minorities in Canada, even as the nationwide rate continues to see a rebound, according to the August data from Statistics Canada.
Arab, Black, and Southeast Asian Canadians continue to be the most aggravated by unemployment woes, mainly due to COVID-19. Unemployment rates for these visible minorities are at 17.9 per cent, 17.6 per cent and 16.6 per cent, respectively. In contrast, the nationwide unemployment rate rebounded slightly from 10.9 per cent in July to 10.2 per cent in August.
The Canadian Arab Institute (CAI), in a study put together last June, noted that while Arabs are the fastest growing population in Canada and are highly educated, unemployment among them has been historically high.
CAI noted that according to 2016 Census data, Arabs' unemployment rate was the highest among visible minorities at 13.5 per cent. Unemployment among Arabs is higher than that of any other visible minority in Canada, including South Asian, Chinese and Black people.
"Arabs are the fastest growing immigrant population in Canada," said CAI executive director Shireen Salti, in an interview with New Canadian Media. "Most of us are young; 60 per cent are under 34. Arabs are a highly educated and entrepreneurial community, but unemployment is very high."
Salti herself falls into the under-34 category, hence, a model representative of her community for the Institute.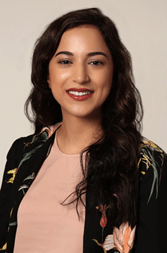 The term "Arab" defines those from the 22 members states of the Arab League — Algeria, Bahrain, Comoros, Djibouti, Egypt, Iraq, Jordan, Kuwait, Lebanon, Libya, Mauritania, Morocco, Oman, Palestine, Qatar, Saudi Arabia, Somalia, Sudan, Syria, Tunisia, the United Arab Emirates, and Yemen.
The majority of Arabs in Canada, 73 per cent according to the CAI report, are first generation, or those who were born outside of Canada and immigrated. 55 per cent are economic migrants, according to Salti, while 25 per cent are refugees.
Arab unemployment is almost twice that of non-visible minorities at 7.3 per cent, as indicated  in the table from the CAI report.
Highly Qualified But Unemployed
Arabs in Canada are highly qualified, falling just behind Filipino, Japanese and Korean populations in terms of credentialing and other qualifications to prepare them for jobs. However, these qualifications are apparently not enough for them to land jobs, according to data from CAI.
Salti said that discrimination likely plays a factor in this scenario, as well as the difficulty in getting foreign credentials accepted in Canada.
According to Statistics Canada  census data, immigrants are three times more likely than non-immigrants to be in jobs for which they are overqualified.
Arab immigrants and immigrants in general find it harder than those educated in Canada to find jobs. They have to have their credentials recognised and often study for additional course credits in Canada. Some have to wait years  for their credentials to be recognised.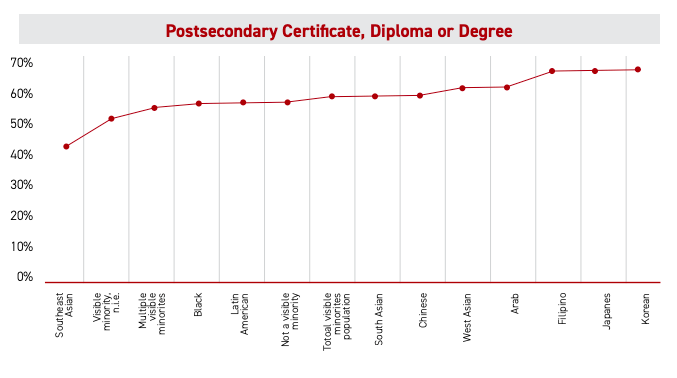 Internationally educated professionals have been asked to help fight COVID-19 in Ontario. However, as Salti and other policy experts have pointed out in an article NCM, these professionals are not being offered stable positions in reward for their service.
Salti said there are few incentives for employers to hire immigrants, and this impacts Arabs since they have a large first generation population.
A Deep Impact
Unemployment among a particularly young population has wide-ranging impacts.
"We have to ask 'What does it mean for integration?' as well," said Salti. "And also, 'What does it mean for the emotional piece? What happens when you are told you are not good enough?'"
This impact can especially be felt among Arabs, some of whom  have faced trauma before moving to Canada
"People sometimes don't humanise us as Arabs," said Salti. "We have dealt with a lot of oppression, war and apartheid. That is often not understood by employers when we talk about integration."
Even as Canada rejoices as 55 per cent of the jobs that were lost during COVID-19 were regained as early as July, communities such as that of the Arabs have little to celebrate. Already disenfranchised in the job market, they are unlikely to benefit from the regain based on past experience.
The CAI is in the process of seeking funding to research the economic impact of COVID-19 among the Arab community.
Unemployment in the Age of BLM and Idle No More
According to the analysis by CAI, Black unemployment is just slightly lower than that of Arabs. Unemployment among Indigenous people is also slightly lower than both of the above, according to Statistics Canada.
"We can never compare our struggles, and shouldn't," said Salti. "Their struggles are unique. I don't want to compare my oppression to someone else's that is different from mine. However, there are Black Arabs, for instance; hence intersectionality is important."
CAI is working on a study with Brock University that looks at the impact of COVID-19 on comparative populations for this reason, wanting to bring an intersectional analysis among multiple visible minority groups.
Photos provided by Shireen Salti and Canadian Arab Institute.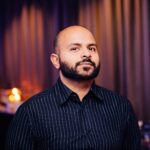 Isaac K. Oommen is an educator, freelance journalist and writer from Vancouver. He is currently based out of Alleppey.