Dozens of student journalists from across the country tuned into a virtual panel discussion with five New Canadian Media (NCM) collective members who shared their thoughts on how mainstream media coverage of marginalized communities is lacking in Canada, how coverage can be reframed to include diverse perspectives, and how to address inappropriate practices in newsrooms.
Fernando Arce, Zahra Mahdi, Isabel Inclan, Marcus Medford-Kerr and Daniela Cohen led the Feb. 26 discussion on "Reframing the Coverage of Marginalized Communities" at the 2022 NASH84 Canadian student journalism conference, a three-day event that saw hundreds of journalists explore a variety of topics related to the country's current mediascape.
What's missing
In terms of how coverage on marginalized communities is lacking in mainstream media, Fernando Arce said that newsrooms are constantly asking themselves how to properly cover or talk about certain communities because they're lacking members from these communities.
"What NCM does, and what we add to what, I think, mainstream media misses, is different perspectives that come from people who are — one way or another — connected to these different communities," said Arce, who is a Toronto-based multimedia journalist serving as NCM's assignments editor.
"Just the fact of being an immigrant — immigrating to another place, of knowing what it means to leave family behind — all of those things inform everything about what our reporter does."
Isabel Inclan, an NCM contributor who has decades of journalism experience in Mexico and Canada, was unable to provide a live response due to technical difficulties, but in an emailed reaction she said she does not regularly see stories of ethnic communities in mainstream media coverage. She gave an example of temporary foreign workers to illustrate her point.
"When was the last time you saw a news story about temporary farm workers? There are more than 50,000 farm workers working in Canada for most of the year, but rarely are on the news, unless there is an accident or someone died because of the COVID-19 pandemic (in 2020, three of them died in one month in Ontario farms)," wrote Inclan.
Difficult conversations in the newsroom
During the panel discussion, Inclan emphasized the importance of gaining the trust and confidence from the people you are writing about, and how there needs to be a paradigm shift when it comes to covering stories on marginalized communities.
"There is another way to bring the stories — with sincerity, with respect to the people we interview — and to keep the integrity," she said.
She gave an example of how she found it inappropriate when an editor pressed her to get more personal details following an interview she had done with an immigrant who went on a hunger strike at the Laval Immigration Holding Centre to protest inhumane conditions.
"I think editors should have confidence with their reporters, but if we are talking and we are doing interviews with that kind of community … that is the story that we bring and we can't go back, call again and have more information about the age, about the family, about the money," she said.
Speaking from experience, Marcus Medford-Kerr said that when contemplating whether to address an inappropriate interaction or coverage of a marginalized community with an editor, the first thing you should do is reach out to another ally.
"Sometimes, those people who share those identities can be seen as a safe space," said Medford-Kerr, who is a Toronto-based freelance journalist and editor.
In addition to having concrete facts to back up your case, he added that it's important to go into confrontational situations as calmly as possible.
"I think that if you're able to go into those conversations level-headed, go with a plan of action, I think that will lead to the most positive kind of results," he said.
Including diverse perspectives
In terms of how coverage of marginalized communities can be reframed, Arce pointed to NCM's model of giving control to racialized journalists.
"I've been working with an amazing group of people who come from all kinds of walks of life, and that provides all kinds of perspectives to the stories I edit. I learn things that I thought I knew about certain places or certain issues," he said. "Then I'm like, 'I would never have thought of even asking that question or looking at it from that point of view.' But this person did, because they came from this country or that place or these circumstances."
To build on Arce's point, Medford-Kerr said that having more diversity in mainstream media newsrooms will result in diversified mainstream stories.
"When you are one of these larger media corporations, you have that reach and you have that power," he said. "Like what Uncle Ben said in Spider-Man, 'With great power, comes great responsibility,' so I think that if you are one of these larger media corporations, you have an additional responsibility to make sure that the journalism that you're putting out there is thoughtful, accurate and respectful."
NCM's assistant editor Daniela Cohen highlighted that it's the mainstream media outlets who are responsible for setting the dominant narrative around a topic or issue.
"The dominant narrative becomes what's in these newspapers, so we need to make sure that whatever is being fed into the dominant narrative is actually representative of all the people that live in this country," she said.
Tips for student journalists
In her advice to racialized student journalists in attendance, NCM's immigration policy correspondent Zahra Mahdi said that they should be constantly reflecting on the different ways to genuinely and authentically represent the minority groups or communities that they are covering.
"Because chances are that our efforts to reflect different voices end up in what (Kristen) Warner puts it: plastic representation. By plastic representation, she means those who do not necessarily understand the concerns of people of colour decide how to represent that," said Mahdi.
"I think to avoid this kind of plastic representation, I think we should first educate ourselves on the concept of diversity, race, cultures and these kinds of concepts."
Inclan told the audience in her parting advice that they should be the voices of their communities.
"Be sensitive to people's circumstances. Keep in mind the multiculturalism in Canada and the intersectionality," she said. "Create more alternative, independent media, because we need to diversify."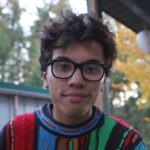 Aaron Hemens is a freelance photographer and journalist currently based in Kelowna, B.C. Originally from Ottawa, Ont., he graduated from Carleton University's journalism program in 2018. His career as a journalist has taken him as far north as Inuvik, N.W.T., and to rural farming towns such as Creston, B.C. His professional interests include community news, arts and culture, race and diversity, and solutions-based storytelling.