Experts supporting South Asian immigrants fighting domestic violence say victims face myriad issues when they choose to protest or walk out of their marriages. This includes inherent cultural biases to rationalize the abuse and financial dependence on the abuser, coupled with a lack of information about local resources and glaring gaps in the Canadian system, further frustrating victims. 
Content warning: This article describes acts of physical abuse and discusses domestic violence. Please visit Canada.ca  for assistance by province.
Vidhya Chitta, working in operations and administrative roles for the provincial government in the Greater Toronto Area, shudders remembering how she suffered domestic violence for seven years before finally deciding to leave a toxic marriage. 
"Only when my former husband tried choking me, I mustered the courage to call 911," Chitta says.
"However, the abuse worsened after that incident as I continued staying with him. I had no access to my immigration papers or money despite being employed."
Chitta had flown from India to Toronto with her former husband in January 2011. She states that the image of an "angry man" is so normalized in her home country that for years she failed to understand the magnitude of the emotional, financial and physical abuse her spouse hurled at her. 
"Not having a child turned out to be a blessing for me because I did not worry about feeding another person after [the] divorce," she observes. 
For single mothers without shelter or financial support, securing custody of their children becomes an added nerve-wracking challenge. Experts add that educating these women through a grass-root level community support system is the only means to fight intimate partner violence (IPV).
Lack of knowledge 
Psychologist Peter Jaffe of the Centre for Research and Education on Violence Against Women & Children, recently offered a few recommendations to support and protect survivors of domestic violence in rural communities while highlighting the need for public education. 
A recent study by the Canadian Centre for Information and Knowledge reported that among Bangladeshi Canadian women, gender-based violence (GBV) incidents was not disclosed primarily due to traditional ideas of gender roles normalizing a male-dominant attitude (67 per cent) followed by the prevailing culture of not speaking out (50 per cent).
Imam Uddin a researcher on this study, observes that female immigrants in this community experience an impact on their mental health due to GBV. 84 per cent of participants expressed adverse cognitive effects, such as depression, stress, insomnia, and loss of appetite. 
He shares that lack of education, rights awareness, and information aggravate the situation, forcing victims into suffering from long-standing domestic violence.
The survey results will be used for awareness-building with the help of national media and to influence policy-makers.
"Immigrants often refuse to exit the abuse because of a long wait time to get social housing and lack of trust in other community-run shelters," says Sadia Khalid, Executive Director of Hum-WE. Her organization in the Halton region offers support services to IPV survivors in the South Asian communities. 
Reflecting on the newly married female newcomers from Pakistan and India, Khalid says, "the partners often treat them as enslaved people by exploiting their circumstances ranging from financial dependence, lack of information, to control their access to essential documents and social networks.
"Marriage is a legit way of human trafficking in these cases," she adds. 
Addressing gaps and cultural awareness
Khalid strongly suggests creating a bridge with shelters from other communities to make them aware of diverse cultural needs. She also hopes that the women her organization helps will continue to advocate for eradicating IPV.
Laurie Hepburn of Halton Women's Place points out that an abuser often threatens to withdraw from sponsoring the immigrant's stay in this country if she protests and keeps her under strict supervision in a close-knit multi-generational family.
Uzma Aziz Irfan, Malton Women Council's executive director shares that women who are not highly educated face immense financial struggles if they exit their marriage, considering that they don't have any access to their IDs, money or access to call their parents in their home country. Emphasizing the cultural narrative in many South Asian communities wherein IPV has been normalized for ages, she highlights that the local Canadian system also fails to offer adequate assistance to the victims with "scary and multi-layered gaps." 
"One of my clients had to return to an abusive relationship because … [Indian food] was not available in the shelter. Lack of adapting to [the] cultural needs of other communities in these shelters made it difficult for her to arrange for the food that her three-year-old son was used to eating," Irfan says, adding that mothers already waiting for social housing for an extended period often don't meet the eligibility requirement for subsidized childcare.
Seema Vankayala leads Sahara Self Improvement Program (which offers support to individuals dealing with issues related to healthy family and community interactions) for the Punjabi Community Health Services. She explains that men raised with generational learning "are not taught to self-regulate emotionally, resulting in targeting their displaced aggression on the women in their lives." 
Drawing from her experience working with Punjabi-speaking immigrants in the Peel region, she outlines that the societal pressure to save the status quo of marriage and the social stigma associated with divorce become the biggest hurdle to breaking free. A survivor of IPV, she suggests spreading awareness through radio without mentioning the phrase "domestic violence" as a way to reach these women, who are often unaware of their abusive situation and could be highly supervised by the abusers. 
"Instances of women brutally beaten, pushed from the truck, and yet refusing to call 911 for help is tormenting to watch," Vankayala says, highlighting the importance of counselling and creating an atmosphere for open conversation at the grass-root levels through local agencies to navigate the crisis.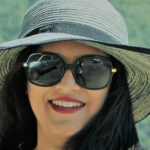 Amrita is an NCM-CAJ Collective Member, journalist and content writer, with nearly a decade of experience in content development and journalism in three countries. She started her career as a journalist with a leading daily, The Statesman, in India. She has also led content and editorial teams for several web content management firms. Amrita served as a Communications and Content specialist for some non-profit organizations like the American Red Cross after her move to the U.S. Based out of Toronto, she continues to follow her passion by reporting on human rights violations, education, crimes, inequality and community engagement. Amrita holds a Post Graduate Diploma in Print Journalism from Chennai, India.