It's been more than a year since Anna Gutta-Ustymenko left Kyiv with her 11-year-old daughter, Veronika, and her mother after Russia invaded Ukraine. Her husband, Mykola, wanted them to be safe and closer to her brother, also named Mykola, who lives with his wife and three sons in Aurora. Anna had to choose to flee without Mykola because he was required by martial law to stay in Ukraine.
Anna shares with NewmarketToday how the past year has been — from starting from the ground up to secure a work permit and find a home to rent, to helping Veronika with her trauma and continuing to nurture her dreams of publishing a cookbook and reuniting with her husband.
Q: Do you stay with your brother's family here?
A: No, I have rented a one-bedroom basement with a bath. I pay about $2,000. I know it's expensive, but I had promised my mom and my daughter that we'd stay near my brother's house, and that area is pricey.
Q: So, you are paying a high rent in Aurora to stay close to your family?
A: I know other places could be cheaper, but I had to find a rental in that Aurora neighbourhood also for my daughter. Veronica attends Grade 7 at Rick Hansen Public School and has studied there since we moved here. She has so many friends now and feels happier here.
The teachers have supported her so well since she began school. She is not an ESL student and has passed the EQAO tests very well in Grade 6. In fact, she started being on the student council last September.
With her progress in mind, the school requested me to keep her here and not switch schools, and how could I refuse knowing how good the teachers and staff are with the children?
This place also has trails, a soccer facility and stores, all very close to my house. And considering I don't have a car, this location works best for me.
Q: How are you financially managing with this high rent and rising inflation?
A: I go to the food bank every month for essential groceries. In addition, we need a minimum of $500 to prepare meals such as lunches for the three of us. Thankfully, we Ukrainian ladies cook daily, and home-cooked food helps us save money quite a bit.
My grandmother had a saying, "Ladies, if we have soup every day, water every day and smile every day, we'll live so long time and look so fresh."
Q: How difficult were the days after you landed and united with your brother?
A: I came with my mother and daughter on visitor visas a little bit before the Canadian government introduced the special measure — the Canada-Ukraine authorization for emergency travel to help Ukrainians and their family members with temporary status and begin work and study while in Canada. Getting a work permit wasn't easy for me, to start with.
As you can understand, without a work permit or other documents like SIN, I couldn't join any classes for job readiness or even get Ontario Health Insurance Plan coverage. It was a difficult time as I kept waiting to hear about our application. Finally, when I contacted the mayor's office in Aurora and explained my situation, the secretary reached out to me, and the process was expedited to grant my work permit.
Q: You were a marketer for a car company back in Ukraine. Tell us how you prepared for employment, leveraging your marketing experience. Also, did you get a similar role?
A: I had to start somewhere, right? And I knew I couldn't be a marketing manager straightaway. So I was ready to start from the basics.
Once I got my work permit, the real work began. I enrolled in free ESL classes at the Catholic Community Services of York Region's (CCSYR) Welcome Centre. COSTI is CCSYR's partner agency, and its enhanced language training program last September was of great help in prepping for customer service and office administration roles.
Once I received a certificate from that course and put this skill in my new resume, I soon got a part-time customer service job close to my home. I also worked part-time as a supply teacher in a daycare centre in Aurora. I had to survive.
At the same time, I was also volunteering at one of the CCSYR Welcome Centres. And that's when I learned about the peer-to-peer program, a Ukrainian special project at its Richmond Hill location. At first, I was hired as a part-time intensive case manager in the resilient team mental health support of newcomers from Ukraine. The second time, I worked part-time as a project worker in the integration network program (INP), a federally funded immigrant settlement program. As we speak, I'm now transitioning into a full-time role in INP that CCSYR just offered me.
Q: How did you become a popular face in Newmarket Public Library on Saturdays? 
A: The conversation circles for Ukrainian women at the public library in Newmarket was started by my friend, Nina, a great volunteer and helper for newcomers. So every Saturday, Ukrainian families come together and share their experiences. I have now brought many clients from the Richmond Hill Welcome Centre for the meet. My colleagues at Welcome Centre Richmond Hill and I want to start art and Ukrainian language classes for deeper connections and healing.
Q: How do you see your future in Canada?
A: Whenever we talk (twice daily to ensure he is safe), my husband says that we should use this international exposure in Canada to learn and upskill ourselves so that when and if our country needs to be rebuilt, we can all lend our hands and knowledge. But it's a very unpredictable situation right now. No one knows when the war will end.
And I'm always scared for my husband's safety in Ukraine. Also, Veronica and her dad were inseparable. Though she handled the separation trauma well with the help of psychological counselling, she misses her dad a lot.
Whichever way things turn, I wish my husband could come here and reunite with us.
Q: Do you still bake and dream of publishing Legends About Dishes With a Ukrainian Accent, your cookbook that shares the recipes and stories behind the dishes?
A: When we left my hometown, I brought my cookbook manuscript. The irony of life is that in Ukraine, baking was my weekend side hustle for a decade, which became my primary source of income last year. It started casually by selling tiramisu and custard puffs for my neighbours and friends. Baking has always been my passion; I even got a food handler's certificate to grow the baking business.
Now, everybody here motivates me to publish the book. I'm planning to publish it in both English and Ukrainian language. Hopefully, it will see the light of day once I'm done caring for our basic survival needs.
________________________
This article was originally published on NewMarkertToday.ca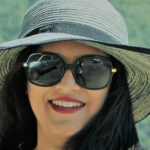 Amrita is an NCM-CAJ Collective Member, journalist and content writer, with nearly a decade of experience in content development and journalism in three countries. She started her career as a journalist with a leading daily, The Statesman, in India. She has also led content and editorial teams for several web content management firms. Amrita served as a Communications and Content specialist for some non-profit organizations like the American Red Cross after her move to the U.S. Based out of Toronto, she continues to follow her passion by reporting on human rights violations, education, crimes, inequality and community engagement. Amrita holds a Post Graduate Diploma in Print Journalism from Chennai, India.