Canadian woman authors believe that our society tends to equate femininity with a sense of flawlessness. Women have to be impossibly perfect in so many different ways that it's just another way of imposing oppression on them.

"I really want to show about my characters that it's not a bad thing to fail, it's not a bad thing to make mistakes," says Sarah Raughley, author of the "Fate of Flames".
Raughley longed to work with characters who have the courage to pick themselves up when they fall, in contrast with setting up ideals for women that are very difficult to live up to.
Striking a balance between strength and frailty
Her characters are not everyday superheroes. Four teenage girls are the only people who can save the world from the massive beasts who are terrorizing the world. One girl stands for each element: fire, wind, air, and water.
"But they don't have those masks on their faces, everyone knows who they are," Raughley explains.
Her characters are criticized for being too whiny and annoying because they make mistakes, they fight too much, they are weak and make many mistakes.
"So I was thinking that what are the expectations for women? Especially since these are teen girls, they haven't figure out themselves, let alone having to carry this huge destiny to fight giant monsters," she added.  
At the Festival of Literary Diversity, in Brampton, ON, the panel of "Wonder Women" featured authors of young adult literature. They spoke about the protagonists from their stories, stressing that strength is not the same as perfection. But rather that it is in the courage to rise up from devastation and defy all odds by reaching your destination.

Shoilee Khan, the panel moderator, opened the discussion introducing the protagonists of the selected books as women of the present, who everyone aspires to be or would like to befriend.
"They are fierce, they are stoic, but they are tender and they have this enigmatic aura of cool about them," she says.

She said that there is a dichotomy of softness and strength exhibited by the characters, that can be translated into real life situations women face everyday.  
"They rise up against obstacles not with complete fearlessness but with a magnetic combination of illation and frailty, first for themselves and then through that self-respect, serve their communities in profound and integral ways," Khan added.
Seeking protection with intimacy
The panel then discussed a character with an arsenal of dangerous and desirable skills: Kai Cheng Thom's Fierce Femmes and Notorious Liar: A Dangerous Trans Girl's Confabulous Memoir.
Thom is a writer, performer and psychotherapist.
Thom's unnamed protagonist is a martial arts expert who runs away from her abusive parents' house. Raised in a city called "Gloom", she escapes to the glamorous and dangerous "City of Smoke and Lights" where she is forced into oppressive factory work governed by a racist system of castes. However she is able to find herself as a trans-Asian femme and finds a community with other trans-femmes. 
Thom suggested that for transgenders there is something about femininity that's degrading all the time, that they are weak and hyper-sensitive. But her book starts with this really intense physical strength as opposed to a trans-woman that is helpless and constantly subjected to violence. 
The protagonist loves using her strength, power and speed, until she encounters Kimaya. A mother figure whose nurturing personality is unable to mask her fierce power, Kimaya serves as a mentor figure that helps her realize that there are different kinds of strength. 
She discovers a desire for safety and a longing for closeness but struggles to have intimacy that is also safe. 
"That's the journey that my character takes and I found out in my life too," says Thom.
"Manning up"
Another panelist, M-E Girard in her debut novel, sought a balance in her character when she puts them together with a combination of femininity and masculinity.
M-E Girard is a YA fiction writer and a proud feminist, her debut novel is "GIRL MANS UP". Her lesbian character, Pen, wrestles with the external pressures societal norms bestow upon her when she exhibits both masculine and feminine qualities.

Although she is a strong protagonist and her choice of clothing and friends makes her imperfect and independent, all Pen wants is to be the kind of girl she's always been. Pen realizes that respect and loyalty are hollow words, and in order to be who she truly wants to be, she'll have to "man up".
"My character is tender in some ways and she is also fierce and strong in her own way. Some of it [is] modeled after her masculine ideal and some of it is modeled [after] her feminine ideal. So it's kind of a big mess," says Girard.
Celebrating Canada's 150th anniversary this year, founder and creative director of FOLD, Jael Richardson, says that she was inspired by the famous indigenous writer, Lee Maracle's quote "if you want to understand the heart of the culture, read the women". Richardson observed that at every session or panel, the audience was touched by something they weren't expecting to hear.
"They are always surprised by the wealth of stories, writers and ideas they encounter, and it's really powerful because that's when real change happens," she added.

The second annual FOLD festival was held from May 4 – 7 and hopes to bring change by highlighting the voices of women authors who offer a different perspective.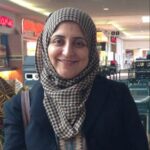 Tazeen is based in Mississauga and is a reporter with the New Canadian Media. Back in Pakistan where she comes from, she was a senior producer and editorial head in reputable news channels. She holds a master's degree in Media and Communication and a certificate in TV program production from Radio Netherlands Training Center. She is also the recipient of NCM's Top Story of 2022 award for her story a "A victim of torture, blogger continues fight for human rights in Pakistan"