With Poets, Locks, and Cages, the works of Parviz Tanavoli, an Iranian-born artist based in West Vancouver, are being showcased at the Vancouver Art Gallery. More than 100 pieces from Tanavoli's six-decade career are on display, encompassing sculpture, painting, printmaking, and mixed-media assemblages.
Tanavoli has been known as the "Father of modern Iranian sculpture." He was born in Iran's capital city of Tehran in 1937. Tanavoli earned his degree from the Brera Academy of Milan in 1959. When he graduated, he decided to go back to Iran and began teaching sculpting at the Tehran College of Decorative Arts. From 1961 to 1963, Tanavoli taught at the Minneapolis College of Art and Design. After returning to Iran, he took over as the department's head of sculpting at the University of Tehran, a position he held for 18 years until he retired from teaching in 1979. Tanavoli has made Tehran and West Vancouver his home since 1989.
He has looked into poetry, ancient Persian history, and stories to find his own voice in art. The exhibition's title, Poets, Locks, Cages, suggests deep meanings and themes in relation to this journey. Pantea Haghighi, an independent curator based in Vancouver, explained that throughout the exhibition visitors will see that there is a relationship between the artist, the poet and Farhad the Mountain Carver.
Farhad, in a famous Iranian poem, was a young sculptor who worked in the court of King Khosrow. He was in love with an Armenian princess named Shirin, but the King also liked her. When the King found out about Farhad's love for Shirin, he said that if Farhad could carve a tunnel through a mountain called Mount Behistun, he would allow Farhad to marry Shirin. Farhad worked hard for many years, and just when it seemed like Farhad might finish the tunnel, the King sent a message pretending that Shirin had died. Heartbroken, Farhad climbed to the top of the mountain and fell to his death.
"Poet is the most significant subject matter and the protagonist of Tanavoloi's practice," said Haghighi. "Locks and cages in relationship to poets are very significant because they manoeuvered the poet throughout the history. Farhad the Mountain Carver is the artist's self-portrait."
Haghighi also highlighted the importance of showcasing Tanavoli's various mediums in the exhibition layout.
"It was very important to showcase all his mediums," she said. "We divided the exhibition based on the theme, so the poets are first, followed by locks and then cages. In some instances, these three elements come together to make it comprehensive visually."
One special part of the exhibition is Tanavoli's Wonders of the Universe series, being shown in Canada for the first time. These paintings were inspired by the scenery in Vancouver and are painted on old book pages that the artist found in a Tehran bazaar.
"Over the years he collected papers that he found, but he wasn't sure what to do with them," Haghighi said. "He brought them to Canada when he moved in 1989." He then created lyrical paintings inspired by Vancouver's scenery on the pages.
Haghighi emphasized the resonance and connection of Tanavoli's art with the Canadian art scene and its diverse audience.
"The Middle East and Asia were virtually unknown until recently in North America. It's very important to showcase what local modernism looks like in a place in Iran and doesn't just belong to the West."
Tanavoli has depicted Iran's pre-Islam and Islamic cultural identities in his sculptures, leaving a lasting impact on modernism in Iran. He is a key figure in the Saqqakhana School, a movement that emerged in the 1960s and draws inspiration from Iran's rich history, culture, and traditions.
Before the current exhibition at the Vancouver Art Gallery, his solo exhibition Oh Nightingale was held in 2019 at the West Vancouver Art Museum.
Parviz Tanavoli: Poets, Locks, Cages will continue until Nov. 19, 2023.
________________________________________________
Hamid Jafari is a Vancouver-based New Canadian Media correspondent currently on a work experience placement with Glacier Media. This article was originally published on North Shore News.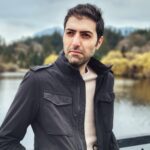 A Vancouver B.C based journalist who writes about the Iranian community in Canada, art, culture and social media trends.