Three months into the COVID-19 lockdown, many Canadians remain stranded overseas with little information about how – or when – they will be able to return home. Palaniswami Rathanaswami is just one name on that long list of frustrated Canadians.
Rathanaswami is a highly-recognized medical researcher, who after working at the University of British Columbia, currently works for the biotechnology company, Amgen. Since coming to Canada in 1989, he has been credited with helping create technology that generates human therapeutic antibodies to help study and fight disease.
This technology, and ones like it, are used in Canadian labs in an attempt to treat COVID-19. Rathanaswami's groundbreaking work in antibody sequencing, engineering, and screening has led to over 30 scientific and patent publications.
But right now, Rathanaswami isn't able to contribute to Canada's response to COVID-19. Instead, he's stranded in Karur, Tamil Nadu (South India), feeling overlooked and forgotten.
"I was confused. It made me wonder 'who am I?' and whether I was appreciated as a citizen for all of my contributions," he said to NCM in an interview.
"There are still thousands of citizens and permanent residents stranded, so I don't understand why they aren't giving us more information on what we can do."
When lockdown and travel restrictions began, Rathanaswami said he was receiving daily updates from the Canadian government about safety and scheduling flight arrangements. 
But what started with a promising outlook has quickly turned sour.
Rathanaswami said he was notified by consular affairs that Canada would halt all assisted travel from India after their last remaining booked flights by May 29. 
"At this point, I've lost all hope that they'll be able to help me fly back home," he said.
Taking action
With no guarantee of government-assisted travel, Rathanaswami took to social media to contact South Asian community organizations in British Columbia and Ontario, and government authorities, in the hopes of getting answers. 
"I found that a lot (in Canada) were unaware that many (Canadians and permanent residents) are stuck in South Asia still. But there's been some efforts made from friends to get us more information and help," he said. 
In response to this situation, groups such as the Tamil Cultural Society of British Columbia (TCSBC) had created a list of citizens and permanent residents stuck in India and Sri Lanka. The TCSBC was contacted to comment on their progress, but have yet to reach out. 
Upon request for comment, a Global Affairs Canada spokesperson stated that efforts are currently directed at Canadian citizens. Permanent residents not accompanying citizens, will not have the chance to be assisted at the moment.
The spokesperson stated as of May 26, 40 flights have arrived in Canada from India, bringing 12,597 citizens back to Canada.
One more flight was scheduled to arrive on May 29.
"We continue to work with local authorities in India and Sri Lanka to coordinate transportation to help Canadians travel to airports to catch their flight," the spokesperson said. 
How did this situation happen?
Flights for citizens leaving South India were unavailable until the end of April. The inequality in efforts to assist Canadians stuck in different regions of India was somewhat forgotten as flights were arranged. But unlike flights leaving northern India, flights from the south left from one city, Bangalore. 
Given that India has been under strict lockdown, domestic flights and other vehicular travel between states and cities has been strictly controlled.
Rathanaswami said he received emails from Canadian consular services that there were flights departing for Canada from Bangalore. He was given strict instructions not to consular officials for booking tickets, he said. Instead, consular services said it would reach out when transportation was possible for him.
"I waited patiently and checked my email and phone constantly, but even though flights were leaving from Bangalore, I was never contacted that my family had seats on any of those flights," he said.
Resorting to alternative options
At this time, Rathanaswami, and many others, have booked flights leaving India near mid-July. It is uncertain that flights will run as scheduled. Despite health concerns, they have opted to find their own transport out of desperation to return home. 
"I came to love this country and am proud to call myself Canadian. But the lack of information and support for my family is not fair. The lack of support for citizens and permanent residents who help the country is disappointing," said Rathanaswami. 
Update:
In Tamil Nadu, travel between towns is not completely opened up. Travellers must obtain a temporary pass to be allowed to travel between areas. Lockdown in Tamil Nadu is extended until June 30.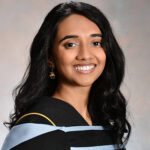 Arrthy Thayaparan is a B.Sc graduate, who is on the path to obtain her Masters of Journalism in 2022. Over the years, Arrthy has become a skilled filmmaker and photographer with a keen interest in social justice and science journalism. Though she is still learning, Arrthy hopes that she will be able to use her platform and skills to create vivid, yet informative journalistic pieces that spark conversation and change in society.