Chaitra Coelho, an Oakville-based accountant, has been on a waitlist for a bank safe deposit locker for almost two years now, but she hasn't been given one yet. She has accounts at Scotiabank and TD, but neither has lockers available to service new customers.
Coelho is an immigrant from India, and culturally, South Asian women cherish their gold jewellery, passed down from generation to generation. South Asian immigrants make up seven per cent of Canada's population.
"I need a bank safe deposit for storing my jewellery mainly. I find it insecure to buy a locker and keep jewellery and documents locked up at home because I am scared of break-in incidents," she said.
"The jewellery did not come cheap. It came down to me from my great grandmother, so it carries an emotional, ancestral and futuristic value. My jewellery surpasses monetary value." Coelho uses her jewellery for weddings, anniversaries, birthdays, and festivals. 
Due to historical legal and patriarchal social norms, South Asian women were long prevented from owning property. Gold became the rightful possession and financial asset for women in the region. 
Some estimates, as reported in the Brown History newsletter, suggest Indian households own around 25,000 tonnes of gold tucked away in lockers and safes. 
Women who have immigrated to Canada from South Asian countries and brought their inherited gold to safeguard are now finding supply in short stock for their niche demand for bank lockers to store this gold. 
"Within a 15-minute drive radius from my house, I have practically checked with all banks since I moved here in 2021, but there are no lockers available," Coelho said. 
New Canadian Media reached out to several Canadian major banks, including TD bank, Scotiabank, RBC, and CIBC. TD and Scotiabank did not respond to NCM's questions. While RBC did not respond to questions about bank locker demand, they said they have lockers available for rent in the Greater Toronto area. 
Cost of securing valuables
The annual cost of renting a safety deposit box varies from bank to bank, but can range anywhere from $60 to $500. Of the two banks that responded to queries from NCM, only one — RBC — says they have lockers still available. 
"At this time, across the Greater Toronto area, we have a number of available boxes," said Shauna Cook, Director of RBC communications for the Greater Toronto region, in an email to NCM.  "We encourage clients to contact us so we may assist them in finding a solution to meet their needs."
A spokesperson from CIBC also said interest in renting safety deposit boxes varies from one community to another. 
"We are aware that there's greater interest in boxes in some communities, and we do have boxes available for rent within those communities or neighbouring ones," reads an email from CIBC. 
However conversations with South Asians in Mississauga, Brampton, and elsewhere in the Peel region reveal that long waitlists remain. South Asian immigrants make up 37.9 per cent of Peel region's population, according to the 2016 Canadian Census.
Varsha Gouthaman, a software developer working for a tech start-up based in Brampton, has also been on a waitlist for about a year. 
"I am willing to drive up to 15-20 minutes from my place, but not beyond that," Gouthaman said. "I require the locker to be closer so I can regularly wear my jewelry for every festive occasion and keep it safe after I am done with celebrations." 
Coelho says she was told by a TD bank representative that she'd have to wait for someone who currently holds a locker to die without a will, in order to move up the waitlist. 
Until then, she has been told to look for a locker at other banks.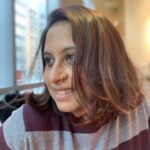 Shilpashree Jagannathan is a journalist from India. She now lives in Toronto and has worked as a business reporter for leading newspapers in India. She has tracked telecom, infrastructure, and real estate news developments and has produced podcast series. She currently focuses on human rights, feminist movements, and other related issues in Canada and  India. Her weekends are spent bird watching in one of the Toronto birding hotspots; she loves trails, biking, and a lot of sun.