A new trucking association comprising mainly of South Asian drivers from India will be taking to Metro Vancouver area roads on Jan. 22 in a rally to call for better highway conditions.
The West Coast Trucking Association (WCTA), which has quickly grown to about 300 members, aims to be the unified voice of active drivers on the road, Harmeet Singh Nijher, the group's spokesperson, told New Canadian Media.
"This weekend we expect about 100 drivers in their trucks to show up for the rally." 
The rally, which will begin and end at a Surrey Sikh temple, is to call on the government to improve ice removal and road maintenance on B.C.'s mountain highways.
"It's so dangerous out there now with the icy roads and giant potholes…and the drivers want to make sure the government hears them," said Nijher, who has been a long haul truck driver for 17 years.
Nijher said the association will also provide training and education support while taking driver concerns directly to the authorities for solutions. While the association is opened "to all drivers and owner-operators," he added, "most of our members are from India."
He said the association will work alongside the BC Trucking Association (BCTA), whose motor carrier members operate about 16,000 vehicles, employ over 26,000 people and generate approximately $2.2 billion annually in revenues in British Columbia.
"We are driver-driven," Nijher said. "We are already dealing with issues ranging from visa applications, bad toilet facilities for drivers and border delays."
Shift in industry
The association's bilingual website in English and Gurmukhi (script of the Punjabi language) and its executives, who are all of Indian origin, reflect a growing shift in the industry that's looking to South Asian companies, drivers and owner-operators to fill a massive labour shortage.
"Immigrants from South Asia have accounted for a massive shift in the demographics of Canada's truck drivers, according to research conducted by Newcom Media's editorial teams, drawing on more than 25 years of Canada Census data," according to the Canadian Trucking Alliance.
About 20 years ago, "just 1.8 (per cent) of Canada's truck drivers were from South Asia, and most of those were based in Vancouver, according to Newcom publications…They accounted for 18.7 (per cent) of the drivers in the western city, and 6.2 (per cent) of the drivers in and around Toronto," a 2018 article on its website states.
"By 2016, almost one in five (17.8 per cent) of Canada's truck drivers had South Asian backgrounds. One in three drivers in B.C. (34.6 per cent) were from the demographic group, as were one in four (25.6 per cent) of Ontario drivers."
That article goes on to state that in "Vancouver, South Asian immigrants now account for the majority (55.9 per cent) of drivers. The share in Toronto is not far behind at 53.9 per cent."
According to research by Trucking HR Canada and the Conference Board of Canada, "without meaningful action," vacancies in the industry are "expected to soar to 25,000 by 2023, an increase of over 25 (per cent) from 2019."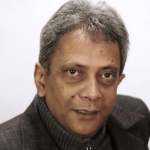 A multiple-award winning journalist, Fabian Dawson is an internationally acclaimed author, filmmaker and media expert. His work over the last four decades spans the globe and he also serves as a consultant/strategic advisor to a variety of international companies. As deputy editor-in-chief of The Province, part of the Postmedia chain, Dawson led initiatives within a special publications group to provide directed content for a variety of organisations. He was named the 2019 recipient of the Bruce Hutchison Lifetime Achievement Award at Jack Webster Awards. Dawson has been invited by the governments of India, Malaysia, Taiwan, China, Hong Kong and the United States to act as a media observer/advisor on a variety of Asian-Canada issues. Dawson, now operates FD Media, which specializes in harnessing editorial assets to revenue generating opportunities.