Conservative leader Andrew Scheer chose the Armenian Community Centre of Toronto as the venue for a rally to announce the party's immigration and diversity policy platform. The venue is situated beside the 401 Highway and Radisson Hotel Toronto East, dubbed Toronto's "refugee hotel," which gained notoriety for providing temporary accommodations to over 500 asylum seekers, providing 146 rooms out of their 240 available.
Scheer's speech on Tuesday also coincided with "the 101st anniversary of the first Republic of Armenia," he said. Accompanied by about 30 party candidates, 13 of them women, Scheer stressed the importance of implementing immigration policies according to "orderly, fair and compassionate" principles.
"As Prime Minister, my government will restore fairness, order, and compassion to the immigration system … This strikes at the very fairness of Canada's immigration system, and there is absolutely nothing fair about forcing the oppressed and the persecuted – like the Syrians my mother helped – to wait longer for Canada's help, while others cross the border illegally from places like upstate New York," Scheer said.
"Among the people I hear from most often on this point are new Canadians themselves. People who have played by the rules and arrived in Canada fair and square. They are the most offended at Trudeau's status-quo, where some are able to jump queues, exploit loopholes, and skip the line," Scheer continued. He emphasized that Conservatives have questioned the current government's ability to preserve the integrity of Canada's immigration system.
Rev. Majed El Shafie, human rights activist and founder of One Free World International, attended Scheer's rally. Shafie later hosted an Iftar dinner in Mississauga to celebrate the end of Ramadan with allies representing various faiths.
Like Scheer, the outspoken reverend criticized the Liberal government's immigration policy for appearing to play favourites. "I believe that this government needs to change. We see today that the Liberal government is not strong, especially when it comes to the immigrants. I agree with Scheer's immigration policies. Our immigration policies cannot be about favours. Our immigration policies have to be sheltering the most vulnerable. We cannot make a business out of immigration," Shafie said.
"They have favoured certain communities, not others. We see what they did with Syrians. But when it comes to the Yazidis, the Uyghurs, the Tibetans, they don't care. This favouritism, this political correctness simply cannot work," he added.
In his speech, Scheer dismissed the Trudeau government's response to his critiques as rhetoric and personal attacks. "Now I think we can all agree that we should be able to have an immigration debate in this country without the government calling the people who criticize their failures racists and bigots."
"Racism is real. Bigotry is real. Extremism is real," he added.
Scheer listed his party's solutions to the current problems within the immigration system, the illegal border-crosser crisis, and refugee claims.
To set immigration levels consistent with what is in Canada's best interests. The number will reflect what Canada needs.
To promote private sponsorship of refugees
To safeguard and emphasize economic immigration
To ensure the system prioritizes people facing true persecution, and restore integrity to the system by supporting the consistent application of fair rules
To bring back the Office of Religious Freedom and promote interest in the dignity of all people
To put an end to illegal border crossings at unofficial points of entry
To close the loophole in the Safe Third Country Agreement that allows some people to skip the line and avoid the queue
Toronto news commentator and columnist Xin Feng was not impressed by Scheer's remarks, but commends his strategy against the Liberals. "The Trudeau government has been portraying the Conservatives and Andrew Scheer as 'white supremacists,' 'anti-immigration' and 'racists.' Scheer's outreach to cultural communities today is a public fight back against Trudeau's allegations."
"It's brilliant for him to say that the number of immigrants should be determined by how much Canada needs. Put Canada's interests first," Xin Feng added.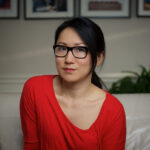 Shan is a photojournalist and event photographer based in Toronto with more than a decade of experience. From Beijing Olympic Games to The Dalai Lama in Exile, she has covered a wide range of editorial assignments.