With only a few days left until the election, so much of the political coverage of the last two weeks has been devoted to groups of unruly protesters rather than, say, post-debate coverage of the parties' specific plans for addressing things like affordability, reconciliation, and economic recovery. 
Part of me wants to blame fellow journalists and folks in the media for giving their stories so much oxygen. A new survey found that the media has disproportionately covered these angry protesters, who are largely driven by misinformation. Which, in turn, spreads more misinformation and leads to more anger. It's a vicious cycle but it would be foolish to ignore them.
For instance, the military reservist who drove to Rideau Hall last year armed with three loaded guns, rammed the security gates and attempted to arrest Prime Minister Justin Trudeau was fuelled by a cocktail of policy-related grievances and conspiracy theories.
The same can be argued about some of the anti-lockdown and anti-vaccine protesters during this electoral campaign. They don't just disagree with Trudeau, they actively hate him. Protesters have hurled insults, death threats, and gravel at Trudeau. Events have been cancelled due to security concerns. 
If people are emboldened enough to act so menacingly towards the prime minister, I hesitate to imagine what could've happened to me — a not-well-known, racialized journalist — had I interacted with them last Wednesday when a hundred of them headed towards the CBC building in downtown Toronto as I was leaving work. According to Toronto police, the group expressed their intention to enter the building and security had to be notified. 
Protests and dissatisfaction directed towards politicians, particularly the incumbents, is nothing new, but what we're seeing now feels different. Misinformation, particularly about COVID-19, is the driving force in a lot of the protests and the anger is palpable. Seasoned politicians, political strategists, and journalists have remarked that this vitriol is unlike anything they've seen before. 
This week, protesters have shifted their aim from politicians to healthcare workers. Across the country, groups of people have gathered outside hospitals to protest vaccine passports and mandatory vaccination. 
Critics of the protesters argue they're disrespectful and intimidating to healthcare workers who've relentlessly battled the pandemic from the frontlines for 18 months. Protesting in front of hospitals has also been largely denounced by critics, not only because it presents a safety concern for those travelling in and out of the hospital, but also because decisions on COVID-19 mandates are decided by politicians, not healthcare workers
Misguided Anger 
According to Trudeau, he triggered the election because we're at a "pivotal" and "consequential" point in the pandemic and Canadians deserve an opportunity to weigh in on the plans to "build back better." However, some dispute his claim that Parliament was as toxic as he said, arguing that what the Liberal Leader really wanted was the opportunity to form a majority. 
Whatever the case, I agree we're at a pivotal moment in the pandemic, which throughout has exposed severe systemic flaws in our society, highlighting its deep-seated inequalities.   
However, most of the protesters' anger isn't fueled by important issues. Worse, as the survey referenced mentions, their anger, and in some cases the irrationality that's propelling their actions — as well as the disproportionate media attention given to them — only serve to distract from legitimate reasons to be angry and concerned this election.
Climate change, for instance, is one of the biggest concerns not only for Canadians but globally. According to the damning IPCC report that came out earlier this year, called a "code red for humanity," which asserted that we've pushed the climate to "unprecedented" territory. Canada was the 10th largest emitter of greenhouse gases in 2019, and our climate is rising at twice the rate as the global average.
Earlier this summer, the town of Lytton was burned to the ground by a wildfire. At one point there were more than 270 wildfires in British Columbia plus 111 wildfires burning in Ontario. Meteorologists and health experts said that a heat dome, the possibility of heat exhaustion or sudden death, and the poor air quality caused by the wildfires were a bigger threat to people's health than COVID-19. And there have been more tornado watches and warnings in Ontario this summer than at any time I can remember. 
These are the things we should be protesting about. I want to hear detailed plans about how each leader would deal with Canada's high emissions levels, not hear them condemn behaviour we know is wrong and shouldn't be seen on the campaign trail to begin with.
Fuelled by Dissatisfaction
Much of the hate is directed towards Trudeau, but he's not the only target.  The anger doesn't seem party or policy-specific, as NDP leader Jagmeet Singh and Jewish Liberal candidates have also experienced racist attacks during the campaign. 
Singh and others say there's a connection between anti-maskers and far-right extremism. From videos I've seen and accounts I've heard of anti-mask protests, people in attendance oppose a variety of things like gender-inclusive language, immigration, abortion, in addition to COVID-19 restrictions.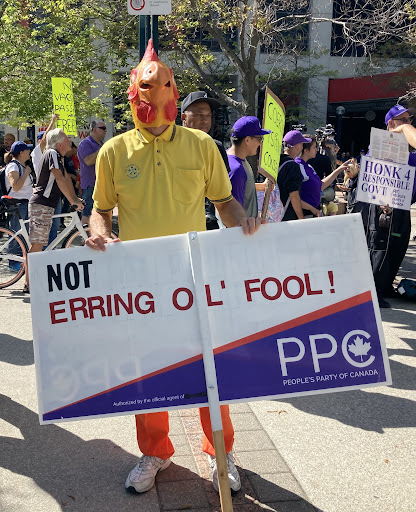 Many of the views espoused by protesters at these various events align with the People's Party of Canada's (PPC) platform. The PPC is a right-wing populist party, and the rise of populism has led to problems everywhere it's reared its ugly head. The party's support is growing, too. At one point, it was polling above the Green Party and the Bloc Quebecois. 
The hodge-podge of ideologies represented at the protests in Canada is reminiscent of the QAnon movement in the U.S., and it's just as dangerous. In the States, protesters were mad because they didn't accept the math of the election. Here, protesters are angry because they don't believe the science of COVID-19. 
As election day nears, it's important to remember that populist movements are fuelled by anger and dissatisfaction, and there's bound to be more of that in four years' time, regardless of which party ends up in power. 
It's said that an election is no time to discuss important political issues. With this breed of protesters' level of vitriol, any political discourse is now even more difficult.
Marcus is a poet, editor and freelance journalist based in Toronto. He currently works with New Canadian Media as an Editor and as a Freelance Writer for ByBlacks.com, The Edge: A Leader's Magazine and The Soapbox Press.