Greg Fergus says respectful debate among people with different experiences and perspectives is necessary in politics, but he's concerned about the lack of decorum within debates in Parliament.
Fergus said liberal democracies, like Canada's, are "robust on the one hand and extraordinarily fragile on the other" but believes they're worth fighting for.
Fergus was elected as the 38th Speaker of the House of Commons last month following Anthony Rota's resignation. Fergus fulfilled his "lifelong dream" of becoming a Member of Parliament in 2015, winning as a Liberal in Quebec's Hull-Alymer riding. He called being named Speaker "the cherry on the sundae."
Fergus is the first person of colour in Canada to assume the role of Speaker, and he credits diversity as one of the strengths of Canada's democracy.
"It's in that mix where you have people bringing different experiences, real experiences, that you get a Parliament that really is pretty fabulous," he said. "Respect for each other, regardless of where we come from, regardless of our worldview, I think that's paramount; it's what makes this place work."
Fergus says political divisions are nothing to fear but acknowledged his concern about the lack of decorum in the House. Fergus is attempting to shift the tone by introducing "reflective guidelines" to foster more civility. He says he wants MPs to "be passionate, and have pointed debate that's still done in a respectful way."
Disrespect in the House of Commons
Canadians have also criticized what they see in the House of Commons. An Angus Reid Institute study released last week found that three-quarters of Canadians say there's no real debate about the issues in parliament. Three-quarters of respondents also believe that MPs vote in line with their leader, so much of the debates are seen as performative.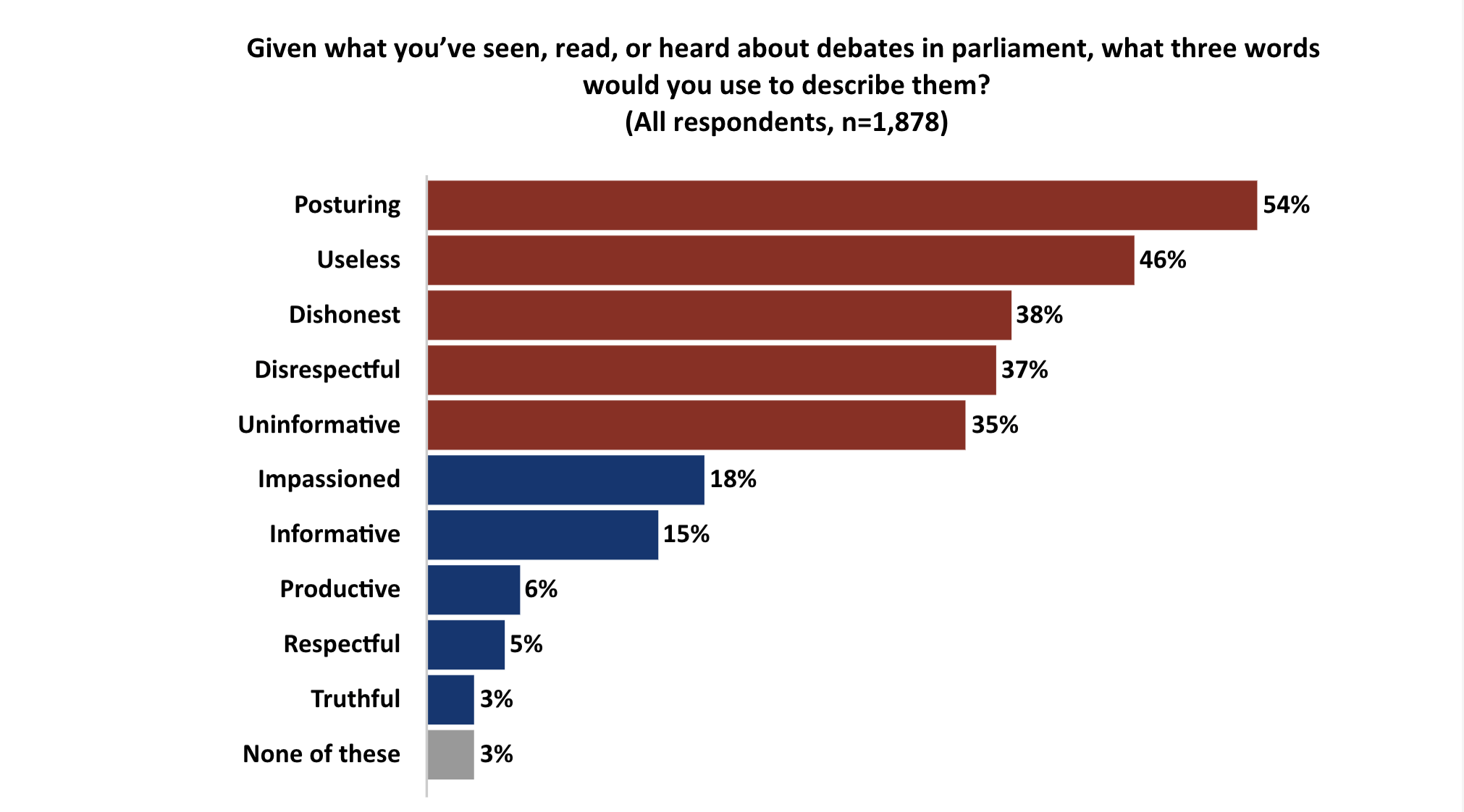 Respondents described what sentiments come to mind when they hear MPs debate and chose terms like "posturing" (54 per cent), "useless" (46 per cent), and "dishonest" (38 per cent). Regular observers of parliamentary proceedings frequently are more likely to describe the discussions as disrespectful (45 per cent) than those who aren't avid followers.
Fergus said he's seen the problem worsen since he first took office.
"I decided to stand for Speaker because in the eight years that I have been a member, and prior to that as a keen follower of parliamentary proceedings, I have noticed a deterioration in the collective decorum in this place," Fergus said during his speech to the chamber last month.
Specifically, Fergus said unnecessarily personal and provocative attacks will no longer be tolerated nor will attacks on members' integrity or their commitment to Canada. Fergus also called out "excessive, disruptive and loud heckling" insisting that it must be toned down.
Fergus argues that the deteriorating decorum isn't inevitable nor a natural consequence of using social media. Former Conservative Party Leader, Erin O'Toole, made similar remarks in his House of Commons exit speech earlier this year. O'Toole called on MPs to reject "performance politics" because they're "feeling polarization."
Fergus says he's not the only one pushing for more respectful conversations to take place in the House and wants more support from other MPs. Fergus had intense personal conversations with several colleagues while he was running for Speaker and says the issue of decorum came up often.
"It was a top-of-mind issue for practically everyone I spoke to but no one wants to be the first mover. No one wants to be the Boy Scout," Fergus explained. But improving the tenor of debate in the House is one of Fergus's overarching goals as Speaker.
"If I can create that environment in which [MPs] will not feel alone in trying to up their game in terms of decorum, then that will be a success," Fergus stated.
He said he's already seen some changes in the few weeks since he made his speech.
Canadians Reflected in the House of Commons
Canada's population continues to grow and become more diverse, surpassing 40 million this past spring, and Canada is set to accept 465,000 permanent residents by the end of this year and will accept 500,000 by 2025 before stabilizing.
One of Fergus' goals as Speaker is to have the people and the debates of Canadians from all walks of life reflected in parliament.
He's heartened by the increasing diversity he sees in the House of Commons and politics more generally, particularly when it comes to Black representation. He cited the election of Black politicians across the country, like Manitoba NDP MLA Uzoma Asagwara, who was named the province's deputy premier last month when Wab Kinew was elected as Manitoba's first First Nations premier.
Fergus was one of 45 Black politicians who who attended historic meetings between other Black Canadian politicians from across the country in August. Fergus said there was a real sense of solidarity among the attendees despite people's differing political opinions, party allegiances or differences like being born in Canada or immigrating here. He added that the size of the group allowed them to engage in meaningful discussions about their shared experiences, common goals as well as problems specific to their constituents.
That diversity within the Black community should be celebrated, according to Fergus.
"I would want Black Canadians to be represented in every single political party and at every level of government so that they can actually respond to the full spectrum of needs for the Black community … We have a big and diverse community, the more that we can bring that out, I think the more we can do. It helps us tell our story differently but it also helps other people see that we're not a monolithic group … And with that understanding, I hope there's respect and seeing Black Canadians as equals."
The number of Black politicians in Canada has more than tripled since Fergus first took office in 2015 but he still thinks there are too few and that there needs to be more. Fergus says he appreciates the support and solidarity he felt at the meetings as well as from people who reached out to him after he became Speaker.
"We can all take off our political hats and make sure that we're supportive because we're 1.5 million people in this country and we're getting closer to it but we need more representation to match with our demographic weight, Fergus said"
Fergus is a self-professed nerd who loves parliament and the idea of democracy. He said his goal is to leave a strong system in place for the next generation to inherit, ideally one that is more respectful and representative.
Marcus is a poet, editor and freelance journalist based in Toronto. He currently works with New Canadian Media as an Editor and as a Freelance Writer for ByBlacks.com, The Edge: A Leader's Magazine and The Soapbox Press.