"Today we commit ourselves to the hard work ahead," proclaimed Olivia Chow to an enthusiastic crowd outside Toronto's city hall during her Mayoral Declaration of Office Ceremony.
Chow officially became the city's 66th mayor on July 12 after winning a heavily contested byelection. She ran her campaign promising change and progressive values — a message that clearly resonated with Torontonians after more than 12 years of conservative-leaning leadership.
Voter turnout for the election last fall was an abysmal 29 per cent despite the often-reported general consensus among residents that Toronto is in disarray. Chow plans to address these issues and says her top priorities are affordability, transit, and city-run services. She says her goal is to build a Toronto "where everyone belongs."
"Together, our city can find its feet again, find our swagger, give ourselves the permission to believe that together we can move the needle of progress for the people of Toronto." 
Sami Saadat says he hopes Chow delivers on her promises. Saadat's first name has been changed upon request as he is a government employee and fears backlash for speaking out. Saadat was born in Bangladesh and lived in Montreal for nine years before returning to Toronto. He has lived in Scarborough for the last 11 years and says his biggest concern is livability. 
"I am optimistic," Saadat said after learning Chow had won the election. "We all benefit from a progressive mayor with progressive values and I don't think she's a run-of-the-mill centrist candidate." 
Still, he cautioned against being too optimistic because of the scale of the challenges and potential barriers the new mayor faces.
"There's this idea that Toronto is full of liberals, to people outside the city, but Toronto has more of a conservative lean than people think," he said. "We're seeing politicians and institutions move to the right so it's hard to jump to optimism."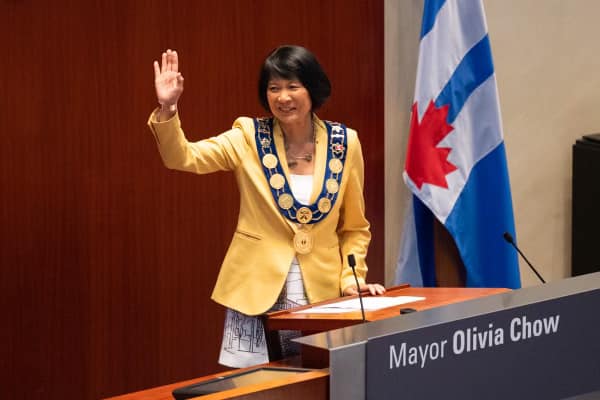 Chow and Ontario's Progressive Conservative Premier Doug Ford have already exchanged barbs during media appearances over the past month, and the pair are not natural political allies. For example, the two disagree about the province's plan to move the Ontario Science Centre from its current location in North York to become part of the Ontario Place revitalization project. 
The province plans to build a large water park and spa after signing a 95-year lease lease with the Austrian company, Therme. The science centre would be rebuilt on the same land. 
Chow has reiterated her position that the site should remain open to the public as a park rather than be privatized. Some of the land the province intends to redevelop is owned by the City and Chow has said she's willing to sue the province over the dispute.
"I think the province is going to be uncooperative with her and I think that will make it hard for her to get things done, so that's where the apprehension comes from," Saadat said. 
Money talks
Chow called out both Ford and Prime Minister Justin Trudeau at the inauguration ceremony and requested that they commit to helping Toronto recover financially after being hit hard by the pandemic. She emphasized the city's social and economic importance to Canada and Ontario and urged the leaders to meet to discuss a deal that would make Toronto financially self-sufficient and stable.
High school teacher Nittya Rizza thinks government cooperation will be crucial in the coming years. Rizza moved to Etobicoke from Scarborough last fall and she is cautiously optimistic about Chow's tenure as mayor, and her plans for the future of Toronto.
"The general public often doesn't have much confidence that left-wing leaders will be able to finance their big promises," Rizza said. "This is where I think teamwork within our government is so important to be able to get things done."  
She said proposals Chow and Toronto city councillor Josh Matlow put forward during the election campaign to help the city generate revenue are positive. 
"Things like stabilizing the police budget and a surface parking lot levy — creative solutions to paying the deficit that don't place the entirety of the burden on taxpayers," Rizza said. "It's especially important that in an effort to protect our taxpayers, our leadership makes corporations pay their fair share."  
Chow takes office with the city facing a daunting $1 billion deficit and a host of difficult issues. During the campaign Chow discussed the possibility of increasing property taxes in order to help pay for some of the city services, such as libraries, road repair and the public transit system (TTC). 
TTC troubles
The TTC is a major issue Chow faces. A number of high-profile and violent incidents  have happened on trains, buses and inside subway stations in the last 18 months. It has shaken residents' sense of trust and safety in the transit system. The city responded by hiring more police officers and special constables, but not everyone is convinced this is the right approach.
TTC ridership is currently at 75 per cent of pre-pandemic levels, which is a problem; ticket fares make up a sizeable chunk of Toronto's revenue.
Chow has already committed to building dedicated bus lanes which will run alongside the current route of the soon-to-be-decommissioned Scarborough rapid transit line. She says the replacement bus route will cost about $60 million. A planned Scarborough subway extension isn't expected to be operational until 2030 and in the meantime, shuttle buses are expected to add 20 minutes to the commute to downtown Toronto.
Government employee Saadat says he hopes the buses run smoothly until the extension is complete — and he doesn't believe this will be difficult — but it will be important to give Chow a solid policy win early in her term.
ATU Local 113 represents nearly 12,000 public transit workers. The union's president, Marvin Alfred, told CityNews he thinks Chow is the right person to restore service, secure investments and bring safety and reliability back to the TTC. 
"Right from the jump she declared that she wanted to invest in transit, providing transit for people," Alfred said. "She's an authentic ally. She actually takes transit all the time. She's invested in the well-being of transit, not just as a candidate for mayor, but as a person."
Saadat says Chow "seems like someone who would invest in a more robust transit system." Chow is seen as being more sympathetic to issues facing transit riders than most politicians because she's an avid cyclist who doesn't own a car and has a working-class background.
Identity politics 
Chow is the first racialized person to be elected mayor of Toronto. She immigrated to Canada with her family at age 13 from Hong Kong and the family rented an apartment in the St. Jamestown neighbourhood. Her personal story and identity will resonate with thousands of Torontonians with similar backgrounds. And from the campaign results, it is clear she is  generally well-liked by residents of Greater Toronto.
"I think Chow's biggest challenge will be maintaining her popularity," Rizza said. "It's clear that who she is and what she represents threatens people. While she represents a ray of hope and a possibility of change, Toronto has become jaded. I'm worried about getting my hopes up." 
Rizza, like Saadat and many others in the city, is hoping Chow's term in office is successful. She is also concerned about the "glass ceiling" as Chow takes on a massive agenda for change.
"Expectations of her are so high, especially since she is a woman of colour," Rizza said. "If her term doesn't go well we might not see another leftist leader in Toronto for a very long time.
"People took a chance on her because they are ready for change. But the fact of the matter is that for every person wanting to see her succeed, there are probably two more waiting in the wings hoping to see her fail."  
Given the communities she represents, it's not surprising that Chow polled well in Scarborough, but Rizza said people in Scarborough voted for Chow because they relate to her and trust she has their interests at heart.
"After the COVID-19 vaccine rollouts, I think the people of Scarborough got tired of feeling like an afterthought to the city," she said. "Olivia Chow made Scarborough feel like a priority — not only throughout her campaign but throughout her career." 
Said Saadat: "I don't know if we were on the radar under (former mayor John)Tory." 
On July 18, Chow met with Trudeau to discuss Toronto's role and contribution to Canada's economy, and helping newcomers find homes. Trudeau announced $212 million in federal support for asylum claimants through the city's Interim Housing Assistance Program, including about $97 million dedicated to new support for refugees arriving in Toronto.The city's 2023 budget for sheltering people experiencing insecure housing, including refugees, has a $414 million shortfall and there aren't enough beds for those who need them.
"We want a better, more affordable Toronto," Rizza said. "We want our tax dollars to make a difference. 
"Most importantly, we want a better quality of life not just for ourselves, but for the future. It's time to invest in Toronto, and I hope that Olivia Chow can help us do that." 
Marcus is a poet, editor and freelance journalist based in Toronto. He currently works with New Canadian Media as an Editor and as a Freelance Writer for ByBlacks.com, The Edge: A Leader's Magazine and The Soapbox Press.