By now the Liberal candidates for the predominantly visible minority ridings of Scarborough have grown used to party strategists lavishing attention on them. They are on the frontline for the bitter battle for Greater Toronto Area (GTA) votes during the current federal campaign and leader Justin Trudeau has already swung through their ridings several times to lend them star power.
But they were in for a surprise Tuesday when Trudeau's entourage rolled into a manufacturing plant in the Scarborough Centre riding.
A day after stock markets tanked and the loonie fell to an 11-year low, Trudeau was in the Toronto suburbs to announce his economic credentials in comparison to Conservative Leader Stephen Harper's. Issues closer to the communities in this inner city Toronto suburb could wait.
On display was his economic team alongside former Prime Minister Paul Martin in an unabashed attempt to remind voters his party's record in balancing budgets. As finance minister in Jean Chretien's government, Martin oversaw the elimination of the federal deficit.
Trudeau said, "Growing the economy is a team sport. So is governing the country."
Introducing his diverse set of economic leaders comprising of former federal and provincial economic ministers, entrepreneurs and experts in First Nations governance and natural resources, Trudeau said, "Growing the economy is a team sport. So is governing the country."
Getting into the competitive spirit of sport, he said if the New Democratic Party's (NDP) Thomas Mulcair could tout former Saskatchewan finance minister Andrew Thomson as someone who could balance a budget, he could do better with Ralph Goodale from the same province. He described Goodale as, "the last Canadian finance minister to ever run a surplus."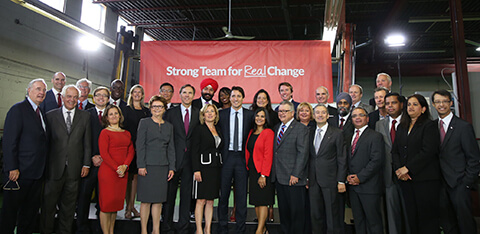 Apart from Goodale, prominent names in his team who formed the backdrop included Scott Brison, John McCallum, Chrystia Freeland, Jean-Yves Duclos and Bill Morneau.
The others were Jessie Adcock, Leona Alleslev, Navdeep Bains, Marie-Claude Bibeau, Randy Boissonnault, Celina Caesar-Chavannes, Jim Carr, François-Philippe Champagne, Karine Desjardins, Emmanuel Dubourg, Jean-Yves Duclos, Judy Foote, Marc Garneau, Anthony Housefather, Linda Lapointe, MaryAnn Mihychuk, Robert Morrissey, Marwah Rizqy, Kim Rudd, Brenda Shanahan, Francesco Sorbara, Claude Thibault, Adam Veilleux, Jonathan Wilkinson, Jody Wilson-Raybould and Lawrence Woo.
The odd man out in this ensemble was Harjit Sajjan, the soldier and former police officer who is neither a local candidate (he is contesting from Vancouver South in distant B.C.) or a member of the economic team.
Martin praised Trudeau for recruiting candidates (pictured above) with strong economic backgrounds. "They are certainly of a quality that none of our opponents can match. It is a team that is experienced, able, proven and ready," he said.
'Lone wolf prime minister'
This emphasis on "the team" was further driven home when Trudeau took a dig at Harper. "For 10 years, we've had a lone wolf prime minister. Stephen Harper's economic team can fit in a very small room. All he needs is one chair and a mirror. I see things differently."
Also venturing into Conservative strongholds in Ontario on Tuesday to boast of economic credentials was Mulcair.
Mulcair made a definitive promise. "Our first budget will be a balanced budget."
While Trudeau said achieving balanced budgets under his watch will depend on the "size of the mess" left behind by Harper, Mulcair made a definitive promise. "Our first budget will be a balanced budget," he said while campaigning in Hamilton on the outer edge of the GTA.
Like Trudeau, Mulcair also used a manufacturing unit as a backdrop and repeated his plan to cut the small business tax rate from 11 to nine per cent, promising a new timeframe of two years.
He promised to create "good jobs" in contrast to the "part-time, low-wage, precarious jobs" created under the Conservative government.
"Small and medium-sized businesses across our country account for 80 per cent of the new jobs that are created in the private sector. They are the job creators in our country."
Campaigning in Quebec City, Harper said the Liberals and the NDP are proposing high tax plans at a time of "renewed global instability." He said the Conservatives will continue to promise low taxes and their plan also includes balanced budgets.
"You do not run around and change your plans based on daily market news. You have a long-term plan and you stick to it," Harper said.

Ranjit is a Toronto-based writer with interest in Canadian civic affairs, immigration, the environment and motoring. Maytree and Al Jazzera English alumnus.