Cindy Leung drops off her husband, Chuck, to a day program at a Scarborough, Ontario long-term care facility. Waving to social worker, Benny Choi from her car she watches Chuck being pushed away in a wheelchair.
Going through this daily routine, she reflects on where it all started. Eight years ago, Chuck had a massive heart attack and fainted at home. Rushed to the hospital, he was resuscitated after his heart completely stopped beating for minutes that seemed to go well past 60-second intervals. Luckily, he was revived. But after suffering from severe brain damage, he was eventually transferred to a day program following intensive care. And through rehabilitation on weekdays, he has been able to slowly recover his ability to speak coherently.
"My husband was a chef working in [a] restaurant and I was the waitress. Life was quite satisfying until that day he had [a] heart attack. He was only 45 years old at that time," Leung explains in a voice that exudes calm.
Although her workload at home has increased, financial constraints have kept her from seeking any additional time at work. Supporting the household as well as emerging medical expenses as the sole source of income, she points to the solace she finds in maintaining a routine.
"We do receive some medical benefit and social assistance, but I cannot stop working. We still have a child in college. Working is one way to support the family financially and another way to support myself psychologically," she continues.
Social worker Choi knows what Leung is going through. "Many of our patients encounter stress and frustration when dealing with their inability to talk and walk. It often causes tension towards themselves and their family," he explains. Most of the patients that come to the facility are males, most of whom receive care from their middle to old-age wives.
Dual Roles
It's a story that's known all too well across the country, women who are forced to take on dual roles within the household and the professional workplace. An astonishing 72 per cent of women caregivers aged 45 to 65 in Canada are also in the labour force. Always thankful for the support systems provided, Leung praises a healthcare system that has afforded her options that nationals of other countries can only dream of.
Caregivers can come from a variety of sources but it is extremely common to see family members step in as figures of support.
"I drop him off to this day program from Monday to Friday when I have to work. During [the] weekend, our children can chip in and make it possible for me to take some extra shift[s]. I receive daily feedback [about] him mostly from social workers like Benny. Sometimes, they probably talk to him more than I do. I really appreciate it. [It is] the whole Canadian health care system that gives my husband a second chance."
Looking back on life before the near-fatal incident, brings back memories of her husband as a genial and tall man, shouldering all the responsibilities that come with family life.
Leung, who works in a restaurant as a floor manager, oversees a venue with a 500-seat capacity. Never one to complain, she cherishes having the ability to work while caring for her husband.
Switching careers
On the other hand, Emily Liu discovered her true career passion as a breastfeeding activist and prospective doula (a person trained to provide advice, information, emotional support, and physical comfort to a mother before, during, and just after childbirth) after becoming a mother and main caregiver to her two young kids.
"I was a chartered accountant, worked for one of the Big Fours. I made a lot and yet lost a lot in personal time. I can work up to 70 to 80 hours during busy tax seasons until, one day, I noticed a mental meltdown while I was pregnant with my first one. Then I know I have to take a pause," Liu says.
Motivated by her own baby, Liu made a move to "downgrade" her work portfolio to a local small accounting firm in Mississauga. Taking on a partner role, she was able to make her work hours flexible so she could juggle work with the responsibilities of raising a child.
In the end, Liu terminated her partnership, opting for a career as a freelance accountant. That was until two years ago, when she completely withdrew from the accounting business.
"I slowly find out my keen interest in breastfeeding and promoting it, something I really enjoy doing while raising up my kids," she stresses. Since then, Liu takes her kids to the La Leche League Canada's breastfeeding leader training class.
"This is the solution in my case, working while babysitting and I love doing both," she giggles. Liu quit one labour market to enter another, one that's been more welcoming to mothers and caregivers.
Moving across continents
Caregivers can come from a variety of sources, but it is extremely common to see family members step in as figures of support, sometimes flying across continents. As in the case of 65 year old Elvira Vergara, when the call came from her late husband's cousin, there was only one choice to make.
Single with a grown son, residing in Columbia, Vergara moved in. Now 80 years old and widowed, her patient suffered from high blood pressure as well as diabetes. Taking the position as a live-in caregiver, they've been cohabiting for eight months and both feel positive about one another's roles.
When asked why she chose Vergara, the cousin shrugs her shoulders and beams, "I've seen her great attitude working as a house cleaner. My kids probably can't do a better job than her. We know each other from the past. I trust her," she nods.
"Gracias," Vergara replies in Spanish.
Although Vergara was able to fill a fulltime position through caregiving, thousands of women are forced to manage dual roles as they maintain their professional positions. It is essential that the support systems built to help these individuals are not only readily available but that they also instill their trust. With nearly half of women caregivers declining available arrangements based on the potential impact on their careers; its clear that more awareness must be brought to the benefits. Only then can these services be deemed helpful and accessible to all Canadians.
---
This piece is part of the "Ethnic Women as Active Participants in Ontario" series. Writers interested in participating are encouraged to join the NCM Collective for an opportunity.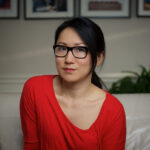 Shan is a photojournalist and event photographer based in Toronto with more than a decade of experience. From Beijing Olympic Games to The Dalai Lama in Exile, she has covered a wide range of editorial assignments.