On the last day of August 1990, an advertisement in Persian was published in the North Shore News.
It said: "Vancouver Pars National Ballet Classes accepting students." This ad started an amazing journey that still goes on today. Now, more than three decades later, Vancouver Pars National Ballet (VPNB) continues this path, teaching ballet and Iranian folk dances in North Vancouver.
In 1966, Abdollah Nazemi founded Pars National Ballet in Iran, with a primary focus on classic ballet, while also exploring Iranian folk dances and music.
Azita Sahebjam, ballet dancer and the director of VPNB, was a student of Nazemi and began her journey in Pars National Ballet at the age of 9, driven by her mother's passion for art.
Nazemi believed that they could use the ballet techniques and tell their stories, through the music, costumes, and tales from Persian literature, drawing inspiration from sources such as Ferdowsi's epic poem The Shahnameh, the stories of Sheikh Sadi found int Hikayat-e-Saadi, and the poems of Hafez.
Sahebjam recalls practicing with pointe shoes and flat shoes, following various techniques taught by instructors from different countries. After about seven years she started teaching dance to youth and children when she was 16.
After the Islamic Revolution in Iran in 1979, however, the academy faced challenges. Dancing in public became illegal for women and girls, and the academy was eventually forced to close. "One day, I remember we were in the class when the Revolutionary Guard arrived with machine guns and closed the academy," said Sahebjam. "It was a terrifying experience, and they took Abdollah Nazemi with them for about 7 to 10 days."
She remembers they were extremely worried, fearing something had happened to him.
"Luckily, they only got his signature, making him promise not to practice or teach dance anymore, and then they released him. After a few years, he left the country and moved to the U.S.."
Sahebjam decided to migrate to Vancouver in the late 1980s, but when she arrived she felt like something was missing within her.
"I felt a missing piece of my passionate life that I had pursued for so long," she said. "It was my identity that I had lost. So, I thought about Iranian folk dances, and I got back to my roots."
She established Vancouver Pars National Ballet in 1989 in North Vancouver, following in her master's footsteps to preserve Iranian culture through dance.
"I still have a connection with Abdollah Nazemi, I always respect and admire him. Before starting, I asked him for permission to use the name Pars National Ballet for my own ballet group, and he trusted me."
Abdollah Nazemi is 86 years old now, residing in Isfahan, Iran, for the past 10 years. He has written four books on the subject of dance, according to Sahebjam, but they remain unpublished due to dancing restrictions in Iran.
In 1991, Sahebjam received recognition from Canadian Prime Minister Jean Chrétien. And now VPNB has a history here stretching back decades, teaching Iranian folk dance to at least two generations.
"Many people who were once my students have now become moms, and their kids are coming to my class," she said. "So, you can figure out how old I am from that!"
Since the Woman, Life, Freedom movement started in Iran, dancing has become a powerful form of protest in the country despite its illegality. Five Iranian girls were arrested last March and were forced to publicly apologize after posting a video on social media where they were dancing to a Selena Gomez song without wearing hijabs.
"They dance because dance represents feelings," Sahebjam said. "I have great hope for and praise the future of this movement."
_______________________________________________
Hamid Jafari is a Vancouver-based New Canadian Media correspondent currently on a work experience placement with Glacier Media. This article was originally published on North Shore News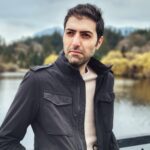 A Vancouver B.C based journalist who writes about the Iranian community in Canada, art, culture and social media trends.