At 1558 Lonsdale Ave., a discreet staircase guides pedestrians to a hidden bookstore known as Nima, the oldest Persian bookstore in the Vancouver area.
The bookstore was founded by a man named Bahman Sahami (Nima). Nima was born in 1959, arrived in Toronto, in 1989, and moved to North Vancouver in 1992.
"When I immigrated to Canada, and prior to establishing the bookshop, I was actively involved in cultural and artistic endeavours, such as publishing a cultural and literary magazine, as well as the establishment of theatres and Persian classical music concerts," he said.
Ultimately, this led him to establish his shop.
"The bookstore provides a platform for individuals interested in Iranian heritage to access literature, art, and history resources," he said. "I decided to establish a cozy place filled with books and musical instruments, a place for cultured, artistic, and thoughtful Iranians to connect, and a place to co-ordinate cultural and social activities for immigrant Iranians. I wanted to revive the sweet Persian language."
Nima and his wife Trine found the current North Vancouver location and established the bookstore that was registered as Hamsaz Art & Cultural Services, and the journey began in 2001.
The name of the bookstore has a strong connection with the history of modern Persian poetry. It has been named after Nima Yooshij, the father of modern Persian poetry.
"We picked this name to link the bookstore to Iranian cultural values. Also, the name itself represents the rich history and cultural heritage of Iranians, and by choosing this name, the bookstore may be introduced as a cultural and literary reference dedicated to promoting Iranian art and literature. Additionally, it may help attract the attention of those interested in Iranian literature and poetry," he said.
Today, however, he believes the bookstore has a specific role in promoting reading and easy access to cultural resources for the Iranian community, as well as "helping to strengthen social connections and create a space for sharing knowledge and experiences," Nima said.
"Meanwhile, the bookstore started teaching Persian language to children and non-Iranians in the second year thanks to my older sister, which has continued to this day."
There are specific themes that are particularly popular among their customers.
"We offer a wide range of books and materials that celebrate Persian culture, literature, history, and art," he said. "The collection includes classic and contemporary Persian literature, poetry, philosophy, art, politics, novels, motivational books, children's books, musical instruments, and more." According to Nima, the store aims to provide to a variety of interests within the realm of Persian culture.
"While there may not be a specific genre that stands out, the diversity of materials ensures that different themes and subjects are covered. In fact, the books that are most in demand are political and historical books that are not allowed to be published in Iran. So, newcomers come to them as soon as they arrive," he said.
Nima has recognized changes in reading habits or preferences among bookstore customers over the years.
"In recent years, motivational and psychological books have been more in demand," he said. "But since the beginning of the 'Women, Life, Freedom' revolution, the demand for books on ancient Iranian history and the history of the two Pahlavi kings, Reza Shah Pahlavi and his son, Mohammad Reza Shah Pahlavi, has increased."
Nima noted that the public libraries of Greater Vancouver as well as other provinces provide books for the Persian language section of the bookstore.
He curates the selection of books based on the demands and orders of the people, both from within Iran and internationally.
"Our process also involves staying updated and tracking new releases from publishers, covering a wide range of subjects. Also, the library of Nima has been open to the public with 200 copies of my personal books since the second year, and through generous donations, the collection has grown to 2,500 copies."
His passion for the Persian language, culture, art, and history were the main motivations for him to open a bookstore.
"In the aftermath of the 1979 tragedy in Iran, I clearly realized that there is an intention to destroy the land of Iran and its culture and history. For this reason, I have devoted all my efforts over the past 24 years to elevating people's awareness about their occupied homeland," he said.
The main challenge that Nima has faced to manage the bookstore is financial issues, but he has been able to save the oldest Persian bookstore in Vancouver.
"The economic difficulties of the bookstore and not having enough income during these 24 years have been and will be very painful, but with the simplicity and contentment of life, I have managed to avoid collapse," he said.
During more than the two decades, alongside the challenges, he also holds memorable moments. "For instance, young book-lover girls enter and shed tears of excitement, saying, it reminds us of our father's library and our beloved Iran, and they feel captive! I am proud to hold this torch and honour the young women and men of today's generation in Iran," he said.
Nima said this is the first media presence for both him and his bookstore.
"The North Shore News always reminds me of my mother," he said. "My beautiful and loving mother has not been with us for 15 years. She was living with me at that time, when I walked into the lobby of the building and picked up a copy of the print edition and was shocked to see that my mother's picture was on the cover! My mother was the honorary president of the senior women's society of Iranians in Vancouver. This community had organised a Nowruz celebration with the presence of these ladies in the Nowruz Bazaar next to the Haft Sin table, where the reporter had only taken a portrait of my mother, and only that photo had been selected for the cover of the North Shore News."
______________________________________________
Hamid Jafari is a Vancouver-based New Canadian Media correspondent currently on a work experience placement with Glacier Media. This article was originally published on North Shore News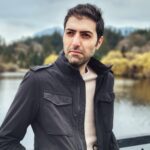 A Vancouver B.C based journalist who writes about the Iranian community in Canada, art, culture and social media trends.