The Nicaraguan Diaspora in Canada is ramping its efforts to draw attention to the Central American country's fragile democracy as people there prepare for another political test ahead of this November's elections.
Fueled by memories of the bloody crackdown that engulfed their homeland three years ago, Canadian-Nicaraguans are in the process of organizing and lobbying Canada's leaders to call for Nicaragua's elections to be democratic, transparent and fair.
In April 2018, the regime of Daniel Ortega and his wife, Vice-President Rosario Murillo, began a bloody crackdown on civic dissent. Many people were forced to flee the country as political refugees. Those fortunate few who fled to Canada, having lived through those harrowing experiences, are now galvanizing the diaspora to join the fight for Nicaraguan democracy. 
Although they are a small, mostly invisible demographic, Nicaraguan-Canadians quickly mobilized to influence change, propelled by the idea – espoused by many Nicaraguans as a common call to action – that "together we are more powerful than volcanoes."
Grassroots Solidarity
This latest movement is strengthened by the recent wave of political exiles, refugees and immigrants who arrived from Nicaragua in recent years. 
Persecuted student activists such as Levis Rugama and Erik Rocha previously shared personal stories with New Canadian Media of "life under a dictatorship" while tirelessly fighting for their hopes of seeing the suppressed nation become a constitutional democracy moving forward.
The established Nicaraguan community has thus been pushed to exercise their privilege as Canadian citizens becoming a vocal constituency and electorate advocating for Nicaragua in recent years. 
Grassroots organizations are helping bring the diaspora together from coast to coast to coast. Strong Nicaraguan-Canadian voices in Ottawa, Montreal and Toronto have received support from provincial and federal officials, as well as from the Office of the Prime Minister. Most importantly, they have the support of the Canadian representatives of the Association of American States (OAS).
"We have been learning more and more [about] how to advocate for Nicaragua as Canadians," explains Bertha Garay, who lives in Ottawa and became an active organizer three years ago. She now feels compelled to raise awareness of the need to stand for issues that she cares about.
"We have been encouraged that our government sees us and represents the hopes we all have for a strong democracy for the Nicaraguan people," she said. "We wrote letters to all political parties, and were elated when we received support from former Foreign Affairs Minister, Chrystia Freeland."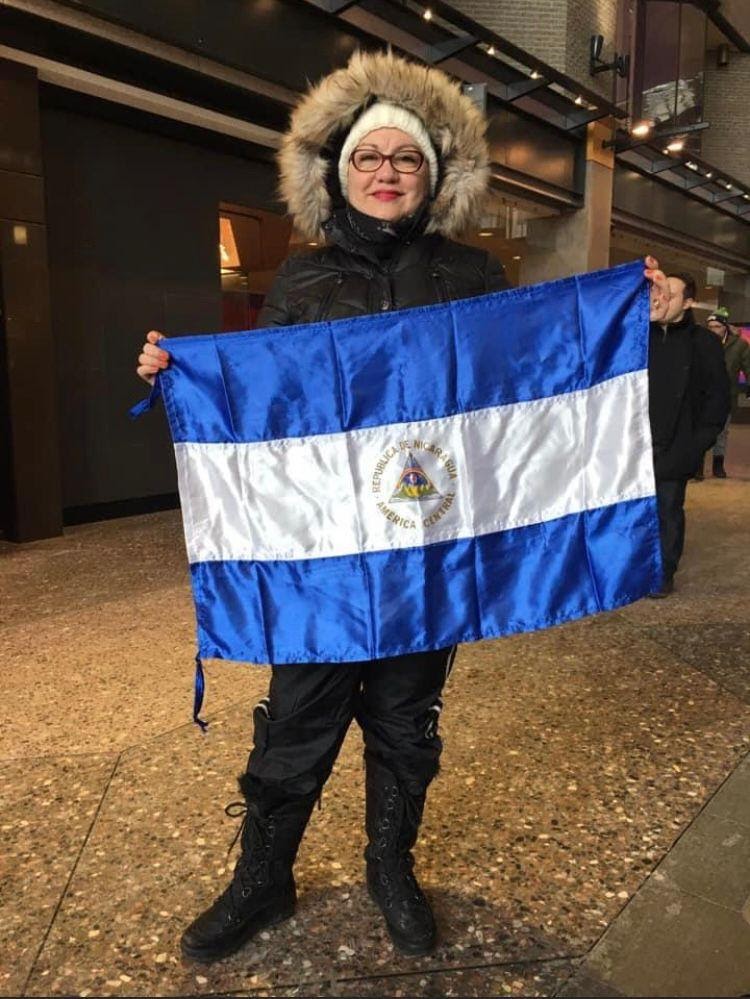 The diaspora's attempts to put pressure on Canada's government to act,  have also included creating an international web of support with global civil society organizations represented in Nicaragua including Amnesty International, Human Rights Watch and PEN International. 
'Censorship and Suppression'
For some members of the Nicaraguan diaspora, being visible is not a safe option. Nicaraguan authorities have been known to harass family members of international dissident voices, intentionally muzzling their freedom of expression.
Observers fear Nicaragua's elections will be rigged because President Ortega and Vice-President Murillo are again actively trying to silence opposition voices.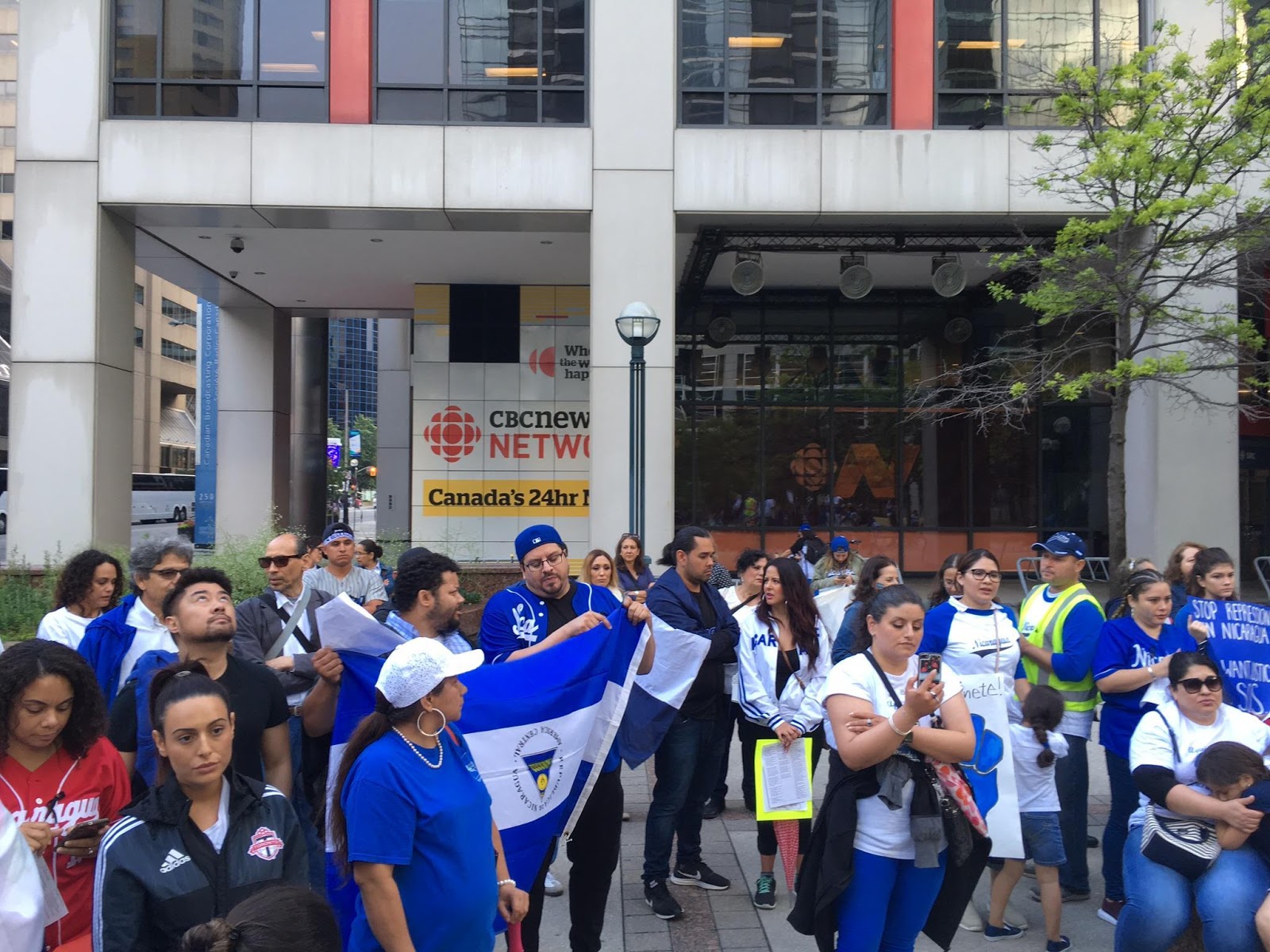 Recently, the Ortega-Murillo regime raided the country's independent civil society organizations in an effort to intimidate and stop their critics. 
Roger Guzmán, a first generation Canadian of Nicaraguan heritage, has been paying attention to the political situation in Nicaragua. He said the actions of the Ortega government are "
a deeply worrying trend of censorship and suppression."
Guzmán also pointed to the fact that  he's seen similar situations play out in Canada, referring to a 2014 incident where then Prime Minister Stephen Harper instructed the CRA to investigate civil organizations for speaking out against his administration.
"The difference is that in Nicaragua, there is no lawful process," Guzman explained. "We can't allow this."
Recently, the country's last remaining independent public broadcasting offices were unlawfully raided. Journalists critical of the Ortega-Murillo regime were detained, as were popular presidential hopefuls like Cristiana Chamorro and Félix Maradiaga, who is in house arrest as of May 2021.
'Our Voices Matter'
"We now know that as Canadians, our voices matter. We have realized that exercising our democratic rights and responsibilities as Canadians is a privilege that Nicaraguan citizens hold us accountable to," Garay said. "We realized that we couldn't just sit back and watch as Nicaraguans lost their lives demanding the civil liberties and freedoms we take for granted here in Canada." 
Like many Canadian Nicaraguans, Garay settled in Canada in the 1980s, during the first wave of immigration to this country. Since then, Garay has become an instrumental figure in leading civic action from Ottawa. 
"Nicaraguans need the (Canadian) diaspora to do what we can to end authoritarian rule. It is time for Nicaragua to see a brighter future," she insisted.
In the months leading up to Nicaragua's elections, Canada's diaspora supports the Canadian government's sanctions against the Ortega regime, which were implemented June 2019, in order to push for fair elections in that country and see a fruitful bilateral relationship develop between the two. 
Empowered Canadian Nicaraguans are using their voices as Canadians and hoping that their decision to settle in a strong democracy can be used to influence the troubled nation many fled. 
___________________________________________________________
This story has been produced under NCM's mentoring program. Mentor: Marcus Medford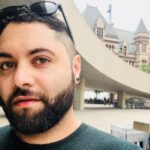 Michael 
Reyes
is a writer for New Canadian Media who lives and labours on the traditional territories of the Mississauga, Anishnabeg, Chippewa, Haudenosaunee and Wendat Nations - Tkaronto (now Toronto), Treaty 13.
Reyes
 approaches contemporary Canadian culture from a first generation latinX, multi-ethnic, new settler Canadian - Nicaraguan LGBTIQ2S+ experience.