Canada has opened a new immigration operation centre in the Philippines to get ahead in the global race for health care labour even as the Southeast Asian country struggles with an exodus of its workers.
The new centre is located within Canada's Embassy in Manila and employs 37 people. 
"This operations centre will help facilitate travel, attract highly skilled workers to Canada, and meet the needs of our economy today and in the future," wrote Sean Fraser, Minister of Immigration, Refugees and Citizenship, in a statement released March 3.
The Philippines is among the top three countries for immigrants to Canada after India and China, and is the leading exporter of nurses and health care workers to foreign countries. On average, 13,000 nurses leave the Philippines every year, according to reports from the Philippines News Agency (PNA).
The opening of the new application processing centre in Manila is a strategic investment that will benefit Filipinos by providing more efficient processing of visas and support Canada's planned increases to immigration levels, said Rechie Valdez, Member of Parliament for Mississauga—Streetsville, who made the announcement on behalf of Fraser.
"By expanding our presence overseas, we are committed to facilitating the immigration process for those who want to visit, study, work, or immigrate permanently to Canada," she said, adding that the new Manila processing centre is part of Canada's Indo-Pacific Strategy.
Under this strategy, new immigration processing centres are also being planned in New Delhi, Chandigarh and Islamabad, as Canada aims to attract 465,000 permanent residents in 2023, 485,000 in 2024, and 500,000 in 2025.
The Philippine Embassy in Canada said that as of April 2018, there are around 901,218 Filipinos working and staying in Canada, which comprises almost 2.6 percent of the Philippine's national population.
Canadian provinces with the greatest number of Filipino-Canadian residents include Ontario, Alberta, and Manitoba. Toronto remains the Canadian metropolitan area with the greatest number of Filipinos, followed by Vancouver and Winnipeg, according to data published by PNA.
Provinces send their own delegates
A Manitoba government delegation hunting for nurses just returned from the Philippines after provincial officials met with Department of Migrant Workers (DMW) Secretary Susan "Toots" Ople in Manila to further labour cooperation, especially in the recruitment of Filipino nurses and other healthcare professionals.
A proposed scholarship fund for Filipino nursing students who wish to work in Canada was also discussed during the meeting, according to the PNA.
During the five-day visit, Manitoba issued 350 letters of intent to nurses to come work in Canada. This included 190 registered nurses, 110 health-care aides, and 50 licensed practical nurse equivalents.
Other provinces like New Brunswick and Saskatchewan, which also sent delegations to the Philippines earlier, have made over 400 job offers to Filipino health care workers.
 Dr. Maria Rosario Vergeire, officer-in-charge of the Philippines Department of Health, said in a recent interview with the CBC, that the Philippines has a shortage of more than 350,000 nurses.
"Why is it that the higher-income countries are actively recruiting?" she said. "The countries getting our nurses should also be [in] for some form of exchange so there would be something for our country," she said.
Among commonly cited reasons for the resignation and migration of Filipino nurses are low wages and benefits, according to a report in the Journal of Global Health.
An entry-level nurse working in a public hospital starts with an annual salary of less than $12,000. Comparatively in Canada entry-level nursing positions start at $58,498 per year, while most experienced workers make up to $87,750 per year.
"Countries that hire immigrant health professionals are realizing that they need to do a better job attracting and retaining them, because now there is greater global competition for health workers," said Margaret Walton-Roberts, a professor of Geography and Environmental Studies at Wilfrid Laurier University in a recent Q & A published on University's website. 
"The quick fix has been, we'll just import some more health-care workers, or we'll just work short-handed, and I think we've pushed it too far."
"We need to have better bilateral agreements that manage the global migration of health workers and provide partner countries with some benefit from these movements so that these countries do not send workers to Canada at the expense of their own health-care systems," said Walton-Roberts. 
She currently leads the Global Nurse Migration Pathways project, which seeks to contrast three geographically and policy distinct nurse migration pathways: India to Canada, Vietnam to Germany, and Philippines to Singapore. 
"We have been contrasting these different pathways to get a handle on which one seems to work most effectively for migrants, as well as source and destination countries," said Walton-Roberts.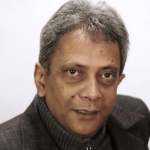 A multiple-award winning journalist, Fabian Dawson is an internationally acclaimed author, filmmaker and media expert. His work over the last four decades spans the globe and he also serves as a consultant/strategic advisor to a variety of international companies. As deputy editor-in-chief of The Province, part of the Postmedia chain, Dawson led initiatives within a special publications group to provide directed content for a variety of organisations. He was named the 2019 recipient of the Bruce Hutchison Lifetime Achievement Award at Jack Webster Awards. Dawson has been invited by the governments of India, Malaysia, Taiwan, China, Hong Kong and the United States to act as a media observer/advisor on a variety of Asian-Canada issues. Dawson, now operates FD Media, which specializes in harnessing editorial assets to revenue generating opportunities.