As Donald Trump wrapped up the Republican convention Thursday evening with a speech that played to Americans' fears about the economy, illegal immigration and national security, many wondered aloud whether Canadian politics might be susceptible to his kind of populist appeal to the disaffected.
New polling from EKOS Research suggests the answer to that question, for the time being, is no: Most Canadians have a positive outlook, aren't concerned about their economic future and value "openness" over "order" — even if they do believe the world is a more dangerous place than it was five years ago.
Earlier this month, from July 8 to 14, EKOS surveyed a random sample of 1,003 Canadians (with a margin of error of +/- 3.1%, 19 times out of 20) on a range of subjects, recruiting them by phone to take online surveys.
They found a country that is, for the most part, seeing the glass as half-full.
Given a choice of a few adjectives to describe their current outlook on life, almost three-quarters of Canadians (73 per cent) said they were either "happy" or "hopeful", compared to only 22 per cent who were "discouraged" and two per cent who were "angry".
Anxiety over economy
There are certainly pockets of Canada that have seen job losses as a result of NAFTA and trade liberalization more generally — versions of Donald Trump's "communities crushed by horrible and unfair trade deals" — but that hasn't translated into collective anxiety about the economy.
Three in 10 Canadians do agree with the statement that they've lost all control over their economic future — but almost half (48 per cent) don't, and one in five are agnostic.
"In addition to the clear lean to a positive emotional outlook, the incidence of those who feel they have lost 'all control' over their economic futures, although still significant, is actually lower than what we saw in the late 1990s. A sense of lost control is linked to a more negative emotional outlook and is strongly linked to the more economically vulnerable in society," write EKOS President Frank Graves and EKOS research analyst Jeff Smith.
On one subject, however — safety — that sanguine feeling seems to disappear.
"Our convention occurs at a moment of crisis for our nation. The attacks on our police, and the terrorism in our cities, threaten our very way of life," Trump said Thursday evening.
Risk perception
Most Canadians appear inclined to agree. Only one in 20 (5 per cent) think the world is safer than it was five years ago, compared to 60 per cent who think it's more dangerous and 34 per cent who think it's about the same.
"It is disturbing to see how the public are seeing the balance of danger and safety in the world," Graves and Smith write. "A rational review of the evidence would suggest that objective risks and safety of North Americans have improved over the last decade. But the emotional response to risk perception is egregiously different."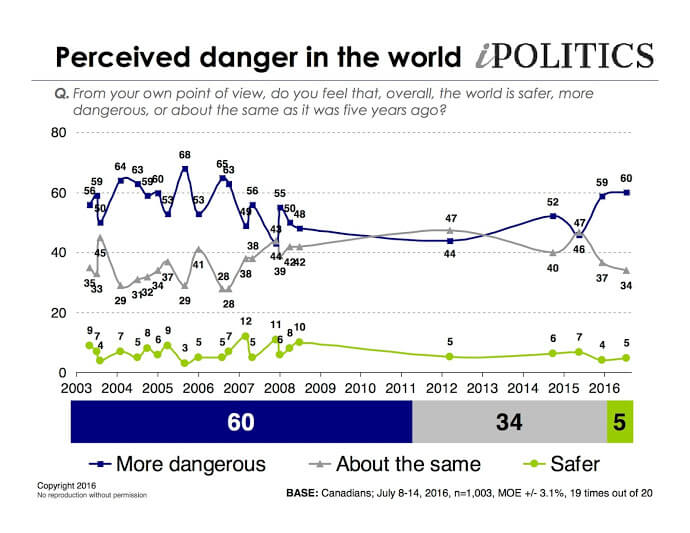 Those results need to be put in perspective. No more than 12 per cent of Canadians have ever felt the world is safer than it was five years ago. That said, as recently as 2012, more thought the world hadn't become any more dangerous.
To the extent that there is a large portion of the population worried about terrorist attacks, rising crime levels and the like, the next question becomes: What are they prepared to do about it?
Is there any appetite to build walls — even metaphorical ones — and suspend immigration? Or to embrace more authoritarian "law and order" governance?
It doesn't look like it — at least for now.
Order vs. openness
EKOS asked Canadians to choose between a set of different values in what they call "forced choice questions": openness versus order; respect for authority versus individual freedom; good behaviour versus creativity; morality versus reason and evidence; obedience versus questioning authority.
"When we summarize the results we find that overall a clear majority of Canadians lean to openness (54 per cent) versus the not insignificant minority who favour order (33 per cent). These numbers, while rough, suggest that an authoritarian or ordered outlook is less common in Canada than the United States (according to PEW who found over half of Americans to be authoritarian)," Graves and Smith write.
If drawing concrete conclusions about Canadians' appetite for a Trump-like figure — or at least for the values he espouses — is a pretty subjective exercise, other recent EKOS polling has gotten at the subject more directly.
In June, EKOS asked what kind of impact Canadians thought a Trump presidency would have on Canada. Only 6.8 per cent thought it would be positive.
Published in partnership with iPolitics.ca