There's a reason Jenan Al-Kubaisi and her middle son have compromised on their settlement needs and opted to work as production operators in a Brantford factory, while her two other children are continuing their education.
"We have to feed six family members, my children, parents and myself,"  she said.
"It's a rotation that I and my son decided to do until the other two finish their education, then they will work and we will study." 
Al-Kubaisi escaped sectarian violence in Iraq and arrived in Mississauga in 2020 as an immigrant. She recently moved to Brantford, Ont. for a job and more affordable living.
"Mississauga has no jobs and I can't find a large basement for the same price that I am paying for a mortgage for a house in Brantford, and it's $2,500" she said.
She quit in-person English language classes due to her relocation and plans to join online classes but, her shift work may hamper it."I was a high school physical education teacher in my country and want to pursue my career here," Al-Kubaisi said. "The language classes are so important for me."   
Inflation affects Canadians differently and the people who struggle most are the recent immigrants, according to Mikal Skuterud, professor of economics, at the University of Waterloo. "Because they are competing for the jobs and housing in the same market." This includes the historic number of immigrants who arrived in 2022. 
The Bank of Canada, while managing the inflation by increasing interest rates, has adversely affected the housing rental market across the country. The average rent has increased 12 per cent in November compared to a year ago. This is more than double the annual hourly wage increase of employees, which was 5.6 per cent. 
The average cost for rental housing in Canada stands at $1,976.
Though job numbers have improved, according to Statistics Canada, other factors like housing create inflationary pressures. Employment numbers released on Jan. 6 revealed an increase of 0.5 per cent in December 2022. Job growth was led by youth aged 15 to 24. 
Inflation numbers may not represent immigrants, refugees
 "A piece of broccoli is $8 and lettuce is $6, how do you expect people to put food on their tables?" says Shaz Afzal, founder and director of INI-SHE-ATIVE-Canada. The non-profit organization in the Greater Toronto area helps support refugees and single women in precarious states with its six-month grocery program and by connecting them to shelters. 
"My client gets a welfare amount as child tax benefit between $500 and $600 and it hardly covers her basement rent that is $1,250  excluding hydro," Afzal said.
She shared the story of one of her immigrant clients, who left an abusive marriage and lived for three months in a shelter with her daughter. 
"She does Uber-eats and tutoring to meet her grocery needs."
By November 2022, the Consumer Price Index (CPI, an index that measures inflation) was at 6.8 per cent on a year-over-year basis, compared to 6.9 per cent in October 2022. 
According to Statistics Canada, excluding food and energy, prices rose 5.4 per cent in November. Slower price increases for gasoline and furniture were partially offset by faster growth in mortgage interest and rent costs.
Skuterud suggests that Statistics Canada's inflation number may not reflect immigrants' and refugees' consumption behaviour "because refugees and immigrants spend a large part of their household budget on necessities, in particular, housing and it's particularly rent." 
He said that while inflation has affected Canadians in general, the number suggested by Statistics Canada is much lower than the reality for immigrants coming to Canada.
A report by Canada Without Poverty (CWP) released in December 2022, estimates that poverty rates in 2022 are potentially double what Statistics Canada reports.  The Canadian government has provided some inflation benefits, but "these benefits will not reach individuals who did not file 2021 taxes," the report says.
CWP says that people who have precarious immigration status do not have bank accounts or mailing addresses, so these populations are experiencing hidden and the deepest forms of poverty.
CWP is a non-profit organization dedicated to ending poverty in Canada. It is led by a board of directors with lived and living experience of poverty, and for over 50 years they have been advocating that poverty is a violation of human rights. 
"No inflation benefit provides people with any lasting or adequate relief during this cost-of-living crisis in 2022," is the key message from CWP's latest report.
Elie Bahhadi, says refugees are the ones who are suffering the most. Bahhadi is a former Syrian-Armenian refugee now working as a communications and events manager at Jumpstart Refugee Talent in Vancouver, a refugee-led non-profit that supports newly settled refugees to build a future in Canada.
"Particularly refugees who are fleeing their country without anything at hand are in desperate situations," he said. 
"Mostly refugee claimants don't have a work permit for at least a year."
Social workers in settlement services say clients suffering
In Quebec, Accompagnement des femmes immigrantes de l'Outaouais (AFIO) currently has 61 people  on the centre's waiting list for social housing.  
A social worker at AFIO, which is a settlement service for women, says that some women leave their French classes to find any job, way below their capacities, because of their need for money even though many immigrants who come to Québec have university degrees. 
"We would like the immigrants to have the same privileges and rights as Canadian citizens," said the social worker, who did not want her name disclosed to maintain her clients' anonymity.
Many of the clients she helps have difficulty paying their rent and use food banks to feed their families. Some are challenged to pay for transportation and other essentials.
The social worker shared the story of a refugee woman with two children, who comes from a war-torn country and has no acquaintances in Canada. She lives in a single-bed apartment on the government-sponsored welfare amount. 
"One client's kids stay at home alone on weekends, when she goes to earn extra money to pay for food and other essentials.
"Hopefully she continues her weekly French classes," said the social worker.
People have no choice but to be on social assistance even if they want to integrate and contribute to Québec's society, she said. Additionally, social housing is only for people who have been in Canada for a year, but the waiting list is a minimum of three to five years, and some immigrants wait even longer.
New arrivals to Canada unprepared for high inflation
Bahhadi said newcomers are challenged by the current price hikes in everything from groceries to transportation;  they also struggle to find a place to live. 
"They come here in pursuit of a better lifestyle and get hit by inflationary challenges without having a fairly good idea on how to manage it," he said. 
Although Bahhadi has a full-time job, he has given up his gym membership and Netflix subscriptions to pay for his groceries and monthly bills.
Afzal said that if single mothers  have to decide between paying bills or buying food, they have to pay bills to stay afloat. "this needs to be tackled at least for those with immigrant status."
Al Kubaisi says that as new immigrants they can manage to pay for food, but housing is "hard to manage, even a full-time job with minimum wage cannot afford a basic shelter." 
AFIO suggests that more subsidized housing or cooperatives are required along with an increase in welfare, and money for people who are taking French classes. Refugee claimants should also be eligible for subsidized daycare.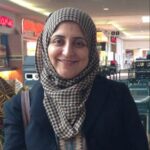 Tazeen is based in Mississauga and is a reporter with the New Canadian Media. Back in Pakistan where she comes from, she was a senior producer and editorial head in reputable news channels. She holds a master's degree in Media and Communication and a certificate in TV program production from Radio Netherlands Training Center. She is also the recipient of NCM's Top Story of 2022 award for her story a "A victim of torture, blogger continues fight for human rights in Pakistan"