Publisher's note: Since this initial reporting, the Canadian government has determined that the levelling of the Gaza hospital was not caused by incoming Israeli fire. Rather, "Analysis conducted independently by the Canadian Forces Intelligence Command indicates with a high degree of confidence that Israel did not strike the hospital on October 17, 2023. The more likely scenario is that the strike was caused by an errant rocket fired from Gaza," the Department of National Defence said in a statement Oct. 21.
Palestinians and Canadian supporters gathered in front of the Consulate General of Israel in Toronto Tuesday night to protest the levelling of a Gaza hospital that killed an estimated 500 people.The rally was one of several pro-Palestinian and pro-Israeli demonstrations in recent days in several cities, including Toronto, Mississauga, Montreal, Ottawa and elsewhere.
It's estimated that at least 1,000 people crowded into the intersection of Yonge and Bloor streets on Tuesday night to show their opposition to the violence in Gaza.
As of the 2021 Census, nearly 700,000 people in Canada described themselves as Arab, while 45,905 said their cultural origin is Palestinian. Another 282,015 are of Jewish origin, according to the latest census tables.
Exactly how the hospital in Gaza came to be destroyed on Tuesday is being contested. Gaza's Hamas-run health ministry said an Israeli airstrike destroyed the hospital, killing hundreds, while the Israeli military says the destruction was caused by a misfired rocket from a Palestinian militant group. Neither claim has been verified at the time of publishing.
Dr. Anas Al-Kassem, a Canadian trauma and bariatric surgeon who practices in Canada, was at the rally wearing a doctor's white coat and a stethoscope. He condemned the hospital attack and said, "[the hospital attack] is beyond imagination. [It] is a war crime. I think this is unprecedented in recent history."
Al-Kassem said he has been involved in multiple medical missions in many countries to help refugees and displaced people. He said he has friends and colleagues in Gaza, however, he has lost contact with them for the last couple of days. "I am hoping they are fine, but I cannot verify," Al-Kassem said.
Hamas carried out an Oct. 7 attack in Israel in which at least 1,300 people, almost entirely civilians, were killed. More than 200 people were taken hostage. As of Wednesday, the death toll in Israel was said to be 1,400 killed and another 4,500 wounded.
According to the Gaza Health Ministry, before the hospital blast, Israeli strikes had already killed at least 2,778 and wounded 9,700 in the occupied Palestinian territories, almost two-thirds of them children.
Since Israel started hitting Gaza after the Hamas attack on Oct. 7, hundreds of thousands of civilians have been forced from their homes, and thousands have sought shelter in hospitals, including the one that was destroyed.
Al-Kassem urged that humanitarian aid be allowed to be delivered, saying "we need now humanitarian corridors. We need to get physicians and nurses to get the supply and water, this is the first request."
Israel announced on Wednesday that they will not let humanitarian supplies into Gaza from the Israeli side of the border, but will not block if the aid comes from Egypt.
"The bombing of the hospital was a continuation of a genocide of the Palestinian people that had begun 75 years ago and has been ongoing," alleged Dalia Awwad, a member of the Palestinian Youth Movement, which organizes rallies around the world.
Awwad said that the Western media and politicians have been complicit in the genocide.
Awwad said that other steps must be taken. "The Canadian government needs to stop funding military aid to Israel, and they need to additionally sanction Israel."
"They have bombed ambulances, civilian residential buildings, schools, and they have killed journalists. This is the beginning of the use of white phosphorus against the civilians of Gaza," she added.
According to the Committee to Protect Journalists, at least 17 journalists including 13 Palestinian, three Israelis, and one Lebanese have been killed since Israel declared war after the Hamas attack.
The Canadian government includes Hamas on its list of terrorist entities.
A Palestinian and University of Toronto first-year student, whose name is being withheld because of safety concerns, landed in Toronto after recently leaving her family in the West Bank.
"Even though they — the families— are not related to Hamas in any way, they have been targeted," the newcomer student said.
"They should just target them [Hamas] if that is where they want to take the fight."
She was worried about her family and civilians in Gaza and asked, "why are they targeting the kids in Gaza and their mothers? Are they targeting families and hospitals?"
Other Canadians were also at the protest to support Palestinians. Sid Lacombe, a Toronto resident, attended the rally in solidarity with the people of Palestine.
"I have been involved in anti-war campaigns, and we watched the way that the imperial powers use violence to sort of extract concessions out of people," Lacombe said.
Lacombe said that Canada should stop selling weapons to Israel to avoid being complicit in this war.
_____
This story was updated on Oct. 30 to include the Publisher's note.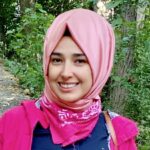 Nur Dogan is a Turkish journalist who lives in Toronto. She studied journalism at Humber College. Her stories and photographs were published not only in Canada but also in the U.S. and Europe. As a digital media reporter, she has covered national and international news for some magazines, newspapers and online news platforms. Focusing on human rights for all, Nur observes and reports on human rights violations, oppressions and illegitimate political attempts against visible minorities.