Jason Mcdonald owns the Casual International Hair Salon barbershop in Toronto's Little Jamaica neighborhood. McDonald has worked there since 1999 but the barber hasn't seen customers in-store since November because of provincial lockdown orders. 
His storefront on Eglinton West is covered in newspapers, buried deep behind wooden beams and piles of steel.
"I'm able to scrape by and take care of my family because I'm a jack of all trades. They might slow me down but they're not gonna stop me," McDonald said. 
With the pandemic, McDonald has expanded his VIP service, which he calls "Casual Uber." He has taken his razors on the road to serve his clients at their homes. But he knows it's not sustainable. He's only booking four to eight appointments a week.
According to a study by RBC Ventures company, Ownr, only 47 per cent of small businesses remain fully open. A Canadian Federation of Independent Business (CFIB) report found that one-sixth of Canadian small-business owners are contemplating permanently closing, putting more than 2.4 million jobs at risk. The picture is grimmer when you consider the estimated 58,000 businesses that closed permanently in 2020.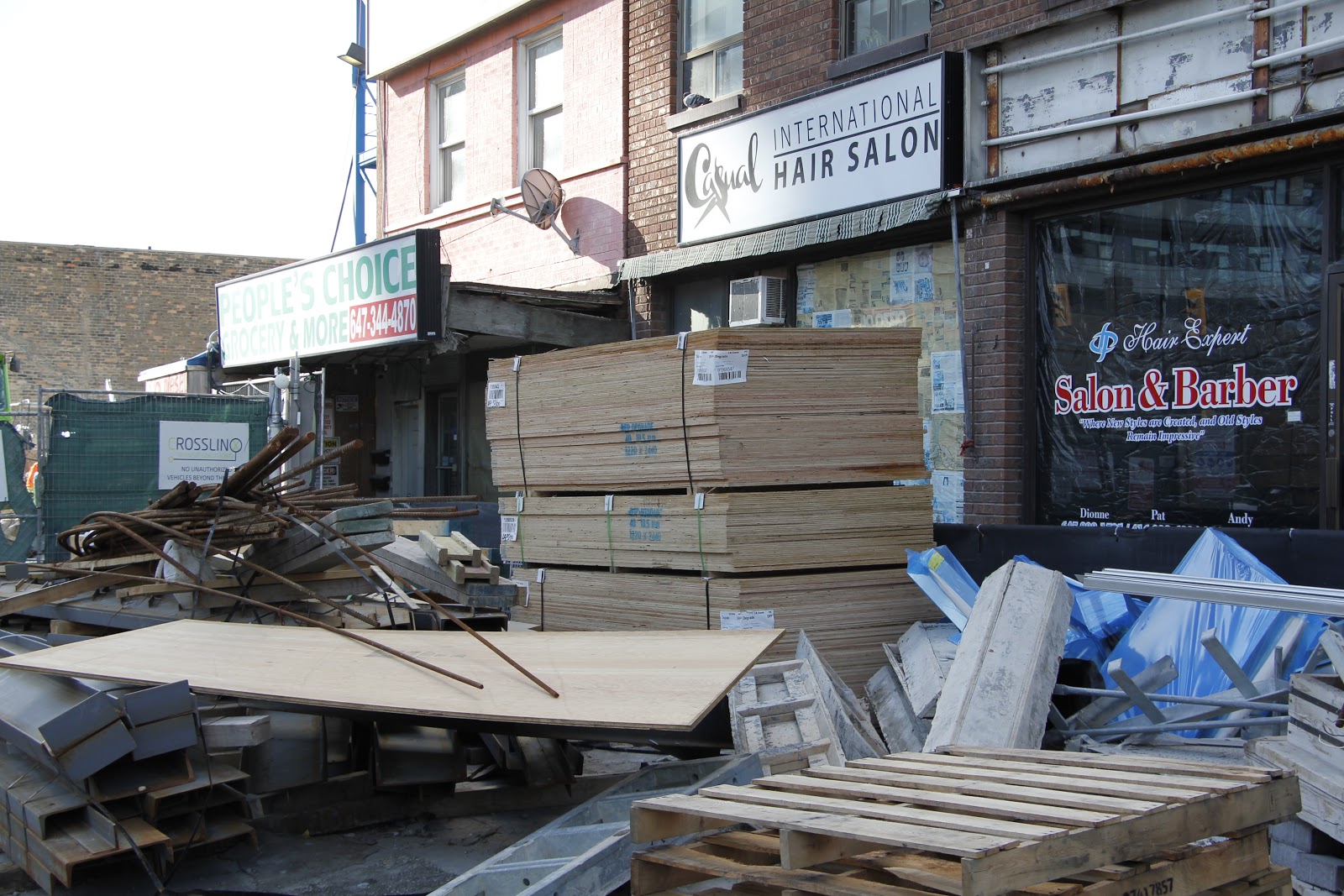 "They're telling me to close my business and they're offering me all these little packages but which one can I qualify for so my business can keep going," McDonald questioned. 
The packages he's referring to are the suite of financial programs the government introduced last year to help businesses and individuals stay afloat during a period of economic uncertainty. While millions have accessed funding opportunities, many haven't qualified. Critics of the Canada Emergency Business Account (CEBA) argue that the program disadvantages business owners who operate as sole proprietors. New businesses, cash-based operations, businesses with few employees or subcontractors and small payrolls also had difficulties qualifying. 
Despite the funding challenges, McDonald said he's happy to see the government "using their hearts" and offering support to small businesses. He wishes they had the same attitude towards the Metrolinx LRT project. 
"Everybody's gone through this hell."
The Eglinton Crosstown LRT by Metrolinx is the largest public-transit project currently under construction in Canada, and it's led to massive disruptions. Since construction began in 2011, at least 124 businesses have closed for good according to research by Mike Colle. Colle is the city councillor for Eglinton-Lawrence, he's been in municipal and provincial politics since 1982.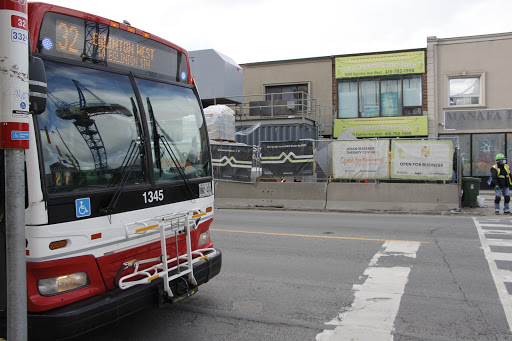 "Everybody's gone through this hell. It's right across Eglinton," Colle said of the LRT's interference. Last Fall, Colle filed a motion in City Council calling for Metrolinx to immediately compensate business owners affected. 
"I've been trying to get the province to compensate business operators for the lack of business and the construction, but they [Metrolinx] refuse to. Subsequently, a lot of them have gone under because they just couldn't absorb all these losses month after month," Colle explained.
McDonald said he's sympathetic to those who've dealt with COVID-19, but he finds dealing with the ongoing LRT construction more difficult. 
"Metrolinx is worse than COVID-19 because with Metrolinx there's no relief," McDonald exclaimed.
McDonald supports Colle's motion and its call for business owners to be compensated. McDonald believes that both businesses who've had to shut down and those who've managed to stay open should be compensated. 
"That's the only solution if, as you say, that small business is the backbone of your economy. Because what construction does is it sabotages and inconveniences small businesses."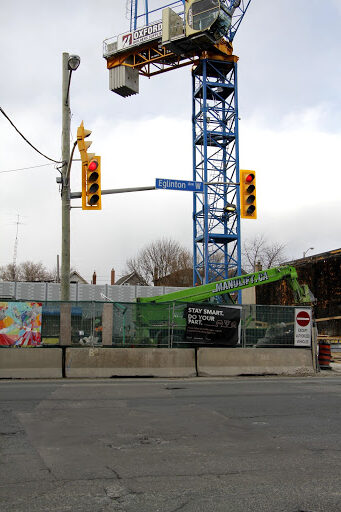 Storefronts are obstructed by the construction along Eglinton Ave., limiting their discoverability. Sidewalk closures and blocked entrances limit accessibility for customers and staff, while traffic jams drive visitors away.  
For McDonald, the constant construction has even caused physical damage. In 2015, his salon's basement flooded several times and the sign outside his store fell more than once. 
Metrolinx offered to pay for the sign's replacement but denied liability.  McDonald blames both incidents on the constant drilling in the area. According to McDonald, the excavation of the ground has also displaced rats who were living nearby, resulting in a vermin infestation in the neighborhood. 
 Another problem tied to the LRT project is gentrification. Residents and supporters of Little Jamaica worry that with all the development going on, that residents and business owners will be priced out of the neighborhood and Little Jamaica will lose its identity. Colle attempted to address this issue in his motion by declaring Little Jamaica a heritage neighbourhood and calling for the elimination of the Commercial Property Tax. 
"In this current system, condo developments can jack up the cost of living for other people in the neighbourhood because of the potential value they add to an area or a place rather than its actual value," Colle explained.
He added that the LRT would have a similar effect. Through efforts like commissioning murals and requiring property developers to preserve and include the culture of the neighborhood into their developments, Colle hopes to respect the past while transitioning into the future.
Lifeline needed for Toronto's Black businesses
In February, the  Black Business and Professional Association (BBPA) launched its Black Business Emergency Recovery Grant (BBERG) program to assist businesses in Little Jamaica. BBPA president Nadine Spencer described the BBERG as "a lifeline" for Black businesses until the federal government's Black Entrepreneurship Fund kicks in or businesses get other funding. Spencer said accessing funding is the main priority for all Black-owned businesses.
"The number one issue is loss of revenue because of the shutdown. They're also hindered by the lack of access to capital and cash reserves that would have kept them afloat. If they don't have money, they can't pay the rent," Spencer explained as she worries about the loss of Black-owned businesses in LIttle Jamaica. 
"When you think of the music, the food, the art and the representation of what it means to be an immigrant in this country and thrive, it would be a shame to the city and the country" if more businesses were lost to COVID-19, Metrolinx or gentrification, she noted. 
View this post on Instagram
Little Jamaica represents many different things, and for McDonald, it's always represented opportunity. After a run-in with the police during high school, McDonald could've ended up in the army, in jail or worse. Instead, he cut his cousin's hair one Easter Monday, got hired as a barber and never looked back. That was 27 years ago. 
"I can literally say anything I have in life today is because of Eglinton West." But McDonald knows the second chance he found in Little Jamaica is hanging by a thread, on life support.
________________________________________________________________
This story has been produced under NCM's Advanced Mentoring program led by Professor Susan Harada and Judy Trinh.
Marcus is a poet, editor and freelance journalist based in Toronto. He currently works with New Canadian Media as an Editor and as a Freelance Writer for ByBlacks.com, The Edge: A Leader's Magazine and The Soapbox Press.