Two years after Karima Mehrab's body was pulled from Lake Ontario, her friends and fellow human rights activists are still looking for answers about how she died.
Karima, 37, (known here as Karima Baloch as many immigrants from Balochistan use the last name Baloch) was a prominent student organizer who campaigned for Balochistan's rights and called for justice for the hundreds of students and activists who go missing every year in Pakistan.
On Dec. 21, 2021, she was found dead in the lake. The Toronto Police Service deemed her death a suicide and said no foul play was suspected. 
Karima's activism
Baloch land is spread among three countries: Pakistan, Iran and Afghanistan. Pakistani Balochistan is a large resource-rich province. The people have been fighting for independence from Pakistan since 1948.
Karima had faced charges of anti-state activism and was threatened with death by the Pakistani army. In 2015, with the help of a Canadian ambassador, she moved to Canada for her safety. Here, she became an international activist and worked to raise awareness worldwide about the plight of the Balochi people. She was nicknamed the mother of Balochs.  In 2016, Karima was named one of the BBC's 100 inspirational and influential women, and the more influential she became the more threatening phone calls and messages she received.
Zaffar Baloch, president of the Baloch Human Rights Council of Canada, said Karima's death is a "tragic death shrouded in secrecy and mystery, and with time it has forensically turned into a cold case."
"What we have so far is a brief police investigation that inconclusively was shut down in a matter of weeks. The judicial inquiry was never initiated," he said.
He said an estimated 1,200 Balochi people live in Canada.
Naela Quadri Baloch, president of the Vancouver-based World Baloch Women's Forum, believes the police declared Karim's death an accident or suicide too quickly and "went for their Christmas holidays." 
"How come they ignored the mystery of the death of a protected person in Canada and all the appeals for deep investigation from every corner of the world and inside Canada?" Quadri said. 
Quadri said human rights defenders all over the world sent emails and social media appeals to Canada's prime minister and police, asking for a deeper investigation into Karima's death but nothing was done. 
NCM contacted the Toronto police asking for updates on the investigation into her death, but did not receive a response.
Alleged connections to her death
Quadri said Karima was receiving threats in Canada which she used to share with her friends. A few days before Karima's death, Quadri said she received a message that stated: "You will receive a Christmas Gift for your Deeds." 
A CBC Radio podcast called "The Kill List" reported that Pakistani authorities warned Karima's family to send her back from Canada otherwise her uncle will be killed. Karima's family didn't agree to send her back, fearing she would die in a torture cell. 
The day Karima was found in the lake, a Pakistani businessman who has connections with the military and government reportedly tweeted a list of names of Pakistani dissidents abroad and wrote, "Karima done" but he soon removed his tweet. 
Pervaiz Musharraf, the ex-military president of Pakistan, stated in an interview with Pakistan TV that the enemies and dissidents of Pakistan should be killed as other countries kill their dissidents overseas. After the interview, three prominent Baloch activists died by drowning: Karima in Lake Ontario; journalist Sajid Hussain, in a river in Sweden; and Saqib Karim, whose body was found on a beach in Baku, Azerbaijan.
NCM emailed The High Commission of Pakistan in Ottawa — the diplomatic mission of Pakistan to Canada — for comment on the case, but received no reply. 
Quadri said Karima's death caused fear among her people.
"Karima's death is scary for all the persecuted people who have taken asylum in Canada — Baloch, Sindhi, Pashtun, political opponents, Christians or other religious or ethnic minorities," she said.
"The way justice is denied to Karima has created a grave sense of insecurity in the immigrants."
Zaffar said the Balochi people outside Pakistan have always faced challenges.
"Our diaspora communities in Canada, the U.S., and Europe are marginalized and ignored due to the history of the host countries' diplomatic relations with Pakistan and Iran," he said.
"We may never understand Karima's death in Canada, but her life and struggle have profoundly impacted the Baloch society, the women of Balochistan, and fledgling Baloch diaspora communities in the West."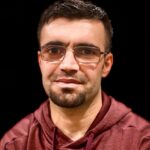 Diary Marif is an Iraqi Kurdish journalist based in Vancouver, Canada. His writing has appeared in the Awene weekly, Livin, and on KNNC TV as a documentary researcher by the name Diary Khalid. Diary earned a master's degree in History from Pune University, in India, in 2013. He moved to Vancouver in 2017, where he has been focusing on nonfiction writing. He can be found on Twitter: @diary_khalid.