Jim Wong-Chu
1949-2017
The 'paper son' who became a community leader and literary pioneer
"Knowledge does not set you free – it enslaves you."
Strong words from a strong man.
Jim's insatiable appetite for history and what he learned motivated him to "create a new reality", giving birth to such organizations like the Asian Canadian Writers' Workshop (ACWW) which he co-founded.
The 68-year old Wong-Chu died on Tuesday, July 11, 2017 after a stroke he suffered earlier this year.
In his last TV interview (February 2016) he told Sid Chow Tan of Access TV that there was "no inspiration" for him when he started the seminal literary grouping, Asian Canadian Writers' Workshop back in the 70s.
"There was no inspiration – it was euphoria and discretion," he recalls the beginning of the movement to create a space for Chinese Canadian writings.
"Bellyaching" with him at the time was Paul Yee and SKY Lee who later rose to prominence with their writings."
We asked ourselves : What if? And Why not?"
"None of us were writers and we didn't know the basics. We started from scratch."
The 'paper son' who never finished Grade 11 first dabbled in photography before pursuing a degree in Creative Writing at UBC.
"I was working in a cafeteria and photography was just like making coffee," he told Tan in the interview.
He finished a photography course at the Vancouver School of Art, now called Emily Carr University of Art + Design.
His collection of photographs of Chinatown taken from 1973-1981 lay dormant until 30 years after when he realized he had a treasure trove of historical significance.
The 80 photos (out of 500 negatives) was shown in an exhibit at Centre A Gallery in October 2014.
It was accompanied by his own poems and Paul Yee's.
'Paper Son'
Born in Hongkong in 1949 two years after Chinese Canadians were granted the right to vote, Jim came to Canada as a 'paper son' by an aunt when he was four.
Paper sons and daughters adopted false identities at a time when Canada restricted Chinese immigration.
It was not until he was seven years old that his aunt told him – "I am not your mother".
That discovery completely devastated him, knowing that he did not belong neither to the country he was raised or the country he was born into.
Up and until his death this month, Jim was still haunted by the ghosts of his past.
"It feels like you're not a part of everything around you, that your participation is not welcome and not well-received…" he told writer Nikki Celis of The Georgia Straight on April 16, 2016.
"In my late teens and early 20s, I was very confused. You're constantly haunted by this idea that you're not legal. It destroyed me totally as an individual," he says, stone-faced. "That's identity for you—when you talk about identity to the infinite extreme, it feels like you're a fake.
Giant of a man
Jim Wong-Chu was quite literally a giant of a man.
He stood not all of 5' -5" but he could talk to you about almost anything – from books to history and politics and everything else.
Some called him the 'Moses' of the Asian Canadian literary world for finding and nurturing emerging writers and eventually having their works published.
The list includes Paul Yee, Wayson Choy, SKY Lee, Evelyn Lau among others.
Madeleine Thien, the recent winner of the Governor's Award for Fiction and the Giller Prize was hired and mentored by Jim to be editor of Ricepaper magazine even before anybody knew her.
"I remember going to met Jim and being amazed at all the knowledge at his fingertips, all the stories and memories he had," Thien recalls in an interview for B.C. Bookworld.
Jim lamented the lack of visible minority writers in mainstream literary festivals and saw the need for one that showcases visible minority writers.
"In the past, many of the mainstream literary festivals were good at recognizing diversity and inclusiveness but as we are seeing, including one or two token visible minority writers is hardly a way to illuminate the writing of a community.," he told BC Bookworld in September 2014.
He was the driving force behind LiterAsian, an annual literary festival launched in 2013.
The first of its kind in Canada, LiterAsian seeks to promote and celebrate works of Asian Canadian writers through readings and workshops.
This year's event will be on September 21-24 during which the recipient of the now-renamed "Jim Wong- Chu Emerging Writers Award" will be announced.
One of the most enduring legacy of Jim is Ricepaper magazine published by ACWW.
It was started as a newsletter in the 60s and its first editor was architect and author David Wong who went on to write 'Escape to Gold Mountain', a graphic novel about Chinese immigration to North America.
Now a webzine publication, Ricepaper celebrated its 20- year anniversary in 2015 with an anthology – AlliterAsian: Twenty Years of Ricepaper Magazine co-edited by Jim Wong-Chu, Julia Lin and Allan Cho.
This was Jim's last anthology although he revealed in his Access TV interview that he was working on a book about Chinese immigration in B.C. for the provincial government. The publication of that book nor its title has not been confirmed.
Wong-Chu also spearheaded a Chinese Canadian radio program called Pender Guy and collaborated with Todd Wong to start Gung Haggis Fat Choy .
Among Wong-Chu's books:
Chinatown Ghosts (Pulp Press, 1986)
Many-Mouthed Birds (D&M, 1991) co-editor.
Swallowing Clouds: An Anthology of Chinese-Canadian Poetry (1999)
Strike the Wok: An anthology of contemporary Chinese Canadian fiction (Toronto: TSAR Publications, 2003) edited by Lien Chao and Jim Wong-Chu.
AlliterAsian: Twenty Years of RicePaper (Arsenal Pulp 2015) co-editor with Allan Cho and Julia Lim.
---
Ted Alcuitas is the editor and publisher of the online newspaper-philippinecanadiannews.com. He has known and collaborated with Jim for a number of years as a board member of the Asian Canadian Writers' Workshop.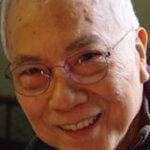 Ted Alcuitas is the founder of Canada's first Filipino newspaper, est. 1976. He is also former Senior Editor of Philippine Asian News Today and current publisher and editor of Philippine Canadian News.